Motorola Moto G (3rd Gen) smartphone will come with 5-5.2 inch display, Snapdragon 610 SoC and 2GB RAM
After the success of its 1st Gen and 2nd Gen Moto smartphones, Motorola is busy readying its forthcoming Moto G (3rd Gen) for Indian buyers. However some over enthusiastic chaps at Flipkart today listed the Moto G (3rd Gen) prematurely only to be pulled within minutes.
Flipkart is Motorola's exclusive web channel partner and it has been selling Moto G, Moto E and Moto X smartphones. The alleged listing of the Moto G (3rd Gen) was spotted on Flipkart by GadgetRaid.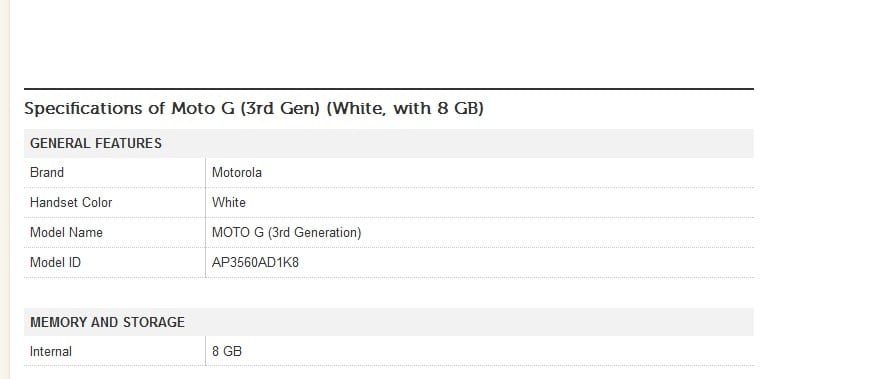 The brief listing sighting did not reveal much in terms of specifications apart from the fact that the model number of Moto G (3rd Gen) is AP3560AD1K8 and it will come in white colour with 8GB storage.
Of course there have been other leaks which suggest that  suggested that the next generation of the Moto G will come with a 5-inch or a 5.2-inch full HD display. It will be powered by a Qualcomm Snapdragon 610 SoC with 1.7GHz quad core processor and run on 2GB of RAM which has become a standard of a sort for mid-range smartphones.
Motorola will probably release Moto G (3rd Gen) in the first week of June. However the pricing of Moto G (3rd Gen) assumes importance because there are a lot of releases happening in this space and there is a fierce price competition going on amongst the players. It has already reduced the prices of Moto G (2nd gen) by Rs 2,000 and the Moto X (2nd gen) smartphone by Rs 3,000.00 in India to push back the competition.