Microsoft's Personal Assistant for Windows, Cortana for Android smartphones gets leaked, APK download link
It is not secret that Microsoft was working on a Android and iOS version of its personal assistant App, Cortana. Because in April, Microsoft had announced that the personal assistant will be making its way to Android and iOS. But Microsoft would like to have had a official launch of Cortana for Android. Instead all it had on its hands was a leaked version of Cortana for Android.
Cortana on Android has just been leaked on the internet.  According to Microsoft officials, the personal assistant was supposed to come to Android later this month, however, it has just been leaked and it is fully functional.
Just like the Windows 8.1 and 10 version, Cortana on Android comes with all the features which are available on Windows 10. You can set reminders, check for weather, sport results, ask Cortana to tell you some jokes, etc. Here are some screenshots of Cortana running on Android: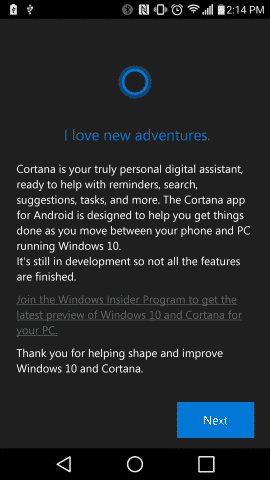 You also get access to your Notebook, which allows you to adjust exactly what information Cortana knows about you by adding or deleting details about you and your life.
It would be really interesting to see how Android users take to Cortana and how Cortana fares on non Windows platforms. It already faces stiff competition from Apple's Siri for iPhone/iPad and iPod Touch. Siri has acted as some sort of industry benchmark for personal assistant though Google's Now for Android fares equally good on Android platform.
Still, Cortana offers some unique abilities (the Notebook in particular) not available with Google and Apple's virtual assistants. Also Cortana's voice detection is supposed to be best in the business.
You can download the .APK here to install it on your Android phone. Do remember to change your settings to install from untrusted sources before proceeding to download the APK. Those souls who do not trust untrusted Apps can wait until the official launch of Cortana for Android.