Porn Ban fallout : Demand for VPN services spikes after the Indian governments directive to ban online porn services
Indian government sneakily directed the Internet service providers to block 857 websites which allegedly contains adult material. The Indian government's order was widely panned by Internet users and some even went to the extent of calling the dispensation at Delhi to have talibani traits.
The government now says that it has asked the ISP to ban only those sites which contain pedophilia however sites like Clips4Sale, Pornhub and Xvideos continue to show a banner to Indian visitors that they are banned.
The Indian government's porn ban action has a unlikely winner. VPN service providers from across the world are seeing a rise in their subscribers thanks to the Indian governments ban which has fueled Indians to look for alternative methods to access adult websites.
As soon as the blocks became active searches for "VPN" spiked in India, as shown in the graph below.
VPN search trends in India (90 days)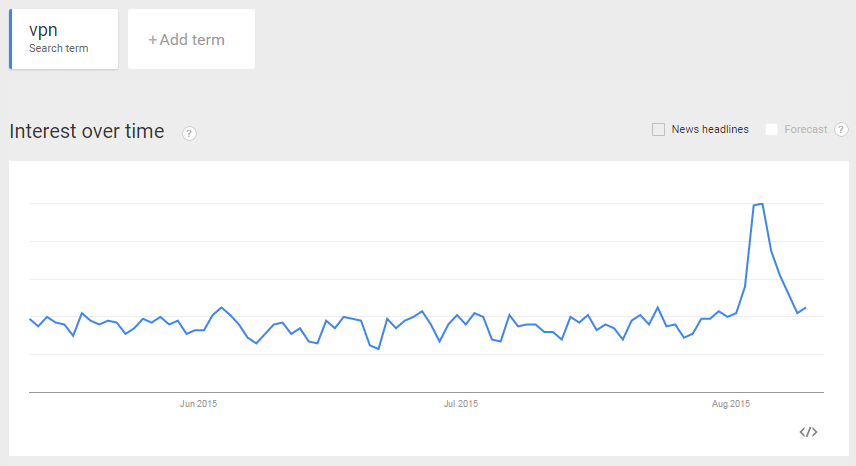 Similarly, Indian searches for "proxy," referring to proxy sites that allow users to bypass ISPs blockades, went up as well.
Proxy search trends in India (90 days)
The dignitaries sitting in Delhi have forgotten that Internet is just too hard to control, leave aside ban it. Earlier when The Pirate Bay was banned in European Union, a similar spike was noticed in VPN and Proxy services.  Whether it's porn or torrents, people usually find a way.
To quote John Gilmore once again: "The Net interprets censorship as damage and routes around it."