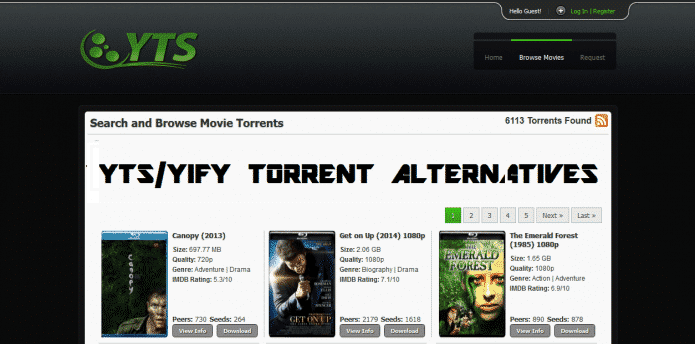 Here are the top five YTS/YIFY alternative torrent websites
Following the shutdown of YIFY Torrents, which has been renamed YTS, torrent lovers are in a bit of tizzy regarding good quality alternatives. YIFY/YTS specialized in good quality torrents making them rise to top of the torrent download charts in just 2 years.
ALSO READ: How To Unblock Torrent Sites
Surely, the good quality YIFY/YTS torrents will be missed but what will happen to the thousands of people, who used to depend heavily on YIFY/YTS for good quality movies? We are bringing the top five alternatives to YIFY/YTS torrents. These sites have been picked by us based on their good quality torrents as well as being malware free.
The Pirate Bay is sort of lone man standing in growing anti-torrent environment. TPB now seems, perhaps the best torrent website choice to download movies and TV shows. The site lets users upload and download movies, music videos and games.
ALEXA RANK: NA / COMPETE RANK: NA / LAST YEAR #1
Is the Pirate Bay blocked for you by your ISP?
Here are the best Pirate Bay alternatives
Kickass Torrents of KAT as it is popularly called has been a quick riser to top torrents website spot with quality torrents and a clean user interface website. They have however, suffered at the hands of Google and Mozilla, who blocked them for passing malware on Chrome and Firefox respectively.  It is a torrent search engine and hosts no content, however, you need to be just a bit cautious about the ads on KAT.
ALEXA RANK: 151 / COMPETE RANK: 711 / LAST YEAR #2
Is the Kickass Torrents blocked for you or not working?
Here are the best Kickass Torrents Alternatives- 2018 | Sites Like KAT
Torrentz is one of the leading BitTorrent meta-search engines. Unlike other sites, it doesn't host any torrent file but just does the job of redirecting visitors to other websites from where movies and videos can be downloaded. However, it has a clean user interface and pretty nifty search engine which can deliver fast results to torrent lovers.
ALEXA RANK: 206 / COMPETE RANK: 1.716 / LAST YEAR #3
Extratorrent is one of the biggest torrent systems and has turned out to be a very active torrent community of late. It is also home to torrent release groups like ETTV and ETRG. ExtraTorrent continues to gain more traffic and has become one of the most active torrent communities. The site is also the home of the popular ETTV and ETRG release groups.
ALEXA RANK: 356 / COMPETE RANK: 3,446 / LAST YEAR #4
It is a popular site for downloaders, as it offers a wide range of music videos and movies.Isohunt.to was launched in 2013, less than two weeks after isoHunt.com shut down. isoHUNT is run by the same people are also behind Oldpiratebay.org.
ALEXA RANK: 1,890 / COMPETE RANK: 7,723 / LAST YEAR #8
In addition to the above, we also like the RARBG torrents website. RARBG started out as a Bulgarian tracker, branched out into movie torrents. It offers good quality movies for torrent lovers.
So if you miss YIFY/YTS, these are the top 5 alternatives for you. In case you find any other torrents website more appealing, do drop in the URL in the comments section
Also read: Best Torrent Sites- 2018