Best Antivirus for 2016? Bitdefender and Kaspersky AV win the AV-Comparatives award
Since we are more connected to the World Wide Web then we were a couple of generations ago, we require the best of the best, particularly when antivirus programs are concerned. That being said, AV-Comparatives had subjected 21 popular antivirus programs to see which ones featured the best level of security as well as the best level of support. Since threats continue to change with every passing month, it is imperative that these programs remain up to date in order to hold out against them. Given below is the criteria that AV-Comparatives used when comparing various antivirus programs:
• File detection tests
• Malware removal tests
• Performance issue tests
• Best protection tools
• PC resource consumption test (lower is better)
Given below are the 21 antivirus programs that were tested:
1. Avast Free Antivirus
2. AVG Internet Security
3. Avira Antivirus Pro
4. Baidu Antivirus
5. Bitdefender Internet Security
6. BullGuard Internet Security
7. Emsisoft Anti-Malware
8. eScan Internet Security Suite
9. ESET Smart Security
10. F-Secure Internet Security
11. Fortinet FortiClient (with FortiGate)
12. Kaspersky Internet Security
13. Lavasoft Ad-Aware Free Antivirus+
14. McAfee Internet Security
15. Microsoft Windows Defender for Windows 10
16. Panda Free Antivirus
17. Quick Heal Total Security
18. Sophos Endpoint Security and Control
19. Tencent PC Manager
20. ThreatTrack VIPRE Internet Security
21. Trend Micro Internet Security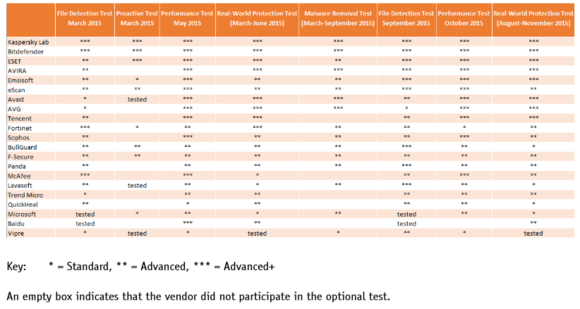 After the tests were done with, AV-Comparatives gave Kaspersky and Bitdefender the top spot for the best antivirus program for 2016.
However, this does not negate the other applications because they all received one award or the other. These awards and the programs that gained them have been listed below.

Best Real-World Protection
Gold Medal – Bitdefender, Kaspersky
Silver Medal – Avira
Bronze Medal – Tencent

Best File Detection
Gold Medal – Bitdefender, Kaspersky
Silver Medal – Avira
Bronze Medal – Emsisoft, Lavasoft, BullGuard, eScan

Lowest False Positives
Gold Medal – Microsoft
Silver Medal – ESET
Bronze Medal – Panda

Best Overall Speed
Gold Medal – Avast
Silver Medal – Avira
Bronze Medal – Emsisoft, Kaspersky

Best Proactive Malware Detection
Gold Medal – Bitdefender
Silver Medal – Kaspersky
Bronze Medal – ESET

Best Malware Removal
Gold Medal – Kaspersky
Silver Medal – Avast, Bitdefender
Bronze Medal – AVG, Avira