Hamza Bendelladj aka The Smiling Hacker or The Robinhood Hacker: The Algerian hacker who is idolized by millions of Algerians.
If you have been following the SpyEye trojan indictment report earlier, you would have probably heard of Hamza Bendelladj.
You would be wondering why this hacker who has been sentenced to 15 years by a US court is so popular on social media and well on tech forums.
You may also be wondering about Hamza Bendelladz's death or if he is alive if you have come across photographs of a smiling hacker being hanged.
Hamza Bendelladj is a version of modern-day online Robin Hood and is hero-worshipped in his home country Algeria.
Was Hamza Bendelladj hanged to death?
No, Hamza was not executed.
In 2015 a Tunisian website incorrectly posted that Hamza is dead.
There are several video, images and pictures being circulated on social media claiming to show Hamza being hanged. Hamza Bendelladz is still alive and the photograph which is incorrectly being circulated about him being hanged is not of him but of an Activist Majid Kavousifar.
Bendelladj was not given the death penalty and will only have to serve 15 years in prison.
How did Rumors about Hamza's execution spread?
The Algerians and hackers from the Middle-Eastern region view him as their idol whom they seek to emulate.
Hamza reportedly used his SpyEye trojan to milk money from people from the west to give the same to Palestinian charities closer home.
More so because somebody on social media spread the rumor that Hamza bendelladj was handed over death sentence by the US court.
Algerian hero is 1/10 most dangerous hackers.
Hacked 217 banks, sent $280,000,000 to Palestine.

His sentence? death. pic.twitter.com/FCiOncSgMO

— ???? (@hassanjaber__) August 20, 2015
Hamza Bendelladj is a legend in Algeria, a country which is also going through turbulent times politically.
Hamza who operated with the code name is " BX1 " 1  and was dubbed the " smiling Hacker ", born in 1988, from Tizi-Ouzou in Algeria.
According to the people who knew him, Hamza could speak 5 foreign languages and was proficient in coding, a career option available to only the elite Algerian class.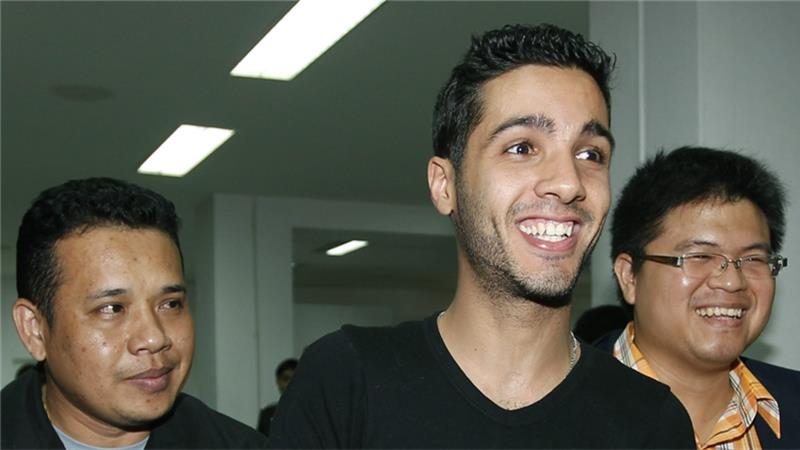 The above image was taken when Hamza was taken in custody in Bangkok. The image is the reason Hamza is called The Smiling Hacker.
Hamza may be a much-loved figure from Algerians and Middle-Eastern hackers but for the West, he was nothing less than a criminal who was on the list of FBI's most wanted cyber criminals.
He and his friend, Aleksandr Andreevich Panin aka 'Gribodemon' and 'Harderman' were responsible for losses of over $20 million to Western banks through their SpyEye trojan.
On january 8th 2013, Hamza was arrested in Thailand and was later deported to the United States after which he was charged with twenty-three different crimes  from 2009 to 2011, including several bank wire frauds, computer frauds, and abuse schemes.
According to the indictment document released by the United States Department of Justice dated June 26th, 2013, SpyEye, a malware and phishing toolkit was specifically designed for the theft of confidential private data as well as financial credentials of the targeted victim.
Panin and Hamza operated their cyber crimeware empire from Russia since 2009. He and Hamza used to sell  "SpyEye" online for $1000 to $10,000.
According to authorities, Hamza and Panin sold this blockbuster malware to more than 150 Cyber criminals. One of their clients is believed to have stolen $3.2 million during a 6 month period using "SpyEye" malware.
Hamza pleaded guilty June 2015 to all the charges. Humza accepted that he transmitted more than one million spam emails containing strains of SpyEye and related software to computers in the United States, resulting in hundreds of thousands of computers getting infected.
Hamza's Sentencing-
Hamza Bendelladj who is just 35 years old was prisoned at the age of 27 will get to spend 15 years in a US Penitentiary for the financial crimes he and Panin committed.
He was not given any death penalty as circulated in social media.
Despite his admission of guilt, Hamza's supporters continue to hack various websites across the world, including, of late, Air France and a Virginia-based university, calling for his release using the hashtags #FreeHamzaBendellaj and #FreePalestine.
When will Hamza Bendelladj be released?
Hamza Bendelladj will be released in 2031 after serving 15 years of prison time.