Want a dual-boot tablet which has both Windows 10 and Android, try out Teclast Tbook 16 Pro
Summary: I dare say that this little laptab has grown on me over the past two weeks. It's a solidly-constructed, inexpensive tablet that works both on Android and Windows 10 and serves me well for web browsing, light word processing, and media consumption. The Teclast Tbook 16 Pro Android Pro is good for gaming because of its 4GB RAM.  It also gets a pretty good screen for the price. 
Rating: 4

.0

 / 5  

Price range: $209.99
THE GOOD
Solid Build quality; Long Battery Life; Good Screen; Soft-touch finish; Good for Dual use; Inexpensive
THE BAD
Limited internal memory, No rear camera
My View
With tablets gaining traction world over and outdoing laptops in sales, Teclast has come up with a good product to lure both laptop owners as well as tablet aficionados. Much like the tablets they have mostly superseded, these inexpensive 2-in-1s, popularized by the Asus T-series, are aimed mostly at casual content consumers.
Teclast is a Chinese tablet maker which specialises in tablets looking to appeal to the low-end market. Long skilled at producing "shan zhai" knockoffs of famous brands for domestic consumption, they are starting to market their own inexpensive takes on the 2-in-1 convertibles and ultrabooks overseas.
At $209.00 Tbook 16 Pro definitely is worth a second look because it can address your genuine laptop needs with its Windows 10 mode while letting you have the fun of a Android tablet.
TBook 16 Pro Specs
| | |
| --- | --- |
| Screen | 11.6-inch 1920 x 1080 px FHD 10-point capacitive IPS screen |
| Processor | Intel Cherry Trail X5-Z8300 64bit Quad Core 1.44-1.84GHz) |
| Graphics | Integrated Intel HD Graphics 8 |
| Memory | 4GB |
| Storage | 64GB eMMC 4.51 – microSD card up to 128GB |
| Connectivity | Broadcomm Wi-Fi 802.11n, Bluetooth 4.0 |
| Ports | USB, microSD card reader, micro HDMI, 3.5mm audio, DC-in (12V) |
| Battery | 8000 mAh (about 8-9 hours of solid use) |
| Operating system | Windows 10 and Android (in different containers) |
| Size | 29.00 x 18.10 x 0.48 cm / 11.42 x 7.13 x 0.19 inches |
| Weight | 1.435 kg |
| Extras | Gravity sensor, front-facing 2MP camera, steroid speakers, integrated microphone, |
Teclast TBOOK 16 Pro is a new tablet from the Chinese Tab maker Teclast. The USP of TBook 16 Pro is its dual-boot system which gives users the fun of both Windows 10 and Android 5.1 and its massive 8000 mAH battery.
Among the first things you notice in Tbook 16 Pro is the sleek design. The tab has an 11.6 inch display with wide bezels in plastic. The Tab has a metal back so it seems a bit heavy. The Tbook has a great IPS screen with 1920×1800 resolution. The display is both vivid and colorful because it is powered by Intel Cherry Trail Z8300 64bit 1.44 GHz Quad Core processor and runs on 4 Gb of RAM. This means that you can play in all Android games which you want, without any lags. Tbook 16 Pro runs on Android 5.1 Lollipop  and Windows 10 but runs smoothly in both the systems due to its powerful processor. However its a bit low on internal memory. This causes problems as you have to install same Apps twice on the Tab like Google Chrome. Once in the Android container and once in the Windows 10 container.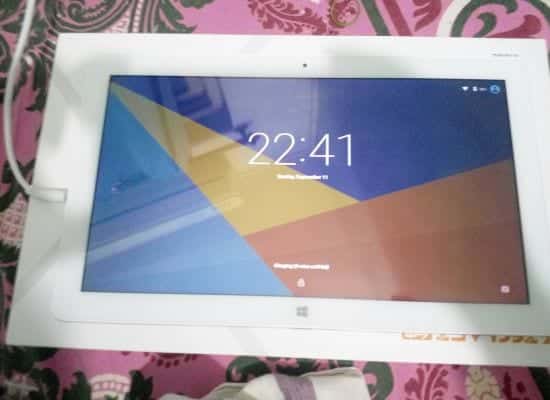 Imagine , you are having a normal Android tablet, with big screen, with all those things for which we love these devices and after connecting a keyboard and switching operation system to Windows, we are getting a great, portable netbook for tasks which are possible to be done only in Windows, and 4GB of RAM let you do it easily and fast.
Tbook 16 Pro has a single front 2.0MP camera which is enough for video chatting. I dont expect you taking selfies with a 11.6 inch tab anyway. It has USB 3.0 and HDMI slots, it allows us to share files, videos, connect different devices, and to mirror screens on bigger TV or to share the picture with other tablets. It can support Excel, PPT, Word, PDF, Power Point, TXT, Word, with a help of Windows system.
Tbook 16 Pro has a massive 8000mAh battery which is best in class for such tabs. Given that Tbook 16 Pro is a dual-boot tab, the 8000mAh battery can last for two days without any problem.
Final thoughts
I dare say that this laptab has grown on me over the past two weeks. The solid construction, soft-touch coating, and small size make it easy to just grab the Tbook 16 Pro every morning by hand and take it with me to work. It is neither expensive nor fragile, so you don't need to worry about a case, and the battery lasts more than all day.
The only issues I had with Tbook 16 Pro was its limited internal memory which can be a real pain in the ass considering that we live in a data intensive world. The battery is super and can last a full day without drawing a sweat but I miss the old fashioned rear camera.
As it is, it's a solidly-constructed, inexpensive convertible that serves well for web browsing, gaming, word processing, and media consumption (with headphones). It's worth considering if you already have a main computer and you're looking for something to carry around with you for casual work or surfing.
The tab is perfect for those who carry their heavy laptops to schools or while traveling. It fits perfectly in the knack sap and not that heavy compared to a laptop. The only issue I had with Tbook 16 Pro is that it has only 64GB internal memory. 64GB is too less in this day and age. Teclast has given microSD expansion slot for extra memory but that is also limited to 128GB.
Other than that I liked Tbook for its smooth performance both in Windows 10 and Android mode and also for its massive battery. As far as the price is concerned, Teclast Tablet's are always at cheaper rates without compromising on the quality. Gearbest is holding a flash sale for Teclast Tbook 16 Pro tabs at $209.99 for a limited period.
You can check it out here.