How much do you know about DVDFab Video Converter
Some of you here might be very much familiar with DVDFab, a well-known multimedia solution provider which has been dedicated to DVD & Blu-ray backup, conversion, and authoring, as well as video conversion for more than a decade, over 12 years, to be accurate. A few of you might even be their customers, as me myself recently became, thanks to the fact that DVDFab has a much-diversified product line.
I was first deeply impressed, approximately 6 years ago, by its DVD ripper software known to many as DVDFab DVD Ripper, which I am not going to talk about today. The centerpiece of my conversation here today is about its Video Converter software, which joined the DVDFab family several years later when its DVD Ripper already made a big name in the market. That said, this video converter software quickly find its own niche, whose features make me feel equally impressed as did its DVD ripper years back. 
The software is designed to convert videos between versatile formats, whether they are mainstream or rarely seen in today's world. It is able to read almost all the known video formats one can find, regardless how the video is made and where it comes from, downloaded from Internet, took by smartphones, tablets, or shot by more professional camcorders, DSLRs, or whatever it might be, you can feel no hesitation to throw at it. As to what you will get from the other end of the pipe, don't worry, it covers nearly all the popular mobile devices, game consoles, smartphones and tablets from all the major manufacturers, like Apple, Samsung, Sony, LG, NOKIA, Microsoft, Lenovo, HTC, BlackBerry, Huawei, Xiaomi, Meizu and other less known small shops. And if you really cannot find your device listed in the built-in profile library where houses all the conversion presets for those devices, then you can just convert your video source into a specified format your device is compatible with, like MP4, AVI, MKV, FLV, VOB, WMV, etc.
Main Features of DVDFab Video Converter
DVDFab Video Converter offers heavy video consumers an array of professional settings so that one can feel free to do customizations while converting a piece of video, to maximally fulfill his expectations.
1. Support broad range of video formats
Like aforementioned, this video converter software lets users process any video format ever existed in this world, no matter how that video is coded, h.264, MPEG-2, DivX, XviD, it is even being constantly updated to support the emerging technologies like the H.265 and 4K videos. In other words, once choose this software, you won't be worried if one day you will come across any video format it cannot process, as the developers will not let that happen.
2. Support H.265, 3D and 4K video outputs
It is one of the rare video converter tools that let you convert regular 2D videos into 3D videos with various 3D effects, like the side-by-side 3D, top-and-bottom, etc, with just a few mouse clicks. Just suppose, wouldn't it be cool to make your own 3D videos and watch it at home on your large flat 3D TV? Speaking of 3D TV, most of them now even support the high definition H.265 videos and the superb 4K videos, and yes you probably already guess what I am going to say, this handy video converter can also convert your high definition videos into H.265 videos, or 4K videos for you to enjoy.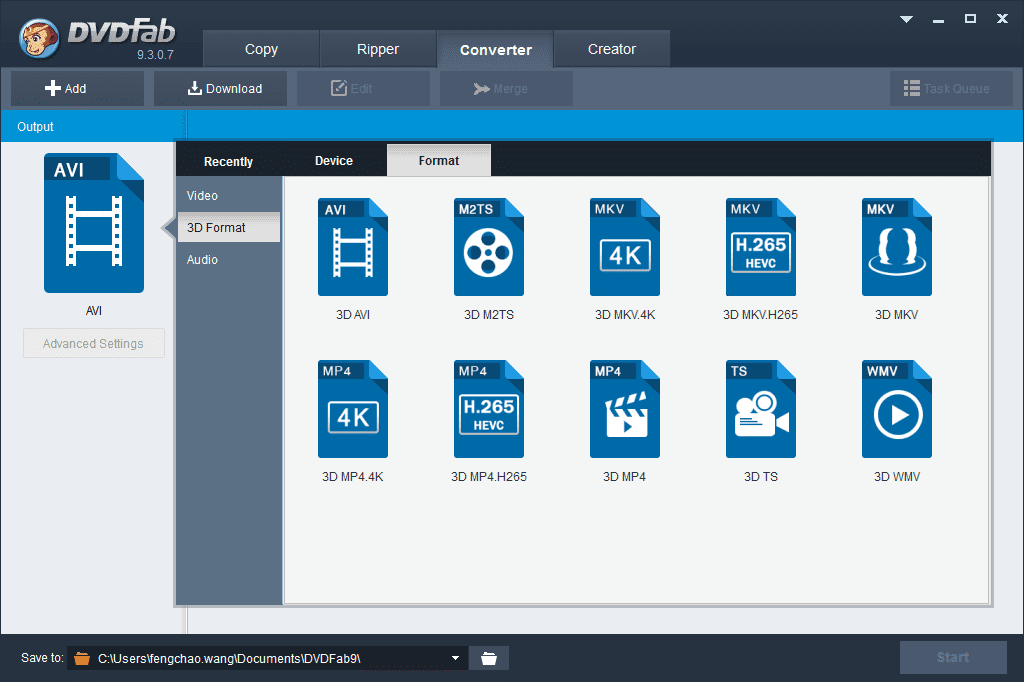 3. Support all the popular mobile and portable devices
For those users who just want to make quick conversions to enjoy their beloved videos on their portable and mobile devices, like an iPhone of any generation and any model, any variant of iPad, any Galaxy product from Samsung, PSP, ZUNE, NDS, Xbox 360, Apple TV, PS3 and any tablet from all the manufacturers spreading all over this planet, just find that device from the internal conversion profile and hit the start button to let go of the conversion and then you can just sit down in the sofa and keep your fingers crossed. Shortly before you drink your coffee, the video conversion is done for you. Nothing else is required!
4. Convert a video file into audios of popular formats
To be frank, this feature is the one I personally like most. As an audiophile, I usually need to take a particular song out of a certain video, so that I can save the bother to order the same song from iTunes. This software allows users to convert a given video into audio files of many popular formats, like mp3, AAC, FLAC, M4A, etc. not only that, it even let you decides where to start the conversion and where to end it, in other words, to convert any specified clip from a given video into audio, which is perfectly for extracting a song out of a piece of video, like I do a lot.
5. Hardware acceleration and batch conversion available
When choosing a video conversion software, the conversion speed is an inevitable element to mention when making the final decision. As far as this is concerned, DVDFab Video Converter lets users make the best out their PC abilities, such as the hardware acceleration solutions from the Intel Quick Sync, Nvidia's CUDA, and even the batch conversion is possible. All of these options help users save a lot of time either by speeding up the conversion process or by enabling them to do multiple conversions at a time.
Final Verdict
To conclude my review, DVDFab Video Converter can meet both professional level and entry level needs. It offers an extended array of robust features and functionalities that worth your investment, and it gives users more than excellent video quality and performance. Besides, it runs on most of the OSs from Microsoft, including Windows Vista/7/8/10 on your laptops, desktop PCs or Workstations. Last but certainly not least, it allows potential buyers a 30-day free evaluation time so that they have enough time to test waters before eventually shedding their money.