After Supreme Court verdict to play the Indian National Anthem in cinema halls, Petition seeks Xvideos to play the anthem before and after every clip
This is absurd, frivolous and taking right to Freedom of speech too far.  A Change.org petition seeks to make the adult films website, Xvideos play the Indian National Anthem before and after every NSFW video on the website.
This comes on the back of the Indian Supreme Court judgment on Wednesday which made it mandatory for movie theaters to play the national anthem in the hall before the film is screened. The apex court in its order said it will instill a sense of patriotism while showing respect to the national anthem as well as Indian National flag.
As is usual nowadays, the move was panned by a section of Indian intellectuals and left-liberals including the mainstream media. Many of those who criticized had a valid point about practical implementation part of the supreme court order but others like Hashin Jithu chose to make a mockery of the judgment.
Jithu has launched a petition on change.org, to make Xvideos.com play the Indian national anthem before and after videos.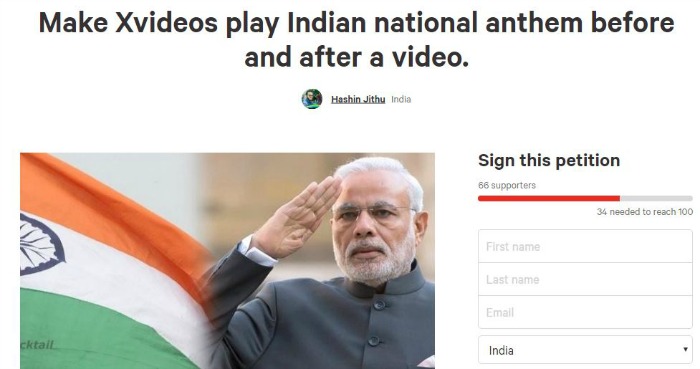 In the petition, Jithu says "It is well known that a huge number of Indian teens spend a lot of their time at Xvideos.com along with other sites during their formative years, adding that making them listen to the national anthem before watching a venereal video will instill a sense of pride and helps in tying reproductive urgency with patriotism." This helps in indoctrinating a sense of primacy to patriotism and helps them create docile future citizens through responsible reproductive behaviors in favor of the nation tribe," the petition adds.
The petition which is obvious in its intent to mock the Supreme Court of India and its judgment has even found some 464 backers. After the election win of nationalist Bhartiya Janata Party in the 2014 Indian general elections, these closet liberals have come out in open and are continuously at a war with the nationalist ideologues across India. Here is an example of the total bankruptcy of left-liberal mainstream media to fight the government on issues. This lady is a senior editor in majorly leftist publication, The Hindu and has worked with major Indian publications IndianExpress, Hindustan Times, The Pioneer.
but when I swipe my credit card, it's doesn't flash my card details and statement!plus,for KYC scanned copies would also do

— vijaita singh (@vijaita) December 1, 2016