SKEYE Nano 2 Drone : The worlds smallest flying camera drone which fits on your fingertips, Priced $99 (Rs.6600.00) for Techworm readers
Drones and Internet of Things are two sectors of technology which are just taking off with many new advances coming to us every day. Drones are nowadays used in pretty much everything from delivering pizzas to taking selfies, these small unmanned aerial vehicles are slowly taking over the world by storm. They vary in shape, sizes, and features. While there are many drones which covet for the title of world's smallest drone, have you come across a drone which is smallest, has a camera and packs a punch?
SKEYE, the manufacturer of quality drones and the current holder of the title of making the world's smallest drone (SKEYE NANO) now has added another feather in its cap. SKEYE Nano 2 is arguably the world's smallest flying camera drone at 1.6 inches wide.
Measuring just 1.6 inches on each side, and 0.9 inches in height, the 0.59-ounce this awesome drone is capable of flying in six directions and 'performing aerobatic stunts.
The SKEYE NANO 2 is priced at $129 but is available to Techworm readers at $99. If you are interested, visit our Techworm Deals page and get the SKEYE Nano 2 for $99 for a limited period.
The Nano 2 is so simple to fly that even a non-technical person can handle it.  Just push the button for takeoff and you can take it from there with the included controller or sync it up to your smartphone via Wi-Fi. The SKEYE Nano 2 drone comes with its own App which gives you real time camera streaming with various controls. Its compact and lightweight design enable precision flying, thanks to its 6-axis flight control system with adjustable gyro sensitivity.
Despite its size, the Skeye Nano 2  houses an HD-capable, Wi-Fi-controlled camera able to feed back amazing first-person-view video in real time. The drone also has the ability to hover in one spot, allowing the user to adjust its pitch, yaw, and roll without worrying about it shooting off in the wrong direction. The Nano 2 also comes with built-in LED lights for night-flying, and clips inside the controller when not in use.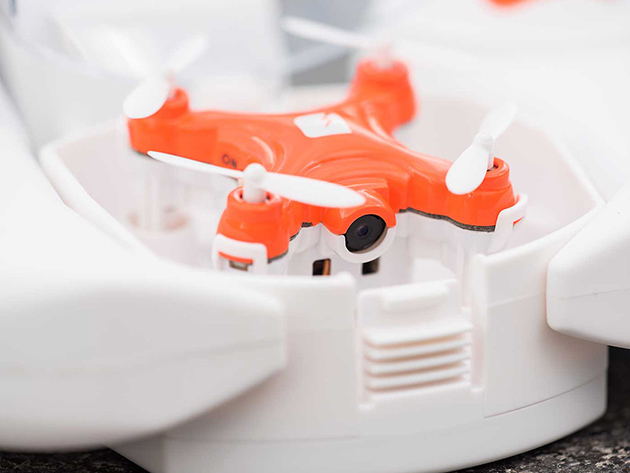 The SKEYE Nano 2 FPV Drone ships anywhere for free and is a can't-miss holiday gift idea. Pick one up for $30 off from Techworm Deals for a limited Black Friday promotion period.