Best of CES 2017: The most innovative products from the show
The New Year kicked off with one of the biggest US annual Consumer Electronics Show (CES) organized by the Consumer Technology Association in Las Vegas, Nevada. More than 175,000 attendees were witnesses to what the world's top technology companies had to offer during the event starting from January 5th to January 8th. CES 2017 showcased countless new smartphones, laptops, accessories, automobiles and more. As the Internet of Things (IoT) continues its shift from fantasy to reality, connected devices were a top theme once again.
In this article, we bring to you 10 top products that we feel were above the rest at the CES 2017.
1. Faraday Future FF 91
Faraday Future returned to the Consumer Electronics Show (CES) 2017 in Las Vegas to unveil its first passenger vehicle, named the FF 91, an all-electric supercar. The Gardena, California-based company wowed the attendees at the CES 2017 when it finally took the wraps off its first production car.
Faraday Future's FF 91, the sleek four-door, is an entirely new breed of automobile that fuses exceptionally high performance with precise handling, ultra-luxury, and futuristic intelligence features. Leading its extreme capabilities, the supercar produces 783 kW of power, equating to 1050 horsepower, delivering an astounding 0-60 mph time of 2.39 seconds.
While there is no doubt that that this car is fast, but the electric car is technically not on the market, nor does it seem like it will be any time soon (The company had to stop production on its factory late last year because of cash flow problems). Faraday Future is taking pre-orders for the FF91 now, along with a $5,000 deposit. The earliest the FF91 will ship is 2018 and there's no final price yet.
2. Dell XPS 2-In-1
It is difficult to differentiate the Dell XPS 2-in-1 convertible from the XPS 13, apart from a slightly different hinge. The new Dell XPS 13 is a 360-degree hinged convertible and has a very similar slim bezel display (5.2 mm) as the original Dell XPS 13 with a familiar aluminium-and-carbon-fiber chassis.
The XPS 2-in-1 includes a 7th-generation Intel Core i5 or i7 processors, depending on specs, with integrated Intel HD 615 graphics, up to 1TB of storage space, up to 16GB of RAM, and a 13.3-inch Full HD, or QHD+ InfinityEdge touch display. The XPS 13 2-in-1 convertible actually has four usable modes: laptop, tablet, stand and tent. The laptop will have a multi-finger touch display, which goes along well with the tablet mode. The XPS 13 convertible gets a claimed 15 hours of battery life offers support for a stylus.
3. LG Signature W OLED TV
Organic light-emitting diode (OLED) technology can produce excellent pictures on incredibly thin panels. LG is pushing the limits of what OLED can do with the Signature W series, which is 2.59 mm thick.
This stunning next-generation television truly represents the future, packing 4K Ultra HD resolution and HDR into a razor-thin panel. The company stuck the TV's components inside an external sound bar, which lets the 65-inch, 18-pound, 3.85-millimeter-deep display rest against the wall like a poster. Thanks to a special magnetic mounting system. The design of the TV is expected to literally reshape televisions for years to come.
4. Samsung Chromebook Pro/Plus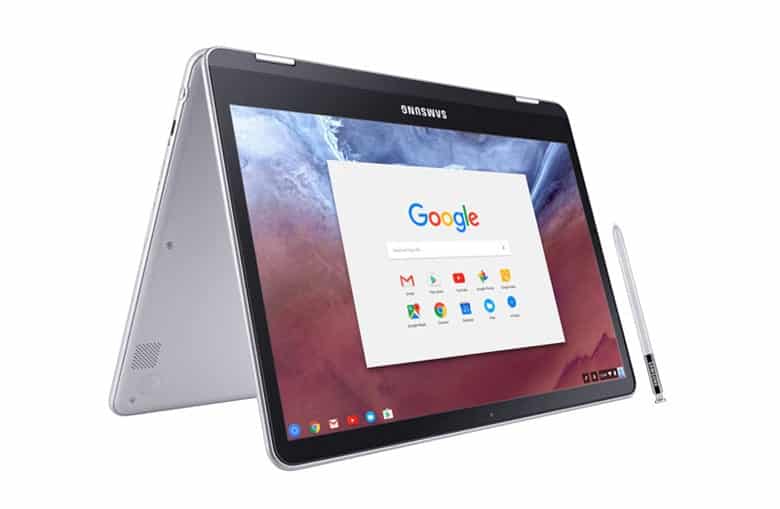 Samsung's just-announced Chromebook Plus is everything a person could want from a Chromebook in 2017. On the other hand, Samsung's Chromebook Pro is a slightly upscale Chrome OS laptop offering an Intel Skylake processor instead of an ARM-based chip that is available in Chromebook Plus version. The Samsung Chromebook Pro and Plus both feature superb metallic designs that gives them a high-quality aesthetic, which has eluded Chromebooks in the past years.
The Samsung Chromebook Plus and Pro are also  packed with quite a few useful features such as a 360-degree rotating design and a 12.3-inch 2400 x 1600 touchscreen display, that allows you to transform the laptop into a tablet. It ships with the Google Play store preinstalled, giving users access to millions of Android apps in addition to apps made for Chrome OS. They also sport USB-C ports.
However, the reason why the Samsung Chromebook Plus and Pro stand out is due to the addition of a Samsung Note staple: a pressure sensitive stylus, making the new Samsung Chromebook family perfect for drawing, taking, notes, and more.
You can pre-order the Chromebook Plus right away starting at $499. It starts shipping the week of February 5th. Samsung is yet to announce their pricing for the Pro version, but it should cost more because of the advanced processor.
5. Lego Boost
Lego Boost is Mindstorms' friendlier, more affordable little brother that demonstrates just how relevant it can still be as a learning platform. Boost's simple, flexible programming interface slots in underneath the existing Mindstorms system as an approachable introduction to code intended to teach kids how to program. It's a set of motors and programmable bricks that can work with existing Lego kits and turn them into motorized or motion-sensitive toys. You can build a car, a cat, a guitar, or even a Lego-building 3D printer. The app can also record voice effects that allows you to make your robot Lego-cat speak. All of these projects are just the first steps to making your own creations with Boost.
6. Dish AirTV Player
Dish's AirPlay TV, as a media streamer, in an Android TV box takes nearly everything great about streaming devices and adds an OTA HDTV antenna into the mix. This $129.99 bundle jumps straight into Sling TV, letting you access both live TV over the subscription service and OTA television with an antenna, along with your Netflix and Hulu queue on the same screen. They also get free live broadcast TV from all the major networks including ABC, CBS, Fox and NBC in 1080p Full HD. Add the straightforward remote control and you've got a cord-cutting winner.
7. Nvidia Shield TV and Spot 2017
Nvidia has a great new Shield TV for CES 2017, but it's the company's attitude toward owners of its original set-top box that gets it the award this year. Anyone with the original Shield TV will be able to upgrade to the new features with a free software update later this year. For just $199 (pre-orders now open on Amazon!), the Shield supports streaming 4K HDR content from a variety of services like Amazon and Netflix. Also, more than hundreds of console-quality games available for you on Shield store. If you want the fancy new Shield Controller, you can do that by adding just $60.
8. Asus ZenFone AR
Asus has taken the brand to all new heights with the launch of ZenFone AR. The ZenFone AR is the first smartphone that promises to bring both virtual reality (with Google's Daydream platform) and augmented reality through Google's Tango technology. Wrapped up under a 5.7 inch 1440 x 2560 super AMOLED display, the ZenFone AR packs a Qualcomm Snapdragon 821 chipset, Qualcomm Adreno 530 GPU and a massive 8GB of RAM. The smartphone is equipped with 6 sensors for measuring depth, motion tracking, room mapping as well as image recognition. Additionally, the ZenFone AR features Google Daydream, allowing users to quickly convert the smartphone into a VR machine. It is capable of creating 92-megapixel images by combining four native 23MP photos to create a single "super resolution" photo. The very stylish, thin and light smartphone easily stands out as one of the most high-tech smartphone one has ever soon.
9. Neonode AirBar
The sleek gadget from Neonode plugs into the USB port on a 13.3-inch MacBook Air and sits beneath the display. Using a special sensor array, it emits an invisible light field over the screen, turning your laptop into a giant touchscreen. This allows users to control the machine as though it were equipped with an actual touchscreen, which means you can tap, swipe, pinch, and zoom like you would on your smartphone or tablet.
Here's a video of the AirBar in action:
https://youtu.be/qWjrTMLRvBM
10. Sleep Number 360 Smart Bed
Millions of people suffer from sleep disorders of varying degrees, but gadgets and gizmos rarely offer long-term solutions. Sleep Number has released a "smart bed" called Sleep Number 360 that will adapt to your body in real time. You can manually set your ideal "number," but the 360 will also respond to your nocturnal rocks and rolls. This way, as sleeping positions change throughout the night, the bed self-adjusts to optimize the sleep surface and ensure comfort.
Here's a video that explains how it works:
https://bgr.com/2017/01/06/best-of-ces-2017-top-10/