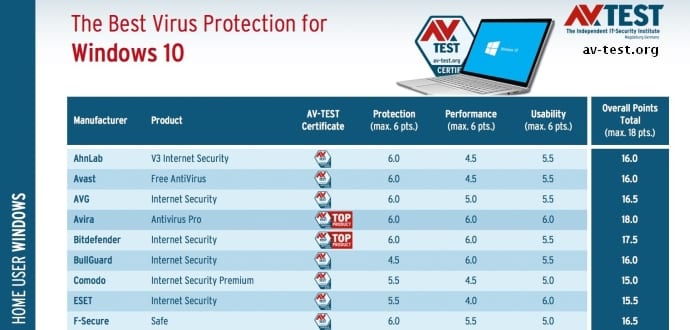 Kaspersky and Avira top the chart as the best Windows 10 antivirus products in AV-TEST
If you are a Windows 10 user, you must be aware that Windows Defender is a free anti-malware program of Microsoft Windows installed by default in your computer to keep it safe from viruses. While Windows Defender has grown over the years since its introduction in Windows 8 and later versions, there are many third-party antivirus solutions available in the market that can provide better security protection than Windows Defender.
So, what are the best antivirus programs that can provide the best security to your computer? To answer this, AV-Test, a Madgeburg, Germany-based security firm, that periodically evaluates all sorts of antivirus software, has come up with a list of best possible antivirus solutions based on their research carried out in March and April.
The different antivirus solutions were evaluated by the company in three categories: Protection, Performance and Usability, with each carrying points worth six each, for a potential maximum total of 18.
According to the tests conducted, only Kaspersky and Avira managed to score full points of 6 each in all three categories, which was protection, performance, and usability making it to the final total of 18.
These two were followed by Trend Microsoft, Symantec, and Bitdefender with a total of 17.5 points each. While these three antivirus programs scored 6 points each in protection and performance, they could only manage to score 5.5 points in usability tests. Scoring 16.5 points were AVG, G Data and F-Secure, who scored the maximum of 6 points each in the protection tests but lost out in the performance and usability tests.
At 16.0 points, Avast's security product received 6 points for protection, but only got 4.5 points for performance and 5.5 points for usability. Trailing further behind was ESET, whose security products managed to score only 5.5 points for protection, 4 points for performance, and 6 points for usability.
However, the most surprising and disappointing performing solution was Microsoft's very own Windows Defender, which received 4.5 points for protection, 4.5 points for performance, and 6 points for usability making it to a total rating of 15 points, which is a bad result by all means. Joining Windows Defender at 15 points was another security solution, Comodo, which got 5.5, 4.5, and 5 points, in protection, performance and usability respectively.
Also Read- 20 Of The Best Windows 10 Themes