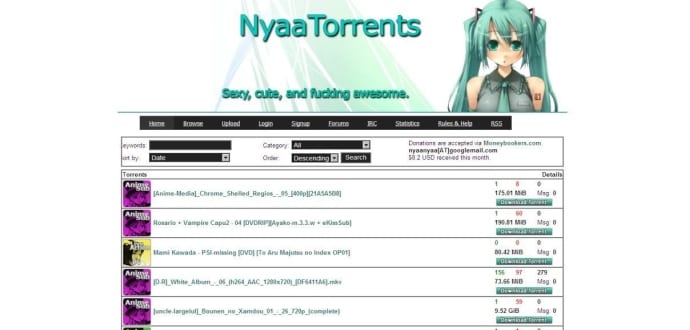 Popular anime/hentai torrent website NYAA shut down after domain deactivation, here are the top three anime download alternatives
Anime and hentai lovers around the world were left in a shock today when their favorite anime download torrent website, NYAA returned an error message. The popular anime torrent site NYAA has lost control over several of its domain names, which lead to shutting down of the website. NYAA owned several domains like nyaa.se, nyaa.eu and nyaa.org. It seems that all the domains have been suspended by the Registrar because each of the domain returns an error message.
ALSO READ: 10 Best Anime Torrent Websites
Only a few anime/hentai lovers may know that the popular anime torrent website NYAA was named from the Japanese term for a cat's meow. NYAA is heralded as one of the top sources for anime content and has an audience of millions of regular users.
The whois of NYAA.se domain shows a "serverHold" status which means that the Registrar has suspended the anime torrent websites domain. NYAA.eu and NYAA.org  show a similar status. Anime lovers should note that usually, the serverHold status means that the domain has been suspended by the authorities for serious copyright violations. However, some users from the torrents community have noted that the owner of NYAA domains may have pulled down the websites.
Whatever may be the case, anime and hentai lovers around the world were left hanging after the takedown of NYAA. Therefore we at Techworm have collated three top anime/hentai download torrent websites so that your anime and hentai download needs go on uninterrupted.
---
Top three alternatives to NYAA for anime torrent downloads
Since NYAA is now down and out, anime lovers can use these three top alternative websites to download their favorite anime content.
Horrible Subs is perhaps the best alternative to NYAA.se. This website is second best-loved anime torrent download website after NYAA and has a daily reader base of nearly 1 million and Alexa rank of 2797. The UI of Horrible Subs is very simple and you can use XDCC/Magnet links to download the latest anime content.
---
Anime Sharing is the number 2 alternative anime and hentai download website we bring you. The UI of the website is quite similar to KickassTorrents or ExtraTorrent and it has a good search engine which gives you best anime/hentai torrent download results. The website has an Alexa of 3445 and gets around a million visitors daily. It also as a anime/hentai dedicated forum.
---
Anime Bytes is another alternative to NYAA. This anime content website is not as popular as NYAA and others because it is necessary to get a registration from this website. According to sources, the Anime Bytes admin have stopped accepting new registrations as of now but they do open up the registrations from time to time.