Easy Method: How to recover deleted text messages from Android smartphones and tablets and even broken/bricked Android devices
Have you ever faced trouble for losing important messages from your Android devices accidentally? Or, in worst cases, you ever imagine the situation to lose all your important SMS for damaging or breaking the Android device? But now, you don't need to worry for those. In this article, we'll show you how you can recover all the lost messages from your Android device by using a very easy to use a powerful tool that can work even on damaged Android devices as well. So, keep reading this article to find out how.
MobiKin Doctor for Android is here to help you get back all kinds of lost, deleted or formatted data on Android devices within clicks. Not only text messages, this program also allows users to recover data like contacts, call logs, photos, music, videos, etc. from Android's internal memory and external SD card well.
Click here to learn recover deleted text messages from Android,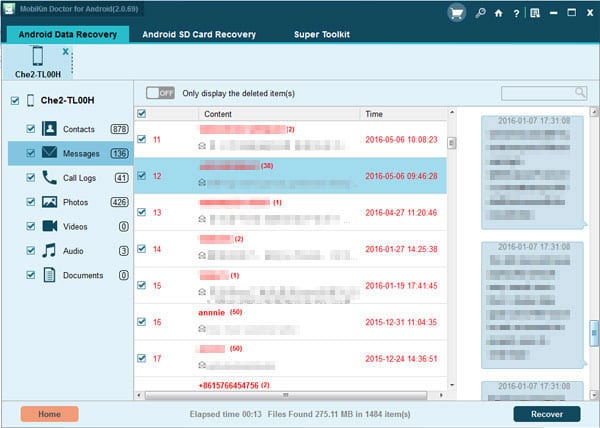 Part 1: How to recover deleted text messages from Android phones
In this part, we will learn how to retrieve deleted text messages on any Android devices like Samsung, LG, Moto, OnePlus, Huawei. We'll let you know with detailed step by step guide on how to recover the deleted text messages from Android devices easily.
Here, we would like to introduce an extraordinary tool for your everyday needs. "FORecovery Android data recovery" toolkit which can recover all your deleted data with an ease. The main features of this tool is –
This tool is very easy to use

It's completely free to try

It has the highest success rate in the market.

It supports almost all the Android device around the globe (Almost 6000 devices)

The user can selectively retrieve their data.
So, now, let's have a look at the step – by – step guide how to recover deleted text messages from Android.
Step 1: First of all, you need to download the "Android data recovery" and install it on your computer. Then, run the application and click on "Data recovery" from the available options.
Step 2: Connect your Android device via data cable to your computer.
Enable the USB debugging mode on your Android device if you didn't enable it before, you will get the instructions in the window below.
Step 3: Here you can see the available file types you can retrieve through this application. Just check on "Messaging" and uncheck all to retrieve the messages only. Now, tap on "Next" to continue further.
Step 4: Now, you can see two modes to choose between. Here please go to "Standard Mode" as it is your first try. Check on the "Agree with the warning" message and click on "Start" to start the scanning process. This may take sometimes to finish the process.
Step 5: After successful completion of the scan process, you can see your retrieved data on the window. Now, from the left side window pane, select the "message" and your lost messages will appear in front of you.
Step 6: Now, select and check the messages you want to recover on your device and tap on "Recover" at the bottom. And you are done. Your messages will be restored to your Android device in an instance.
Part 2: How to recover deleted SMS from broken Samsung Galaxy
You may be in some situation that your Android device is broken or the touch is not working but you need to retrieve the messages from the device. You might feel or think that this tends to impossible to get back the messages from the damaged Android device, but you are wrong. Now you can also restore your important messages from your damaged devices just by using the Android Data Extraction Toolkit.
Now, you can learn how to use this tool at the below guide:
Note: Currently this function only works for some Samsung devices in Galaxy S, Galaxy Note, and Galaxy Tab series.
Step 1: After downloading and installing the "Android Data Extraction" tool, run the application on your computer and click on "Data Extraction (Damaged Device)".
Step 2: Now, connect your damaged Samsung device via data cable with your PC and let the toolkit detect your device.
Step 3: Now, from the window, choose "Messaging" only to recover the messages from your damaged Android smartphone.
Step 4: In this step, you need to confirm the fault with your device from the two given option. It can be either "touch does not work or can't access the device" or "Black / broken screen". Choose the most appropriate problem you have with the device the by tapping on it.
Step 5: In this 5th step, please choose your phone name and model carefully. Choosing the wrong model can brick your device. So, be cautious in this step and click on "next".
Step 6: Now, follow the on-screen instruction to put your device in download mode. When the device is successfully put in download mode, you need to tap on "Start" option at below to start the analyzing process of your device.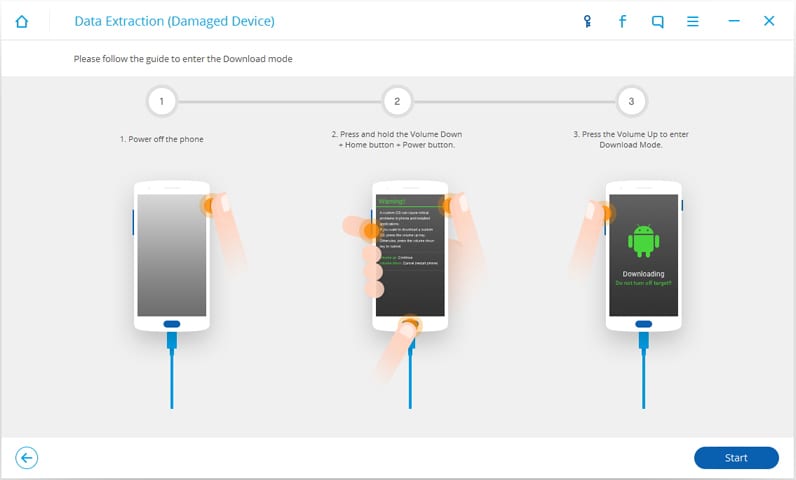 Step 7: On completion of the process, you can see your lost messages as a preview. Click on the messages you need and tap on "Recover" option at the bottom to restore them on your computer.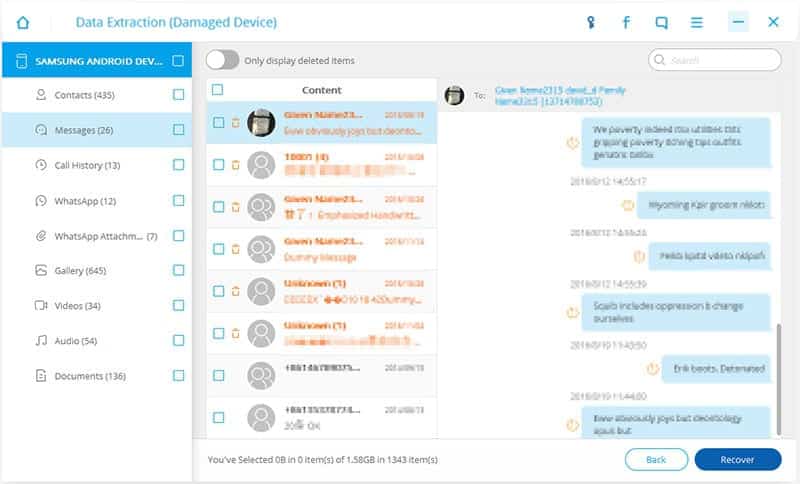 Conclusion:
So, this article showed you how to use this most amazing and easy to use toolkit by the dr.fone to restore your lost messages for any Android devices either it might be broken or deleted. Try this tool to experience the magic.