When the holiday season rolls around, it's tempting to pull your marketing into reactive mode. You've got too much to focus on, like fulfilling spiking orders.
After all, some retailers receive as much as 30% of their annual sales during the winter holidays. And overall, holiday sales represent nearly 20% of the retail industry's total sales. Simply put, there's too much to gain by pushing through and getting proactive instead. You can't let those customers go to your competitors just because you got too busy to attract them to your website, can you?
Of course, you'll need visual marketing assets to make it work. Visuals get people's attention, and they'll even put more money in your pocket. Shopify customers referred by Pinterest, a social network dominated by visuals, spend an average of $80 – twice as much as Facebook referrals, who spend an average of $40. And visuals also help spread your message further, as tweets with images receive 150% more retweets than those without.
Once you've got them ready, you'll use visual content assets throughout your marketing campaigns, as image attachments and video posts on your social media presences. These are great for fan engagement as well as paid customer acquisition objectives. Create graphics to promote sales, videos to promote products, and so on.
This is where many marketers get stuck. Generating visuals can be expensive and time consuming, and it often involves learning to work with new hardware and software. But that isn't necessarily always the case, with today's awesome creation tools that come with pre-packaged templates, relatively low price tags and easy interfaces.
And you don't have to start with a blank canvas, either. Here are some pre-curated resources that provide a good starting point for creating custom assets. These aren't cookie-cutter templates, so by customizing them, you can get the best of all worlds.
Promo by Slidely's Christmas Video Collection
First up is a handy collection of Christmas-themed royalty-free video clips compiled for use with the Promo by Slidely video creation tool.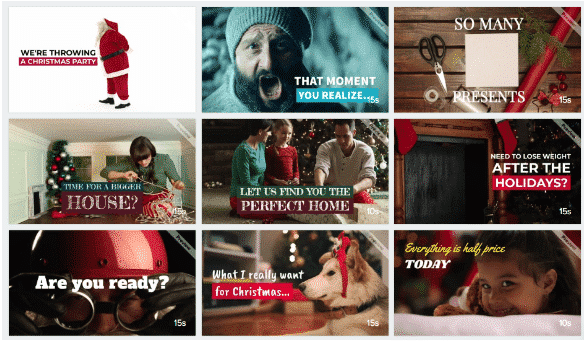 You can use these to create video promos if you want to capitalize on video marketing, without investing a lot of time, money, or energy into shooting or procuring your own footage. These are especially useful for paid social posts.
Just select your clip, upload your logo, customize the superimposed titles, select your music, and you're done. Promo even allows you to export your video in vertical and square aspect ratios, for optimized use on social platforms like Snapchat and Instagram.
iStockPhoto's Sets of Holiday Vectors
Next on our list is this holiday-themed set of vector-based graphics from iStock. It includes some great visuals in a variety of styles, from children's book characters to art prints to geometric patterns. The illustrations likewise run the gamut, including tree ornaments, champagne toasts, Diwali candles, urban shopping scenes, family banquets, tranquil nature moments and festive Chanuka menorahs.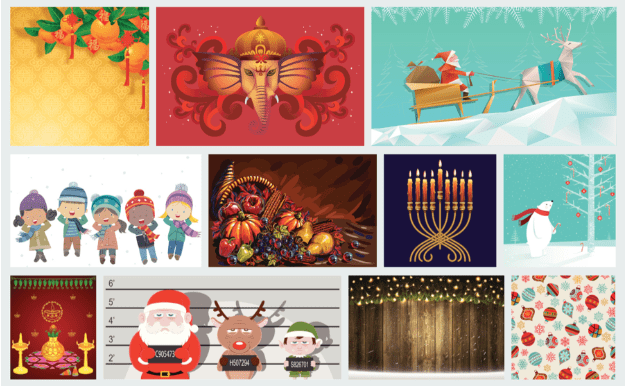 If you're good with Adobe Illustrator, or another vector graphics app – or if you know an affordable freelancer who is – you can customize these files however you'd like.
You can use these images as backgrounds for graphics that make great social media posts or emails. They're also great for printed promotional materials, packaging and direct mail pieces.
Envato's Unconventional Holiday Color Palettes
This one's a bit more do-it-yourself than the others. The team from the Envato marketplace has curated a stack of color combinations that you can use when creating your own materials. It's useful if you're deciding how to customize one of iStock's vector files, what colors to use in your titles in a Promo video, or really anything else.
Christmas is most commonly associated with red and green combinations – but that's more than overdone. And besides, Christmas isn't the only holiday people are celebrating.
If you want to keep things fresh and unique this holiday season, take a look at the 25 holiday color palettes on offer. Just use the hex codes as they appear in the post, or customize them as you like using a tool such as Paletton.
Visual Holiday Marketing Is a Must
Even though it may not feel like it, and you may want to crawl under a rock at the thought of launching any kind of new campaign during the holiday season, you can't let the temptation to go dark get to you.
Yes, you need to focus on filling orders and taking care of the customers who've helped increase your sales, but you want to spend some time drawing in new and repeat customers, too.
Relying on these pre-curated assets to help you create your own will significantly cut the time and money you have to spend on holiday marketing content assets, so you can still take care of that massive to-do list, without letting your marketing go stale.