Gone are the days when you used to watch videos from YouTube websites and wish to save or download them right on your smartphone. Nowadays, there are a plenty of videos to Mp3 converters available in the market, making the downloading task possible for you.
Though YouTube, itself, doesn't allow you to download videos, you can save them offline and watch them later on. But, what if you want them in an Mp3 format to save your device's memory as well as Internet data?
Here comes the play of YouTube videos to Mp3 converters that enables you the downloading of Mp4 files to an audio version. This way, you can listen to the music while doing your work or chores.
Also Read- Free and fast ways to turn your favorite YouTube videos into MP3 files
Many of you must be wondering, is it safe to use such videos to Mp3 converter websites for music download? The answer is 'Yes'. In here, we have listed top 10 YouTube to Mp3 converters for fastest conversion/downloads that are safe and user-friendly.
List of 10 best youtube to mp3 converters with fastest download speed-
1. FvdTube.com
If you wish to download music in high-quality, go to FvdTube website. This amazing platform will let you choose the format before you download the video file.
Also, it enables the downloading from social networking websites like Facebook and Instagram. Thus, giving you the best experience of converting videos to mp3 for free of cost.
One of the most popular tools to download videos as well as audios is Tubemate. Compatible with every operating system, this online website gives you the media file downloads in a blink of the eye.
Additionally, you can convert videos to any format of your choice for free. Therefore, you do not have to spend any money on download/convert YouTube videos to Mp3.
People who have used Tubidy website must be aware of its effective search engine that looks at a number of websites before presenting you with the best music.
Using this YouTube videos to Mp3 converter tool, you can unlimited media files for free of cost. Not only this, with Tubidy, you get the freedom to download music in different languages like English, Hindi, Spanish, Korean and many more.
Another tool that provides you with the best quality YouTube videos downloads in Mp3 format is SnapTube. Not only you get the quickest conversion of videos, but entirely ad-free experience.
With this user-friendly platform, you can save millions of songs as the way you want without getting redirected to other irrelevant websites. Also, it will not open unnecessary tabs and pop-ups.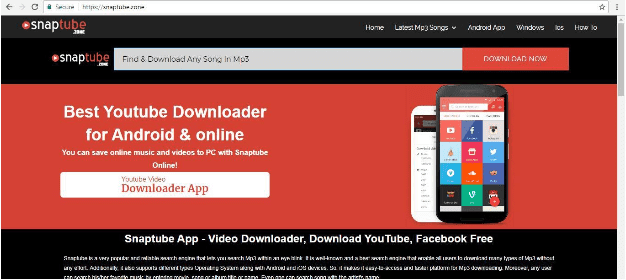 Videoder is another famous video to Mp3 converter that has the simplest yet attractive user-interface. So, in the search of your favorite music file, you do not have to deal with complicated file conversion method.
Easily, Videoder converts Mp4 to Mp3 files whether you have taken it from YouTube website or any other online video streaming sites. Moreover, you can pick a video from social websites as well, such as Instagram and Facebook.
The name of Mp3Converter says it all. Therefore, you can convert any video file to the Mp3 format in a quick and easy way.
This high-speed conversion tool does not need any sort of registration for file conversion. Thus, anyone can use it for free of cost. Plus, you can select videos not only from popular YouTube website but also from other sites like Metacafe, Vimeo, DailyMotion and more.
Looking for a regional language song? Ganna.zone is the website you need to visit. In here, you will get videos of different languages such as Punjabi, Bengali, Gujarati, Telegu, Tamil, and more.
Therefore, you can either download them directly or can convert them using this powerful video to Mp3 converter tool. Plus, Ganna.zone do not cost you a single penny for any downloads.
Mp3juice is an excellent tool that can convert as well as download any Indian or other languages songs straight onto your devices. As it doesn't cost you any money, therefore, you get the freedom of limitless downloads.
Apart from YouTube, you can choose videos from other popular video streaming websites like Vimeo and DailyMotion. Even, you can look for your desired song by using the Mp3juice's extremely fast search engine.
YTMP3 is an astonishing YouTube to Mp3 converter that doesn't compromise with the quality at the time of conversion. Thus, you get the best of media file conversion with YTMp3 tool.
Moreover, before you save/download any file, you get to select the file format of your preference. The downloading is fast and the interface of this free of cost platform is user-friendly.
You do not have to go anywhere for saving the high-quality media file in the fastest manner if you use Mp3skull. band online tool.
The reason is along with free videos to Mp3 converter, you get other features like an Mp3 cutter and cloud saving. Therefore, you are the master of the downloading. So, if you wish to remove any unwanted part from the file, you can do it without any hassle.
These were the online YouTube videos to Mp3 converters that enable its users fast and free of charge media file conversion and downloads.
Many of the mentioned converters are also available as an app for your Android and iOS operating system. Thus, if you are using a smartphone, you can use them to save as well as convert any videos with a single click only.
Now, you can enjoy your favorite videos/audios straight on your device.
Also Read- 10 Best Free YouTube Alternative Sites In 2018