Online dating has become a normative, even fundamental part of the modern dating experience. Last year, the Pew Research Center found that people "now say online dating is a good way to meet people."
This makes sense. We use our technology to improve our ability to do almost everything else in our lives, so why not use it to help us find the best partner as well? Tens of millions of people have adopted this ethos, and, as a result, they are logging into popular dating services like Match.com, eHarmony, and Tinder each day.
While these platforms are unquestionably popular, they are not perfect. They are ready for a next-generation platform to take the trend that they started in 1995 and to perfect it for the modern audience.
Hicky, a blockchain-based dating service, looks to be that next-generation platform that allows the swarming online dating scene to thrive in a new and better way.
Introducing Hicky
Based on the Ethereum blockchain, Hicky is the first dating service to be hosted on the popular platform. Moreover, it's the first blockchain dating app to have a working demo in the app store. Their goal is to improve upon the progress that centralized dating websites have made in the past twenty years.
Using the native Hicky token, Hicky combines essential components of real-world interactions with the tokenized, digital economy to create a compelling platform that revolutionizes the dating scene.
Meet the Team
Hicky is backed by a development team that's experienced in the online dating scene. Collectively, they boast more than a decade of experience in the dating scene. Hicky's core developers aren't new to the blockchain space either. Although its popularity has surged in the past year, Hicky's developers collectively bring nearly a decade of blockchain-oriented experience to their platform.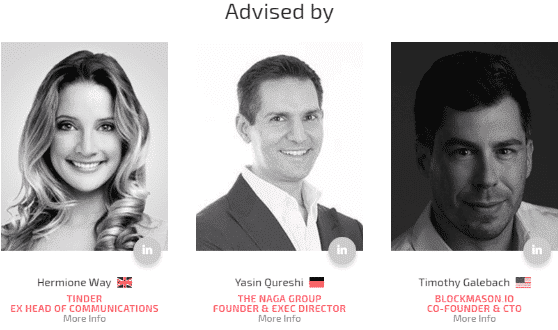 In addition, Hicky has several strategic partnerships that are helping proliferate their platform. Most notably, Hermione Way, a former Tinder executive, sits on their board of directors. Hicky has also fortified a collaboration with NAGA coin, one of the most successful ICOs in 2017, its parent company, NAGA Group, is a major company listed on the German stock exchange.
Their collective experience and expertise are creating a compelling platform that furthers the ability for online dating to develop meaningful connections between its users.
Key Features
Better Connections
The disproportional male/female ratio at current online dating sites is one of the most pressing problems for their platforms. According to some estimates, men outnumber women on these platforms by more than 1/3. Hicky addresses this issue by creating a token economy that balances their number of men and women engaging with one another. As a result, Hicky provides a more pleasurable dating experience with an increased likelihood of meeting someone compatible.
Better Security
The blockchain is famous for its security enhancements over traditional, centralized websites. Since dating sites are collecting troves of sensitive personal information, the need to protect that information is incredibly important. By tokenizing user information and storing it on the blockchain, Hicky can ensure that common threats like DDoS attacks don't compromise users' private information.
What's more, Hicky isn't just technologically safe. It's practically secure as well. The platform biometrically verifies users' information, so that everyone can have a more safe and reliable dating experience.
Better Procedures
Powerful computer algorithms drive Hicky's dating platform, but they aren't the only thing producing romantic connections. Hicky takes into account users' real-world interactions, preferences, and recommendations when creating relationships. In this way, Hicky is providing a best of both worlds approach to online dating.
Closing Thoughts
Online dating is no longer a niche component of the dating scene. In many ways, it is the dating scene. As we become more technologically oriented, this trend would seem to be increasing, with online dating playing a more prominent role in our romantic connections. Hicky brings the progress of the last twenty-five years and combines it with the best technology available today. The result is a better platform that can lead to a better dating experience in real life, which demonstrates technology's ability to improve our lives and to make us more connected, which really is the best of both worlds.