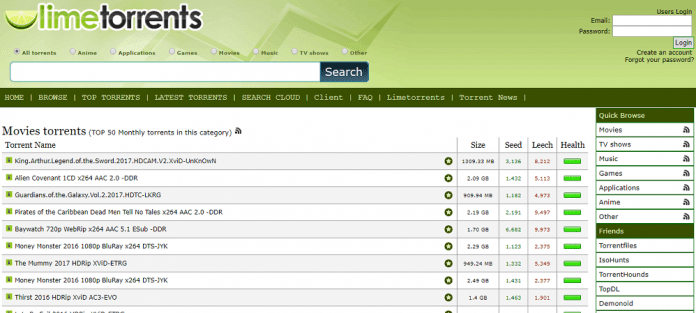 LimeTorrents responds to ISP blockades with a new domain and homepage
LimeTorrents, which is one of the ten most-visited torrent sites on the internet, has changed its domain name and updated its homepage in response to several blocking efforts. By doing this, the site is hoping not only to bypass ISP (Internet Service Provider) blockades for the time being, but also counter a Google ban.
For those unaware, LimeTorrents is a torrent website that was founded in 2009. It has grown in popularity and has managed to gather a huge fan following after the departure of big bosses like Kickass Torrents, The Pirate Bay and Torrentz. LimeTorrent has a huge library of online content, which includes verified torrents downloads like movies, games, music, anime, TV shows, software absolutely for free.
Nevertheless, the site has also been in troubled waters over the years for being the main source of pirated content. For instance, its servers were seized by music group IFPI during its early days. Further, a few years later, the site's operator got pulled into a lawsuit by Lionsgate over the Expendables 3 leak. Despite all these, the site is fighting hard to stay alive; however, the ISP blockades is not making it easy for them.
Therefore, as a direct response to the ISP blocking efforts worldwide, LimeTorrents switched to a new domain, limetorrents.io, with a new homepage last week. Additionally, the new domain should also get the site's homepage back in Google's search index.
"We changed our domain to .io because [the site is] blocked in many countries like India, UK, Australia, and also because our old homepage was removed from Google's search index," LimeTorrents' operator told TorrentFreak.
In the old version of the homepage, where direct links to pirated material were listed on the site, the new version will no longer have them. This means that copyright holders have no reason to ask Google to remove it from the search index.
With this new look and domain, LimeTorrent is looking to stand apart from several "fake" LimeTorrents that have appeared online who are trying to steal traffic and generate revenue for themselves, the operator told TorrentFreak.
People who are unable to use the official domains can use the official proxies Limetorrents.info, Limetorrents.asia, Limetorrents.zone, the site's operator says. However, he warns users who select other sites.
Besides the torrent index, the site's operator also runs the torrent cache iTorrents.org, which hosts torrents without a search interface and is used by many other torrent search engines such as 1337x.to and the mobile version of The Pirate Bay.
Currently, iTorrents stores over 20 million unique torrents and many more are added every day, LimeTorrents' operator told TorrentFreak.
However, operating a torrent site hasn't been easy, as it has become difficult to make revenue, with income also dropping considerably since the early years.
"Earnings dropped around 60 to 70% because affiliate sites are no longer paying webmasters well. Popups and ads are not working either because of ad-blockers," LimeTorrents' operator says.
"We keep the sites running because we have some traffic. It's covering the hosting costs and brings in some extra bucks for other expenses."
Also, increased enforcement has made it difficult to find stable hosting. Further, there is a threat from within the piracy ecosystem as well.
While torrent sites dominated the piracy scene ten years ago, but today more and more traffic is flowing to streaming sites.
Having said that, LimeTorrents' operator says that people know where they need to come when they want to get content first, noting that many streaming sites use torrent portals as their source.
"People who know how to find things know where it comes first. If torrent sites die, streaming sites will also be hit hard because they can't find content to upload to their sites, as torrent sites are their source," the operator told TorrentFreak.
Source: TorrentFreak