"Games" this word fills my mind with happiness and joy as it reminds me of fun. I can bet,  you also love playing online games that's why you are here.
When it comes to killing time nothing is better than a browser game.
Now, why the browser games? because they are lightweight (use less memory), you don't even have to download them and most importantly they are free.
So we have shared 15 Best Browser Games just for you. You can play them anywhere and any time you want.
Few of these games also work if you don't have an internet connection.
They are in random order though so no judgments.
ALSO READ: Best Roblox Games
Most of these games will easily work in web browsers like Google Chrome, Firefox, and Opera with even slow internet speed.
---
15 Best Browser Games/ Top Free Brower Games
Here are the top free online games that you can play on your Internet browser. These games include best free single and multiplayer games.
Few of these browser games can also be played without an internet connection.
Robots Wants Kitty
Contre Jour
Candy Box 2
Blast Arena
Skyarena.io
Fireboy and Watergirl
Slither.io
Doom
LaserSharks.io
Chrome's Dinosaur Game
Pocket Tanks
Tequila Zombies 3
Frogger Classic
Apple Worm
Microsoft Surfing Game
1. Robots Wants Kitty (One Of The Best Fun Browser Games)
This game seems to be very interesting. It is a retro platform game with cool graphics, gameplay, and music.
In this fun browser game, you play as a robot who wants to rescue his adorable cat. This game offers a nice design and well-balanced mechanics. You will even have exposure to an alien world and in order to progress, you have to collect upgrades and keys. Later these keys will help you get access to the further part of maps.
---
2. Quick, Draw ( Educational AI Browser Game)
This game bags the second position on our list. The reason being its popularity and fun.
As the name suggests, in this game you have to draw certain items within 18 seconds. Once drawn the AI detects the item and you move on to the next level.
Talking about the look and feel of the game then it is very nice. The graphics are smooth enough considering it's a simple drawing game.
Once you start playing you will soon feel addicted to it. It is also being played by millions of people across the globe. Overall, this relaxation-focused browser-based game will definitely get your relaxed.
---
3. Candy Box 2 (Free Online Strategy Browser Game)
The third on the list is "candy box 2".
In this, a counter moves upwards and you can eat all the candies. This is also one of the widely played browser games on the internet.
In the very beginning, a completely pointless clicker transforms itself into an oddball RPG. You can even buy some weapons and a status bar in it.
Rest you can enjoy the experience by simply playing it. Overall, Candy box 2 is an addictive browser game.
---
4. Blast Arena (A Highly Addictive Browser Game) 
It's a voxel version of Bomberman. You can play this multiplayer browser game in your web browser against any person on the internet.
You and three other players try to survive and destroy each other in a maze-esque area full of walls and rocks that can be broken. You just place one bomb down which will explode within a few seconds by destroying walls and paths.
Once enough of the rocks are cleared away, you can reach the other players and hopefully catch them in your bomb's explosion without getting singed instead.
Also Read- Best Online Games For PC
---
5. Skyarena.io (Best Action Browser Game)
If you prefer flying planes and attacking from inside them. Then this game is a gem for you. Skyarena.io is really an interesting game to play.
In this game, you fly a big airplane and try to shoot others. Flying your plane around is very easy to do with your mouse, gliding over islands, water, and through clouds as you go. I personally recommend this game and the reason is this is one of my favorites.
---
6. Fireboy and Watergirl (One Of The Best Multiplayer Browser Games)
The next best browser-based multiplayer game on the list is Fireboy and Watergirl. In this two-player game, you and your teammate have to escape a mysterious forest temple. As you progress the level of difficulty increases but the ultimate goal of getting out of the maze remains the same.
The controls for this game are pretty simple and the only thing that's needed to finish different missions is good teamwork. You can effortlessly play Fireboy and Watergirl on Microsoft Windows, macOS, Android, and Linux.
---
7. Slither.io (A Addictive Browser Strategy Game)
Growing up most of us have played the legendary snake game on Nokia phones. Well, Slither.io brings back those memories. In this browser-based time killer game, you have to navigate a snake and feed it with glowing dots.
In addition to growing your snake, you also have to compete against several other snakes on the server. You can kill a snake by boosting your speed and forcing the other snake to strike his head in your body.
Slither.io allows users to customize the skin of their snake as per their preferences.
---
8. Doom (Classic Browser Game)
Doom is another classical title that can now be played on a web browser. You can enjoy this two decades old first-person shooter game using keyboard and mouse. Do note that Doom requires Flash Player 10 for its proper functioning. Doom online also allows players to join chat rooms and interact with other players.
---
LaserSharks.io is another impressive browser game. In this browser-based game for chrome, you have to navigate a large shark that has a laser attached to it. The experience of fighting against other sharks is quite thrilling. Feeding the shark you can increase its energy and charge-up your laser. Overall, LaserSharks is a great entertaining game.
---
10. Chrome's Dinosaur Game (Best In-Browser Game)
If you don't have access to the Internet, then the only game that you can play is Chrome's Dinosaur game. You can launch this game by typing chrome://dino/ in the search bar.
---
If you prefer playing strategy-based browser fighting games then Pocket Tanks might impress you. In this 2D browser game, you have to adjust the angle and the power of the shot from your tank to kill your opponent.
In spite of being a 2D title this chrome browser game is highly addictive and you can either play it against the computer or with your friend. Pocket Tanks allows users to choose the terrain as per their preference.
---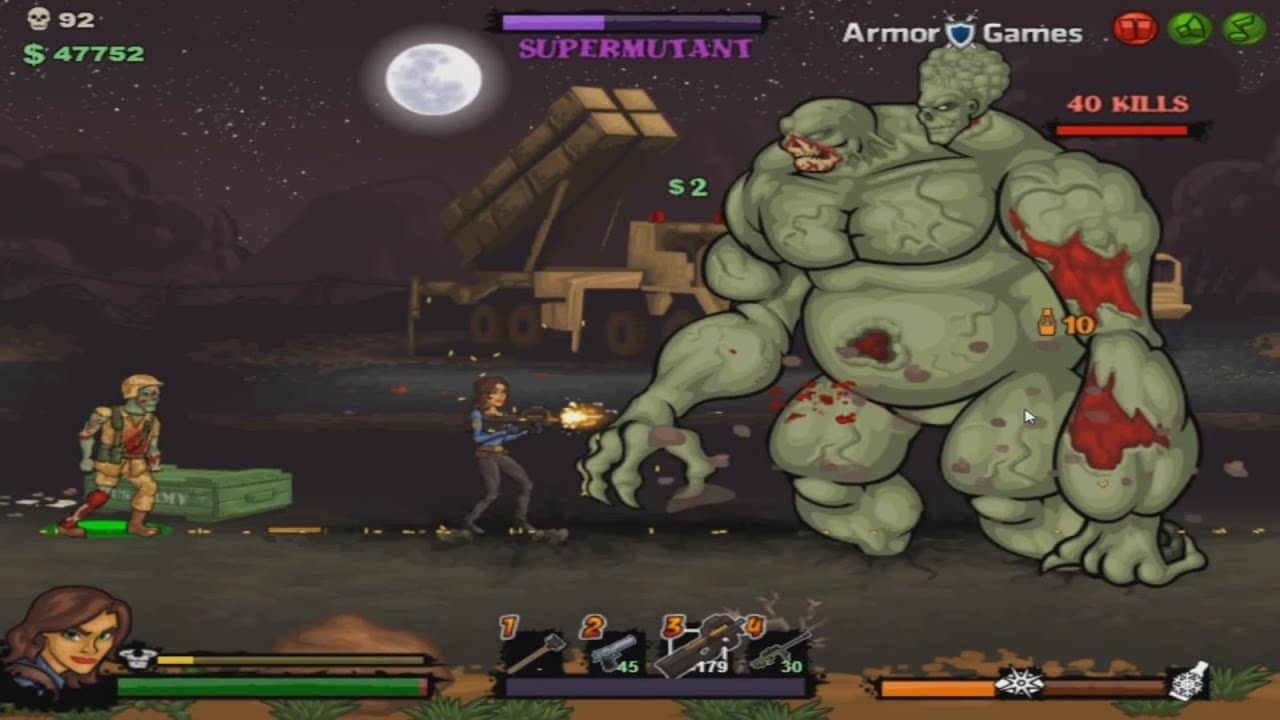 Another great flash powered RPG browser game on the list is Tequila Zombies 3.  In this best free online game, you play as a survivor and fight against the Zombies. As you progress the difficultly of the game increases. Tequila Zombies 3 is very optimized to work with the keyboard and mouse-based controls.
---
13. Frogger Classic (Classic Arcade Browser Game)
Frogger Classic can be considered as a three-decades-old version of crossy road. In this classical title, you have to navigate a frog and help him cross the road while protecting him against obstacles like cars, trucks, logs, turtles, and snakes.
This classical title can start with three, five or seven lives and your goal to safely escort the frogs to their home remains the same.
---
14. Apple Worm (Fun Browser Games)
Similar to Flappy Bird, Apple Worm is a frustrating yet addictive game. The goal of this game is to help the worm eat the apples. Furthermore, you have to reach the portals without getting stuck in the obstacles or falling off the level. This 30 levels long browser game will definitely keep you engaged for quite some time.
---
15. Microsoft Surfing Game
If you use Microsofts Edge web browser on a regular basis then the recently added surfing game on Edge might impress you.
The three available modes in this game are classic surf mode, a time trial, and a slalom mode where you surf between gates.
Similar to the in-browser Chrome game you can play this surfing game without an active internet connection.
---
Which browser is best for playing games?
You can choose any browser of your choice to play games. Whether it is chrome, firefox, edge, opera or safari.
But if you are a gamer by heart then we suggest you to use opera's Gaming browser Opera GX. You will definitely love this browser and its features.
Did browser games die?
Well no, browser games are still pretty popular and is widely played across the world.
---
Conclusion
So these were some of the picks regarding Best Browser Games.
If you have any better suggestion let us know in the comment section below.