Kinemaster is one of the most feature-rich video editing application that's available for both Android and iOS smartphone users.
Surprisingly, this smartphone application has all the necessary tools that can be used to edit anything ranging from a simple travel video to a short film.
Well, if you want to use this full-fledged video-editor on a Windows PC for editing your YouTube videos then give Kinemaster for PC a try.
While there is no official version of kinemaster for PC, you can still use it using emulators, which we will be discussing later in this article.
So here's how you can easily download and install the Kinemaster app for Windows 10 PC or MAC.
ALSO READ: 10 Best Free Video Editing Software

---
What Is Kinemaster?
As mentioned above, Kinemaster is a full-fledged video editing application that's developed by Nexstreaming corp. Before sharing the actual installation process of Kinemaster on Windows PC, it's important to know about some of the best features of Kinemaster.
Top 10 Features Of Kinemaster
Ability to add multiple layers of video, images, stickers, and text.
Hue, brightness and saturation control for video footage and images.
Real-time video and audio recording.
Good collection of transition effects like 3D transitions, wipes, fades, and much more.
The ability to instantly preview all of the edits before exporting the video.
Background green screen effects.
Support for every mainstream audio and video formats.
Precise frame by frame trimming, splicing, and slicing.
Speed control for both video and audio files.
Automatically optimize the unsupported or broken video files.
This video-editing application allows users to edit and render 4K footage. Consequently, if you want to do some professional work then Kinemaster won't disappoint you.
---
How To Download Kinemaster For Windows PC And MacOS?
There's only one method for installing Android applications and games on Windows or macOS, and i.e. using an Android emulator.
Bluestacks 4 is possibly the best well-optimized Android emulator that literally performs as an Android phone. So here's how you can download and install Kinemaster APP for Windows.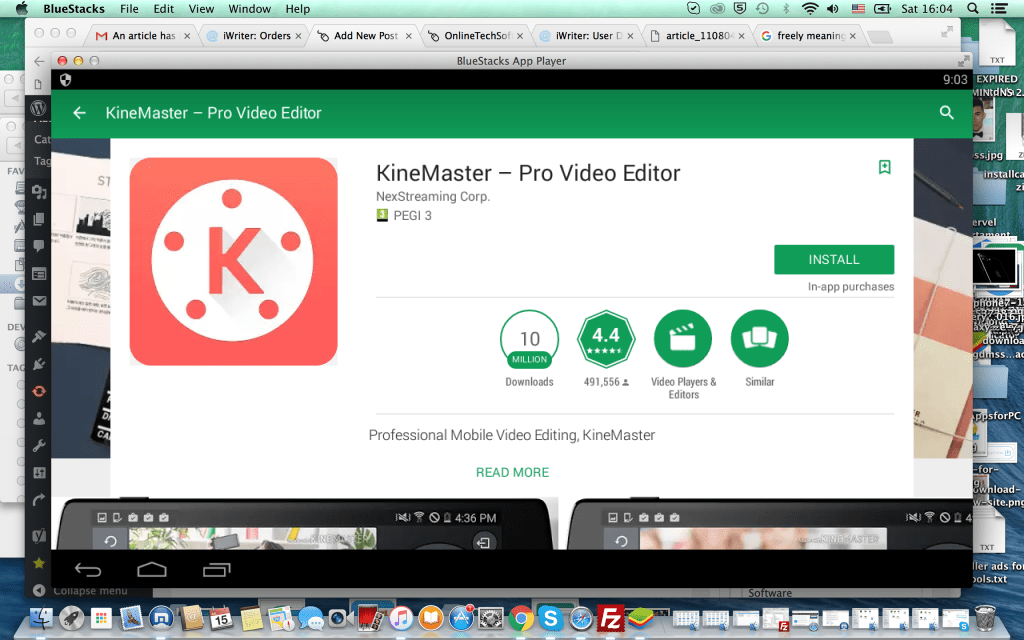 Download the Bluestacks 4 emulator and install the exe file on your computer.
Once installed sign-in with your Google account on Bluestacks 4
Next up open Playstore and search "Kinemaster."
Install the application and use Kinemaster.
You can use this impressive video-editor on Windows PC. The primary advantage of using Kinemaster on PC is the larger screen of the computer. A larger screen enhances the overall workflow while editing videos. Furthermore using Blustacks, you can easily remap keys as per your preference.
ALSO READ: VidMate For PC
---
How Much Does Kinemaster Cost?
Kinemaster is a very capable video editor for smartphones. This application offers a timeline-based workflow consisting of separate video and audio layers. Well, Kinemaster for PC that you just downloaded is a free version of this application. The free version offers a limited number of features and it even leaves an annoying watermark on your footage.
You can get the premium version of Kinemaster by paying either $4.99 monthly or $39.99 yearly. The paid version unlocks many interesting features and it also removes the kinemaster watermark.
---
Best Android Emulator For Kinemaster
Bluestacts 4 is one of the most trust-worthy android emulators. That said, it has many flaws associated with it. Consequently, if you face any issue while using Kinemaster on Bluestacks, you can try these alternate emulators.
1. Nox App Player
Nox App Player is another great android emulator for using Kinemaster on a Windows and macOS computer. This emulator offers one-click installation without any bloatware or third party apps.
You can drag and drop files from Windows to the emulator and vice-versa. Consquently, importing footage into Kinemaster won't be an issue.
---
2. KO Player
The next best emulator for kinemaster on the list is KO Player. Well, this emulator is perfect for playing games and running resource-intensive applications like Kinemaster.
KO Player offers One-click recording which might come handy if you plan to record Kiemaster tutorials.
---
3. MemeU Play
MemeU Play is an Android 5.1 Lolipop based Android emulator for Windows PC. The installation is quick and simple with no bloatware or third-party apps. One of the major highlights of MemeU Play is Key-Mapping.
Key-Mapping will increase your editing speed in kinemaster and your overall workflow will also become easier.
---
4. Droid4X
Droid4X is another impressive android emulator for playing games and running apps like kinemaster on Windows PC. This emulator offers a very simple and easy to navigate UI.
Installing and using Droid4X is fairly simple. Since Droid4X is compatible with macOS you can use it to run kinemaster on macOS.
---
5. Remix OS Player
The last best emulator for running kinemaster on Windows PC is Remix OS Player. This capable emulator offers reliable performance and runs on Android 6.0 Marshmallow. You can use almost every Android game or application on the Remix OS Player.
ALSO READ: 
---
FAQ
How do I download the full version of KineMaster for PC?
You can use the full version of Kinemaster on PC using an Android emulator like Nox App Player as described above.
How do I download KineMaster for PC without watermark?
In order to use Kinemaster for PC without the watermark you will have to subscribe to the paid version of kineMaster and then open it on your PC using an Android emulator.
How can I play KineMaster on my PC without bluestacks?
If you want to open KineMaster on your PC without using bluestack you can use Nox App Player or Ko Player.
Is KineMaster offline?
No KineMaster is not offline. But sometimes because of the load on the app server or because of some bugs or maintenance, it goes down. But that's very rare.
---
CONCLUSION
So this was all about Kinemaster for Windows PC. Do let us know whats your video-editor of choice for Android smartphones.