Whether you're looking to streamline your organization's communication, set up regular meetings with your remote team, or meet with your top management to discuss your marketing strategy for the next quarter, you can't go wrong with using webinars.
With the help of webinars, you can communicate with just about anyone from your organization remotely, exempting you (and anyone you meet with) from the need to travel.
That's just one of the ways you can benefit from using webinars, of course.
In this guide, we're going to take a deep dive into ClickMeeting, one of the webinar platforms that organizations use most for video conferencing purposes.

ClickMeeting is a web-based video and audio webinar solution designed for organizations of all sizes. To help you determine if this platform has the features that you need, allow me to show you some of ClickMeeting's features and functionalities. 
User-friendly Interface
ClickMeeting's interface has an easy-to-follow and step-by-step feel to it, making it dead-easy to set up your webinars. The platform also offers libraries of video tutorials that help walk you through using its many features.
From the dashboard, you can access an overview of your scheduled events, your statistics, the buttons to create your webinars, timelines, and even to initiate an ad hoc event.  
The statistics feature shows you the number of people in your organization who registered for your scheduled events and reports of your previously held webinars. 
To schedule a new webinar, click on the "Schedule event" button and you'll be taken to the setup page. 
Once there, setting up your event is a straightforward process. Some of its basic features include creating a "Webinar Room" to host your events, scheduling the date and time, inviting participants and additional presenters from your organization, enabling registration, and setting your event access type (open to all, requires a password, needs a token or paid). 
You can then click through the various tabs of settings to customize the layout, appearance, content, and the registration form fields, plus, set up automation tasks to help spread the word about your webinar in your organization.
If you're short on time and need to create a live webinar for your organization with settings that are similar to something you've done before, then the platform offers a handy "Duplicate" feature that copies the same information from your previously created events. 
It's a useful feature especially when you're hosting a series of webinars for the same group of people in your organization, like webinars regarding company policy updates and trainings. All you need to do is edit the specific details that you want to change, without having to start from scratch. 
Powerful Webinar Management Features
ClickMeeting offers features to set up and run your webinars that are straightforward and easy to use.

To give you a better idea of how the platform works, here a few of its more powerful features.
Waiting Room with Agenda
The waiting room feature is an excellent way to keep the participants in your organization engaged while waiting for your webinar to start.
You can customize it and add your event agenda, downloadable files or materials, presenter information and more.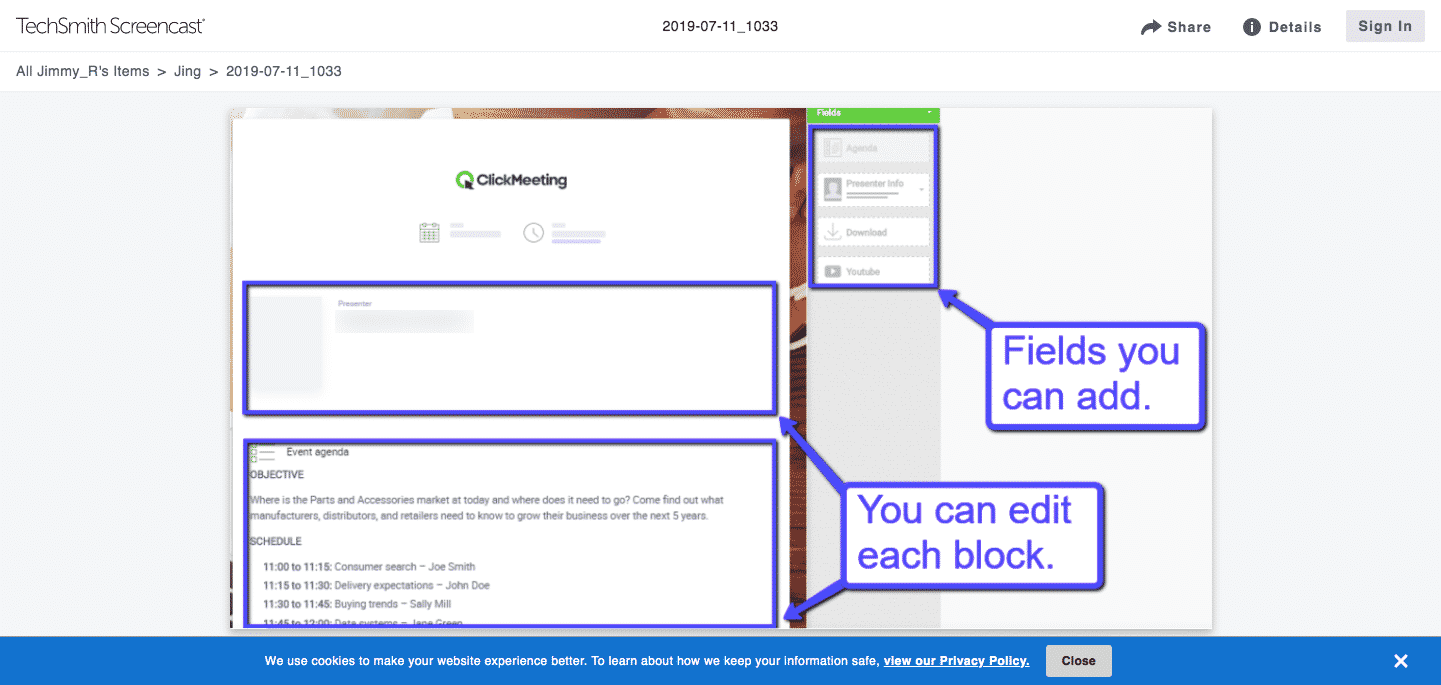 The feature can help increase the engagement among your participants. Plus, it's an opportunity to give the people in your organization more information about your webinar so they know what to expect.
Custom Branding
ClickMeeting's Custom Branding feature is a great way to match your webinar's feel to the agenda that your organization plans to undertake. This makes the experience for your employees or stakeholders more immersive.
With Custom Branding, you can adjust the appearance of your webinar pages to your liking.
The tool allows you to upload a logo, choose your color themes and even select stock images to appear as beautiful background visuals for your registration, login, waiting room and presentation screens.
Whiteboard
The Whiteboard feature allows you to create shapes, free draw, erase, paste images, add text boxes, and use a pointer to further illustrate your points during your webinars or events.
Using this tool, you can create a more interactive experience with your organization's participants, therefore, making your points more "sticky" and easier to digest.
Let's say you're hosting a webinar with your managers to discuss your workflow for addressing your organization's lack of sales. Using the whiteboard tools, you'd be able to illustrate your ideas better.     
New Features and Integrations
Despite having an array of helpful features and functionalities, ClickMeeting takes their game up a notch by continuously updating their features.
These are some of their more recent updates.
Automated Webinars
The Automated Webinar feature has countless applications for your organization, from on-boarding your new hires, training, or creating instructional materials. The feature allows you to upload your previously recorded events, pre-recorded videos, and surveys or polls, etc.
You can set up the sequence of your event elements by moving them around in your timeline, and adjust the duration of each element according to your liking, either manually expanding or shrinking them or setting a specific time.  
A chat option is also available, with chat settings that allow you to set it as no chat, moderated live chat, or answer later, which is useful since automated webinars are not live. 
Another essential automated webinar feature is the CTA button, which you can include in your events' timeline. 
On-demand Webinars
With the on-demand feature, you can share a non-interactive recording of your webinar to those who missed attending your live webinars.
Suppose you're training your sales team for a new product feature, yet you know that several of them are out of town for a different training that's just as crucial. So you won't have to keep on repeating your webinar about the new product feature, you can just share the recording of your first webinar to the team when they come back.
This helps increase your productivity. What's more, if you have new people joining your organization, they can also watch your recorded webinar so they'll get the same level of training and information.
Before scheduling your event, you just need to click on the "On-demand" tab first. Scheduling an on-demand webinar works the same way as creating permanent and automated events by adding your elements to your timeline.
The primary difference between an automated webinar and on-demand webinar is that with the former, you have the option to take over and turn it into a live event even while the webinar is happening. 
Think of it as your webinar on autopilot, so if you change your mind, you can take over your event. A bit of a downside to taking over an automated event, however, is once you join your event and take control, the upcoming elements in your timeline will be automatically disabled. For instance, if the upcoming element in your timeline is a survey or video, your audience won't see it.  
Is ClickMeeting the Solution Your Organization's Needs?
ClickMeeting offers a wide array of extensive features, but there a few things that could make it even better. 
First is its chat support. ClickMeeting doesn't offer 24-hour live chat. Their agents are available live only during the working hours indicated in their website, which can be inconvenient for you if you want to get live support quickly.  
Although it's a minor factor, another drawback to its features is when you add elements like videos to your timeline when creating your event, instead of allowing you to upload directly from your drive, you need to upload it to your ClickMeeting library first. 
These are just two minor issues I found with ClickMeeting so far, but overall, it can be a game-changing option for you organization. 
ClickMeeting offers flexible plans for different organizations, whether big or small. Here are ClickMeeting's pricing packages:
MyWebinar costs $25 per month, billed annually (up to 25 attendees)

MyWebinar Pro costs $35 per month, billed annually (up to 50 attendees)
Custom prices are also available for large enterprises, which is good to know if you're planning on scaling your business.