As a small business owner, one of the easiest ways to engage with your audience is through social media.
Social media platforms – like Facebook, Snapchat and Instagram – make it easy for users to upload video content and share it with their followers. It's a great way to quickly get a message across, share tips and tricks, let your audience know what you're working on, or run a marketing ad.
In this article, we'll introduce you to VideoBoost – an easy-to-use video maker app that's designed for all popular social media platforms. We'll explain what it is, what it does, and how you can use it to create engaging video content and promote your brand.
What Is VideoBoost?
According to a recent study, by the year 2022, online videos will make up more than 82% of all consumer internet traffic which is 15 times higher than it was in 2017. However, one of the problems you face as a growing business is that regularly creating engaging videos for your target audience isn't easy. You have to come up with new ideas, put together video content, and optimize it for each social platform you'd like to share it through.
VideoBoost is a video maker app for iOS that makes it easy for users to create and share video content across all popular social media platforms including Instagram, Snapchat, Facebook, YouTube, and WhatsApp. The app is part of the BoostApps suite of apps that also features a story maker app and a poster maker app.
The great thing about VideoBoost is that it's designed specifically for business owners, influencers, and solopreneurs. It's incredibly easy to get started with and makes it possible for users to roll out engaging video content on a regular basis.
Now that we have a better idea of what VideoBoost is and why it's essential for growing businesses, let's step through some of the key features on offer with this video maker app.
VideoBoost Key Features
If you're looking to get started with video marketing (or up your video marketing game) then you're going to need a video maker app – like VideoBoost – that takes care of much of the heavy lifting for you. Here's what you can expect to get with the VideoBoost app for iOS:
#1: Easy to Use Templates
VideoBoost comes with a wide range of professionally-crafted, on-trend templates that are optimized for user engagement right out of the box. Once you launch the app, you'll find templates to help you create all sorts of videos such as tips and tricks, tutorials, ads, and much more.
This is especially great for influencers and growing businesses who can't afford to hire an in-house graphic designer or outsource video marketing to an agency. VideoBoost makes creating and sharing video content as easy as selecting a template and customizing it to your specific brand.
One of the standout features on offer with VideoBoost is that its templates are built specifically with social media best practices in mind. In other words, it's the ideal solution for combining your video marketing and social media marketing efforts into a single app.
#2: Quick Video Editor
The VideoBoost app comes with a built-in video editor that you can use to quickly compile and edit video content on the go before uploading. The video editor also lets you add multiple video clips to your videos and even gives you the option to add music and animation effects to spruce things up a bit.
In addition to this, the app also gives you access to the Getty Images video clip library. This is the easiest (and fastest) way to make use of high-quality stock footage in your video content. 
So, instead of having to download a video clip to your Camera Roll first and then upload it to your video editor, you can do all of this in VideoBoost without leaving the app. Of course, you also have the option to upload and use your own footage if you'd like.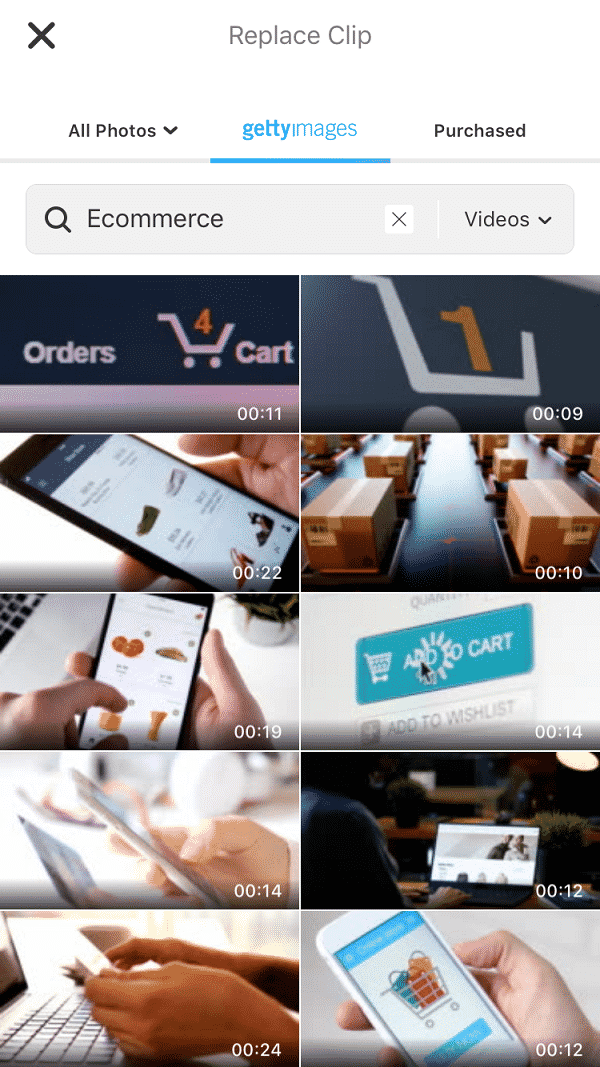 Perhaps one of the best features VideoBoost offers is high-quality video export. What this means is that it lets you export your video content in a high-quality format that's (1) incredibly visually appealing and (2) optimized for social platforms. This way, you don't have to worry about figuring out what the best export settings are for your video.
VideoBoost's built-in video editor is great for business owners and users who don't have a huge marketing budget but would like to get involved with video marketing.
#3: Customizable
When it comes to social media platforms, influencers and growing businesses need to make sure they enforce their brand and messaging through their social media posts. This is also true for video content which is why it's important to use an app that makes customization easy.
VideoBoost lets users customize their video clips for their brand using filters, music, colors, and fonts. In addition to this, it also gives users the option to add their own business logo to video content.
For example, if you're using stock footage clips along with some of your own video clips, you can add a frame to each clip that reflects your brand's color or add your business logo to the bottom right corner.
This way, your video ad, tutorial, or message will look consistent and on-brand. It's also worth mentioning that VideoBoost features trim and fit capabilities which makes it easy to make use of all sorts of video clips (regardless of which device you used to record them) and produce a coherent video.
#4: Formatting for All Social Media Platforms
Although almost every popular social media platform lets users upload videos, you have to do a fair bit of editing and formatting before you can actually upload and post it. Typically, this involves making sure the video format, ratio and encoding are supported by the social media website.
The standout feature on offer with VideoBoost is that it lets you format videos for all social platforms directly from the app. This means you can create videos for Instagram, Snapchat, Facebook, YouTube, and even WhatsApp without having to format over and over again. The VideoBoost app offers video formatting for each of the above-mentioned social media platforms, down to the correct ratios.
This is a total game-changer for business owners and users who are always on the go and need a way to be able to keep their audience engaged while working from their iPhones or iPads. It's simple, fast, and requires practically zero technical know-how.
Conclusion
If you're looking to get involved with video marketing but worry that you may not have the time or budget for it then VideoBoost is the right app for you.
Loved by its users, VideoBoost makes it incredibly easy for small business owners and micro-influencers to create and share video content with their audience and promote their brand on a regular basis.
Are you thinking of getting started with video marketing on social media platforms? What sorts of videos are you looking to create? Let us know in the comments section below.