The year 2020 has been one of the most difficult times for businesses as the pandemic disrupted customer behaviors and dramatically diminished purchasing power. Standing out has become a must for businesses to survive the tighter competition with more businesses going online because of public activity restrictions.
It might sound logical to think that customers are desperate to buy the things they need from online stores because brick and mortar ones have been forced to close temporarily. However, the reality is far more complicated than the idea of consumer desperation. Businesses need more creative approaches to attain better customer conversion rates and not just rely on the commonplaceness of online shopping.
Challenges in customer conversion
There are many reasons why potential customers who visit an online store do not end up becoming actual customers. These include the lack of mobile optimization, the lack of effective calls to action, slow page loading time, irrelevant product recommendations, and too many and poorly organized forms.
Customers may be having a hard time finding the product they intend to buy. One of the worst culprits for this is an excruciatingly slow page loading time. Unbounce's Page Speed Report specifically points out the role of page loading time in conversion rates. "Almost three-quarters of the shoppers we surveyed claim they'll wait 4 or more seconds before abandoning a page. But that's not what Google says: remember, actual user behavior shows most people bounce after 3 seconds," the report noted.
However, the page loading time issue is rather easy to remedy. The more complex problem is about customer interaction or engagement. The e-commerce store's pages may be too cluttered that buyers get lost and fail to do what they originally intended to do on a page. The store's pages may not be structured in a way that makes it intuitive and easy to use. Customers may find it off-putting that the store's content has not been updated for years. The absence of interactive and social features such as messaging and customer testimonials may make the store appear less than trustworthy.
The store's design may exude a "directionless journey," which makes customers uninclined to hit the Add to Cart button, let alone proceed to checking out. It is vital to create a flow that invokes a purchase decision every so often.
AI and automation driven customer conversion
This is an opportunity addressed by an Ecommerce personalization optimization platform called Dialogue. 
There's a reason why malls or department stores are arranged the way they are. There are also compelling reasons for always having salespeople on the ground. They are not only there to assist shoppers whenever they need to find something or try out different sizes of products. More importantly, they are there as a subtle reminder for buyers to buy and to aggressively convince a potential buyer to buy whenever an opportunity comes.
Dialogue is an e-commerce personalization and conversion suite of solutions that offer advanced tools to help online stores turn store visitors into customers and customers into returning buyers. Powered by artificial intelligence, Dialogue examines and analyzes an e-commerce site's data to understand buyer patterns and provide enhancements to create an experience that leads to better customer conversions.
Dialogue features
Dialogue is designed to be a completely automated and maintenance-free e-commerce optimization solution. It offers product recommendation, auto content generation, messaging and social, as well as price optimization features. All of which are powered by AI and machine learning. 
For product recommendation, Dialogue offers Recommender™ and Booster™.
Recommender™ generates aesthetically appealing product recommendations that infuse messaging and rich media. Designed for product pages, catalogs, and home pages, this Dialogue solution automatically presents relevant product recommendations enhanced by sales-driven (effective call to action) messages.
As the name suggests, Booster™ supplements Recommender™ by offering more products that a customer may be interested in based on Dialogue's prediction algorithm. It is intended for cart pages and product pages.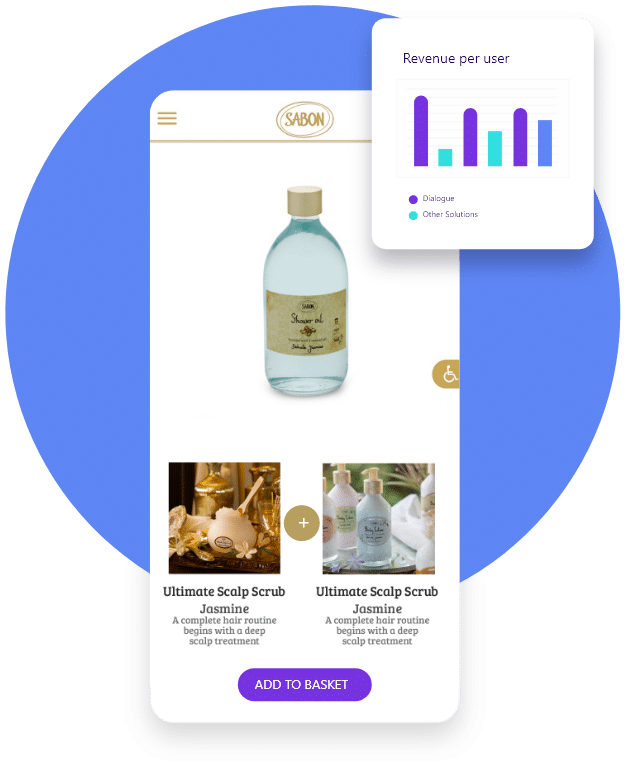 When it comes to content generation, Dialogue offers SmartBanner™ and StoryTeller™. These innovative solutions help online stores put out content on their pages to make them engaging and more likely to rank high in search engine results.
SmartBanner™ can be added to the homepage, catalog pages, or search pages of an e-commerce site. It helps keep customers' eyes on the pages by avoiding pages that have barely anything in them, which inadvertently makes customers leave.
Storyteller™, on the other hand, is an innovative way to drive customer engagement by telling the story of products through slides, animations, and creative content. It is intended for use in the homepage, product catalogs, search pages, as well as for the cart and "thank you" pages.
Moreover, Dialogue offers the Persuader™ solution, which is designed to be the "final push" customers may need for them to place the order or proceed with the checkout. Intended for the cart and product pages, Persuader™ displays messages that entice customers to buy or give them ideas of what certain products can do for them.
Dialogue says this solution helps reduce cart abandonment rate with its automatically generated but "emotionally-driven" messages for customers. Persuader™ acts as if it were a virtual salesperson on a product page. It appears to convince customers to go ahead with the purchase.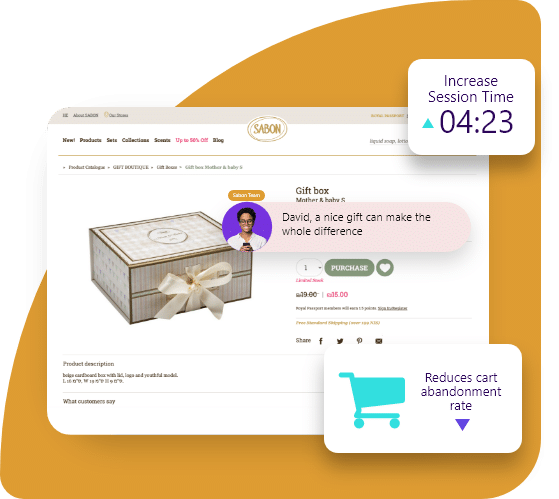 Dialogue has a few other solutions such as Socializer™, which takes advantage of social media functions to engage customers. It is also set to offer a price optimization tool called Counter™. However, they are still under development.
What makes Dialogue different
Dialogue is one of the very few companies, if not the only one, that offers a comprehensive suite of solutions designed to boost customer engagement and raise conversion rates. While others focus on specific solutions like AI-powered chatbots, Dialogue offers multiple tools to improve the performance of an online store.
It provides a holistic approach in improving customer engagement. It analyzes e-commerce sites or online stores to understand its customers and implement changes or additions that enrich customers' online shopping journey. It is advertised as the "first of its kind autonomous e-commerce personalization platform."
Dialogue is a zero-maintenance solution that automates the process of personalizing e-commerce sites to make them more competitive, especially as more and more businesses are going online to make up for the lost sales in their physical stores.
Additionally, Dialogue is built to fully integrate with an online store's sales data to facilitate improvements and optimizations. Its proprietary personalization engine also automatically promotes certain marketing campaigns that have been found to deliver the best outcomes.
Enhancing automated engagement for better results
Increased interactivity and customer engagement do not always lead to conversions. However, when it works, it tends to work splendidly. Dialogue's across-the-board approach in bolstering customer engagement for an e-commerce site makes it well-positioned to address the emerging dominance of e-commerce.
The integration of artificial intelligence and automation is not unprecedented, but the way Dialogue works is fully automatic, unlike many other players in the field. AI and automation definitely bring a promise to online stores and other web-based businesses, especially those who transitioned online recently.