Here's the hard truth: Improving your lead engagement and sales performance through a reliable, cost-effective, and easy-to-execute strategy can be challenging to pull off.
This is where Exceed.ai comes in handy.
Exceed.ai is a platform that helps its users automate their lead engagement, nurturing and qualification efforts through robust conversational Artificial Intelligence (AI).
The solution can streamline critical parts of your lead engagement and work 24/7, optimizing your process to increase your sales ultimately.
In this review, we'll cover the basics of Exceed.ai, its key features, and how it can help boost your company's lead engagement and sales performance.
But first…
What is Exceed.ai anyway?
Exceed.ai is a virtual sales assistant software that uses conversational AI to work along with your marketing and sales teams.
The AI-based solution uses machine learning and conversational bot technology to help your teams capture, nurture, and qualify leads.
It can automatically deliver contextual and personalized two-way interactions, responses, and follow-ups through chat or email, allowing you to reach out to your leads 24/7.
Exceed.ai can help streamline managing your leads, from the initial engagement stage to the handover to your sales representatives. It's an excellent tool to give your brand an edge.
Essentially, Exceed.ai's end-to-end solution does the heavy lifting for you by automating the process of engaging, responding and assisting, nurturing, qualifying, and handing off your sales-ready leads.
While AI has helped developers make better programs, how Exceed.ai leverages it for the lead engagement process can take your sales performance to new heights.
Key features and tools
Exceed.ai offers several features and tools but let's focus on the few below.
Sequences
Exceed.ai's Sequences feature works like a playbook or campaign. It includes ready-to-use chat and email templates you can customize, or you can build your own.
Here's a sample chat sequence.
Every sequence within a campaign comes with guided templates that can apply to various use cases such as sequences with Get Attention, Engage, Handover, Meeting scheduler responses, Ended, Out of office and Contact me later, and Others.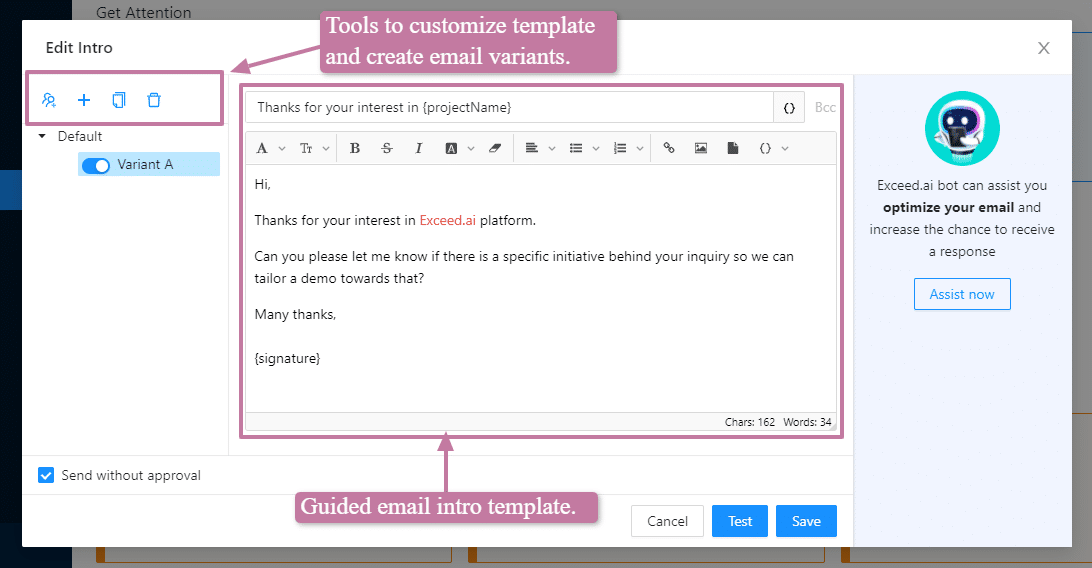 Personalize each template and make several variants that you can use for split testing later. You can also open an unlimited number of sequences.
All of the sequence sections that you can modify are highly customizable, from setting the number of days between your sent follow-up emails to syncing the meeting scheduler feature.
This automates your interactions with your prospects as they move along the pipeline, from initial engagement to the handover phase.
Exceed.ai's sequences feature frees a lot of your sales team's time and energy, allowing them to focus on closing deals and other sales-facing tasks, which in turn improves your company's sales performance.
AI-driven virtual sales assistant
Exceed.ai's virtual assistant handles communication with your prospects along with your sales reps to engage and qualify your leads through chat and email.
The virtual assistant also books qualified meetings automatically by accessing your sales reps' schedule availability on their synced calendar.
Essentially, Exceed.ai's virtual assistant works by:
Engaging prospects by interacting with them through chat or email
Assisting leads by answering queries and dealing with objections while gathering relevant prospect data for your Customer Relationship Management (CRM)
Nurturing leads through automated processes and intelligent follow-ups to help move them along your funnel
Qualifying leads by working as a Sales Development Representative (SDR) based on your sequence or campaign using human-like interactions and conversations
Handing off qualified and sales-ready leads to your human sales reps for closing by automatically booking a meeting on the calendar. This eliminates the time-consuming back-and-forth between your leads and sales reps, streamlining the meeting scheduling process.
You can integrate a new Office 365 G Suite email that you created with your virtual assistant to centralize email messages from your leads, engaged contacts, and more.
Add details to your virtual assistant such as a name, last name, and email signature and set up email delivery preferences.
You can also include your virtual assistant's sender details such as the signature and phone number in the SMS you send to your contacts and leads.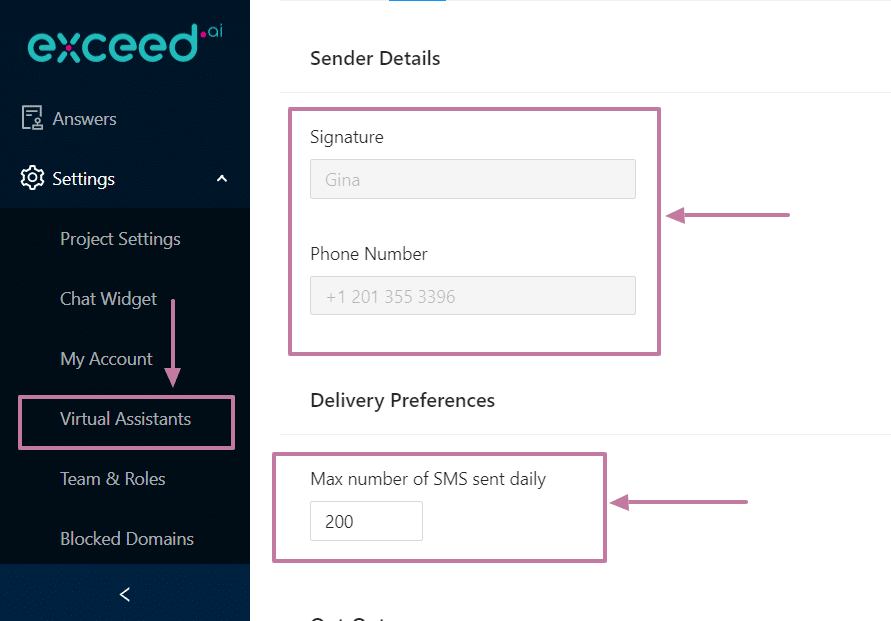 Connect your virtual assistant when you create a new sequence by choosing which one to use under the Settings tab in Sequences.
Exceed.ai's powerful AI-driven virtual assistant can handle the process of engaging, nurturing, and converting your leads in double the time and with less effort on your sales team.
Plus, the more your sales team focuses on closing deals, the higher your chances of increasing your sales performance.
Click Advanced Search and apply more specific filters, including your contacts' previous status, current status, their specific sequence, person or team member they're assigned to, and dates their status was changed.
Exceed.ai's comprehensive search and filtering features allow your teams to find contacts efficiently, without needing to comb through hundreds or thousands of people on your list manually. This allows them to spend more time and energy on revenue-adding efforts.
You can also import and export your contacts to and from another platform or software easily. This eliminates the tedious task of adding your prospects to Exceed.ai manually and avoids disrupting your seamless lead engagement efforts. 
Pricing
Exceed.ai's simple pricing starts at $2,000 per month for unlimited chat and email campaigns (playbooks) and 20,000 leads. You can also fill out the Request for a Quote webform to get more specific pricing. 

While the solution's pricing can require quite an investment, the benefits far outweigh the costs since you'll be paying a fraction of the price of employing more staff. 
Final thoughts
Exceed.ai is designed to help your sales and marketing teams drive more pipeline from your website and email visitors through the game-changing capabilities of a conversational AI. 
It supercharges your lead engagement and management efforts by effectively automating repetitive and time-consuming aspects of theth process. 
With Exceed.ai, your teams can allocate their resources on closing deals instead of pouring a chunk of their time and energy on chasing unqualified leads and tedious tasks, taking your lead engagement and sales performance to new heights.