If you are into watching sports online, you would already know about VipBox.
VipBox is a great site to watch your favorite sports matches and other programs.
If you want to watch football, NBA, Boxing, NFL, Basketball, Hockey, UFC, Boxing Rugby, tennis, soccer, and other live matches, and highlights, VipBox can help you out.
The website is regularly updated with new features to make it a good sports streaming website. This is why it is loved globally by viewers.
VipBox is blocked in several countries including the US, UK, Canada, Australia, India, South Africa and Pakistan.
While VipBox keeps moving its domain and redirecting it to the new one. You may need to look for some VipBox alternatives to stream live sports matches online.
Moreover, the site remains slow, inaccessible, or lags during live matches. Below we have mentioned some of the best sites like VipBox to watch live matches with fewer ads.
---
Best VIPBox Alternatives/ Sites Like VIPBox
Let's have a look at the top VipBox alternatives out there for free online sports streaming.
SportRAR
MAMAHD
Firstsportrow
MyP2P
Fox Sports Live
SportLEMON
goATD
SuperSport
StrikeOut
Batmanstream
123sports
Buffstreams
Streamhunter
CrickFree.TV
fuboTV
SportRAR.tv is probably the best VipBox alternative that you can come across today. It packs many features that we had wished to see on VipBox for quite some time. When you enter the website, you can explore various categories like football, tennis, basketball, baseball, volleyball, handball, and fighting.
In addition, it lists all the games and their status in real-time. So, for instance, if you are keeping an eye on all the matches of the Premier League, you can track everything from a single page. Another great feature here is the time-zone optimization. You can know the time of the match in your and the original time zone.
You can consider SportRAR.tv as an excellent place for detailed match analysis. In addition to providing you with many official stream links, the website will show match summary, commentary, lineups, standings, etc. Furthermore, you can use the website to access official streams and on-time notifications.
---
Despite the sketchy name, MAMAHD is an excellent place where you can find sports content streams for an impressive variety of games. We are talking about football, NFL, fighting, Formula1, MotoGP, tennis, MLB, NHL, and others with ease.
As you can see, there is an additional emphasis on motorsports. However, the website gives you access to a variety of games with ease. The best part? You can find most of these streams in HD quality, which is not the case with many VipBox alternatives.
Unlike our top pick for the VipBox alternative, MAMAHD does not have many features. On the bright side, you can start watching the streams in a few seconds. Therefore, from a minimalistic point of view, MAMAHD is worth checking out.
---
FirstRowSports.eu is another VipBox alternative that you should check out for sure. It gets the job done with minimal features. Therefore, you cannot expect all the fancy features that we talked about in the case of our top pick.
On the other hand, the website allows you to watch live sports events without an account. It also means you can get started with the website in no time. Moreover, unlike some other websites claiming HD content but failing to do so, FirstRowSports.eu keeps the stable content quality.
One problem we found with FirstRowSports.eu is that it has quite a few annoying ads. You may get rid of the issue in different ways, though. We also loved the timer function, which lets you choose the desired timing zone and understand what is happening when.
---
Here is another website that offers a lot more options for streaming live sports. Like is the case with VipBox, MyP2P.tv also lets you follow a variety of events, including soccer, tennis, volleyball, Moto GP, handball, and rugby.
In addition to the category-based coverage, you can find information about ongoing matches when you go to the homepage. Unlike other websites, MyP2P.tv offers multiple links for each game. Therefore, you will find it easy to watch the sports stream.
If you choose the time zone from the list, you can know the game details in your native time. We do recommend MyP2P.tv if you are looking for high-quality streams particularly. The VipBox alternative offers multiple sections for live streams and channel streams.
---
Fox Sports Live is home to some of the high-quality sports streams you can find on the internet. Therefore, a list of the sites like VipBox will not be complete without this website. There are multiple ways to keep track of various matches happening right now.
There are also options to watch the current scores and explore different stories on the platform. If you are looking for a personalized reading experience, you can sign into the account. Last but not least, you can put your queries to the test through the search function.
We also love Fox Sports Live for its lack of advertisements. It means you can enjoy high-quality coverage of your favorite sports teams without getting annoyed by ads. More importantly, the collection at Fox Sports Live includes college basketball videos and analysis content.
---
You can check out SportLEMON.net if you cannot access VipBox at this point. You can use the website as a no-hassle way to find streams from categories like football, hockey, tennis, soccer, boxing, motorsports, and basketball.
---
goATD is another name you can trust as a VipBox alternative. The problem is that you do not get many features on the platform. For instance, there is no option to sign in or access additional content. However, if you simply need to find the highest-quality streams, this website will not disappoint.
---
Like the other websites mentioned above, SuperSport.com can also replace VipBox. However, there are even better options in terms of personalized content. In addition to live stream content, commentary elements are also found on the platform.
---
You should check out StrikeOut.cc if you need the most versatile VipBox alternative in town. You can find an additional set of options like WWE, UFC, Nascar, and AFL streams on the platform. It does not require you to have an account, either.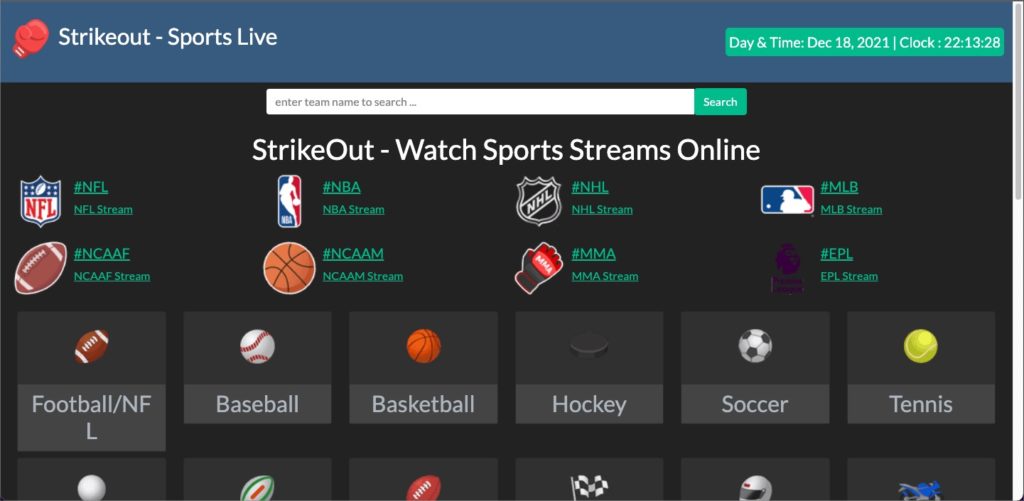 ---
Batmanstream is another great place to find live sports streams without much trouble. While it has different categories, the homepage is quite rich if you ask us. In the long run, you will not be disappointed with what you get.
---
If you are looking for a football streaming site then this Vipbox alternative is all you need. The user-friendly interface lets you watch live for free without any interruptions.
Download the app directly from the website and install it on your Android device. You can watch NBA, La Liga, Euro, Champions League, EPL and many more live sporting evens on 123Sport.

---
12. Buffstreams
Buffstreams is an amazing alternative to Vipbox with 100s of different live matches at all times. No need to signup or install an app to watch sports here.
Click to select a tournament or sport and then select an HD stream to watch it. Many links will be blocked by your internet service provider so you might need a VPN to unblock them.
You can also search for different sporting events through the search bar. And then select a stream based on the current load. This way you can avoid streams with lag and buffering.
---
The next best VipBox alternative and a perfect website to watch live-streamed sports match is streamhunter. You can enjoy all mainstream soccer and football events on streamhunter. 
Furthermore, the quality of live streams is amazing as well and the simple layout coupled with straightforward design makes finding content a breeze.
Apart from Football, you can also stream sports like baseball, basketball, hockey, boxing, and much more on streamhunter. Lastly, streamhunter is absolutely free to use.
---
CricFree.TV is another reliable website to watch live sports stream. Different sports available on CricFree.TV are football, basketball, boxing, motorsports, etc.
CricFree.TV is similar to Vipbox in multiple aspects and offers high-quality HD video playback.
---
Last on the list of alternatives to VipBox we have fuboTV. With over 200 channels you can watch almost every major sports event on fuboTV.
fuboTV offers both free and premium packages making it a legal VipBox alternative. You can enjoy fuboTV on all mainstream streaming devices like Roku, amazon fire TV, Apple TV, Android Smart TV, Samsung Smart TV, Chromecast, and Xbox.
---
Why Look for VipBox Alternatives?
There are a couple of reasons why you need VipBox alternatives in the first place. Let's look at them one by one.
VipBox is a trendy website. It means thousands of customers rely on VipBox for watching live sports and highlights content. Due to this reason, you may find that VipBox is sluggish at times. It means you may have to wait for minutes to start watching your favorite sports.
Because VipBox is not the most legal option to stream content, your ISP may have blocked the site. It means you have two options: using a VPN or finding an alternative. You can have a better streaming experience with a VipBox experience since you do not need a VPN subscription. Keeping this point in mind, we have included a variety of VipBox alternatives on the list.
Even though VipBox is quite comprehensive, you cannot find many sports streams on the platform. In that case, you can check out what the alternatives have to offer. In most cases, you can find a good option from the list.
You may also need a VipBox alternative if you are looking for additional features. By extra features, we mean options like Time Zone tracking and customized viewing. If you cannot find these features on VipBox, you can give these alternatives a try.
---
Frequently Asked Questions
Is it safe to use VipBox?
VipBox is entirely safe to use. You can access the website to find high-quality streams of different games and categories. You can always find better-quality alternatives to VipBox, though.
Why is VipBox not working?
VipBox always faces a lot of downtime due to high demand. In addition, some ISPs also block VipBox. On the bright side, you can explore the many VipBox alternatives on the internet.
What are some VipBox alternatives?
SportRAR, MAMAHD, and Firstsportrow are some of the best VipBox alternatives. You can choose more alternatives from the list provided above.
Has VipBox been shut down?
VipBox has not been shut down. However, many people have complained that the website is not accessible from their end. It could be due to local restrictions.
Do You Need a VPN For Streaming Sports on Vipbox?
You need a VPN for streaming sports on VipBox as it is blocked in several countries. Moreover, VPNs are also needed to protect your identity by hiding your location from ISPs and authorities.
---
CONCLUSION
We believe this guide helps you find high-quality sports streams on the internet. While VipBox remains one of the best free sports streaming sites, these alternatives are equally great.