Undoubtedly, TikTok is one of the most popular social media platforms out there. Every day millions of short-form videos are created, shared, and viewed on TikTok. In fact, services like Instagram Reels and YouTube Shorts came into existence thanks to TikTok.
If you have always wanted to download TikTok videos from your favorite creators to watch them offline or you simply want to download your own TikToks then you need a feature-packed TikTok Downloader.
As the title suggests, in this article we have shared details about a feature-packed TikTok Downloader that goes by the name 4K Tokkit.
The detailed review about 4K Tokkit is followed by an easy-to-follow tutorial to help you download TikTok videos on smartphones and PC.
---
4K Tokkit: The Best TikTok Videos Downloader
The internet is filled with apps and services that can help you download TikTok videos. A majority of these services are generally full of annoying advertisements or simply do not work as intended.
Luckily, the same is not true for 4K Tokkit. Well, 4K Tokkit is a cross-platform desktop application for mass TikTok video download that simply gets the job done. Using 4K Tokkit you can even backup your entire TikTok account.
In addition to accounts, this TikTok Downloader allows users to search for hashtags and sounds to download videos. 4K Tokkit can be installed on Windows, macOS, and Ubuntu laptops and desktops.
---
4K Tokkit: Three Major Highlights
In this section, we have shared the three major highlights of 4K Tokkit that help the app to stand out from the crowd.
No matter how feature-packed an app or service is, if it's difficult to use it's not that good. Thankfully, 4K Tokkit has a very well-developed and easy-to-navigate interface.
The setup is just 900KB in size and instantly gets installed on your PC. After launching the app you are straight-up welcomed by a big search bar. Followed by download options.
As stated earlier, you can search accounts, hashtags, and songs to download your favorite Tiktoks. Finally, the premium version of 4K Tokkit is completely advertisement-free.
---
2. Bulk Download Support
Yes, you read it right, Tokkit supports bulk TikTok download. As a result, you can download all of the TikToks from your preferred account in one go. Additionally, you can even download TikToks from specific time periods.
This feature eliminates the process of manually selecting TikToks for download. Simply type the username and press the pink download button.
The app also automatically checks for new clips periodically and if you want the entire process to be automated you can enable auto-downloads.
---
3. Ability To Copy TikTok Video Captions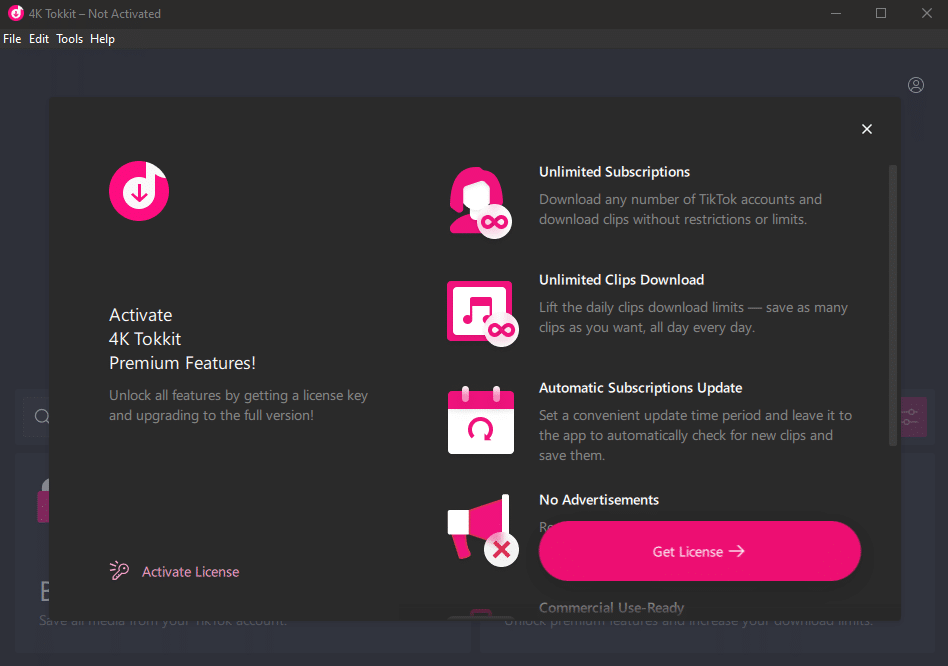 If you have always wanted to copy the caption of the original TikTok post then 4K Tokkit will once again help you. The app allows users to copy a TikTok post's caption.
To do so, click the vertical three-dots menu on any Tiktok post. Once that's done select More and then Copy caption. The copied caption will now be available in your computer's clipboard and you can paste it anywhere you want.
Do note that the ability To Copy TikTok Video Captions is only available in the premium version of 4K Tokkit.
---
How To Use 4K Tokkit To Download TikTok Videos On PC
As you might have guessed by now, 4K Tokkit is quite easy to use. That said, we would still share an easy-to-follow tutorial for first-time users.
Before downloading the app on your computer please ensure that your PC supports the operating system requirements for running 4K Tokkit.
4K Tokkit System Requirements
Windows (version 7 and newer)
macOS (version 10.13 High Sierra and newer)
Linux (Ubuntu 18.04 and newer, 64-bit only)
Now follow these simple steps to download and install 4K Tokkit on your PC,
Download 4K Tokkit setup file from the official 4K Download Website.
Next, install the setup file on your PC and launch the program.
Lastly, search for your favorite creator and press the pink download button.
If everything goes well, TikToks will now be downloaded on your PC.
---
4K Tokkit: Pricing And Availability
As stated earlier, 4K Tokkit is available for free. However, there are certain limitations to the free version of this app.
For instance, you can only subscribe to a total of two TikTok accounts, hashtags, or songs in the free version. Additionally, it has a daily limit of 50 videos.
The $15 Personal plan removes the limits and gives you access to 10 account subscriptions and 500 daily video downloads. Lastly, if you want to use features like video captions, URL exporting, and commercial use permit you can get the $60 Pro subscription plan.
4K Tokkit is online software and can be used anywhere in the world.
---
CONCLUSION
So this was all about the feature-packed Tiktok downloader 4K Tokkit. Do share your thoughts and opinions on this useful software in the comments section below.