Hacking, which was once considered the exclusive domain of the "experts" has become a very common phenomenon with the rise of technology and advancements in the mobile field.
Android phones are most popular because of the availability of millions of apps in the market.
But is it possible to hack Wi-Fi using an Android smartphone?
Yes, it is possible!
Android smartphones can run penetration testing and security test from hacking Android apps.
With the help of a few applications and basic knowledge of the true capabilities of your Android smartphone, you, too, could dig into the world of hacking.
In this article, we have discussed some of the best wifi hacking apps for the android smartphone. Some of these apps will also work on non-rooted Android.
NOTE: Please note that the apps below allow you to hack your Wi-Fi network for testing purposes. DO NOT TRY HACKING other networks as this may be illegal in your country and you could be jailed for the offense.
Best Wifi Hacking Apps For Android
WPS Connect is one of the best Wi-Fi hacking app for Android smartphones that are rooted.
With this WPS Connect application, you can disable other user's internet connection on the same Wi-Fi network and can also easily hack any WPS-secured Wi-Fi password.
This app works with almost all routers. Just download this app on your smartphone and search for Wi-Fi signal. You can also view saved Wi-Fi password from this Android app.
Note: This app only works with WPS security enabled Wi-Fi.
This open source ethical hacking app is one of the most popular ones in this field. Similar to the net cut app in Windows, this app is capable of cutting off anyone's Wi-Fi over your network.
Wi-Fi Kill is extremely useful when you have an open Wi-Fi not protected by a strong password. You can cut off the Wi-Fi of the intruder by just a few clicks on your device. This app is easy to use owing to its lucid and interactive interface and easy-to-use tools. Using this app, you can also see what other user is browsing and downloading in your Wi-Fi network.
WIFI WPS WPA Tester works on normal Android smartphones if you want to just connect a WPS/WPA enabled Wi-Fi network without knowing the password. If you have a rooted Android smartphone, then you can view the hacked password.
Nmap is a popular network security scanner, which is also available for Android devices. It is used by professionals for network exploration.
It works on both non-rooted and rooted phones. However, if your device is rooted then you have access to some more features. You can download this app for your Android device. This app allows you to scan networks for finding ports and system details.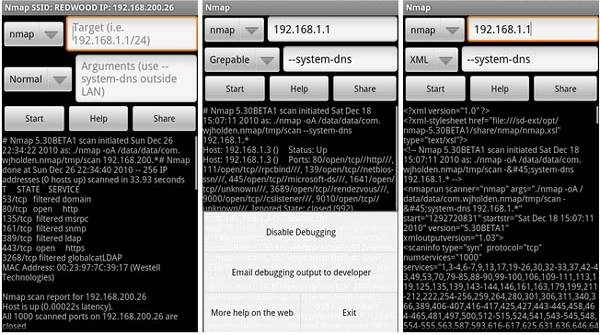 Wi-Fi Finder is a free app that has an online and offline directory of over 500,000 different hotspot locations in 144 different countries.
The app relies on users submitting their local hotspot locations to a central Wi-Fi Finder server, it then stores and relays all its Wi-Fi information to all of its app users. It can view Wi-Fi hotspot detail, call location, get directions or share the hotspot, Filter results by location (cafe, hotel, etc.) or provider type, Scan for Wi-Fi hotspots around you.
Note: This app doesn't work with every router. You can hack only WPS and WPA secured wifi network.
Fing is a network discovery tool that will find how many users and devices are currently connected to your Wi-Fi network.
It also offers several networking utilities such as Ping, DNS Lookup, and traceroute—all which can be used for troubleshooting and analyzing connection issues or to ferret out anything connected to your network that shouldn't be. You can also check every device's MAC address and his vendor name.
Arpspoof is an open source tool for network auditing originally written by Dug Song as a part of his dsniff package. It redirects packets on the local network by broadcasting spoofed ARP messages.
Arpspoof displays the packets that the victims are sending to the device, but it doesn't save them. This app redirects traffic on the local network by faking ARP replies and sending them to either a specific target or all the hosts on the local network paths.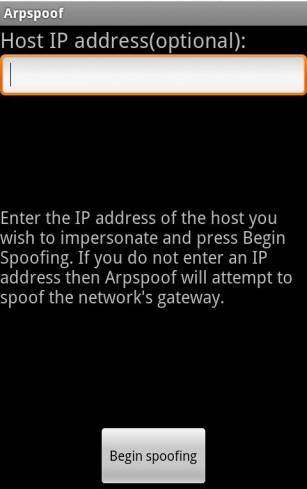 Network Spoofer lets you change websites on other people's computers from an Android smartphone.
After downloading, simply log onto a Wi-Fi network, choose a spoof to use and press start. Even though this is not exactly a penetration testing tool, it can still show you how easy or difficult it is to hack a particular network with your Android.
Wi-Fi Inspect is a multi-tool intended for Computer Security professionals and other advanced users that wish to monitor the networks they own or have permission, i.e. the app is a security audit tool and not a hacking too.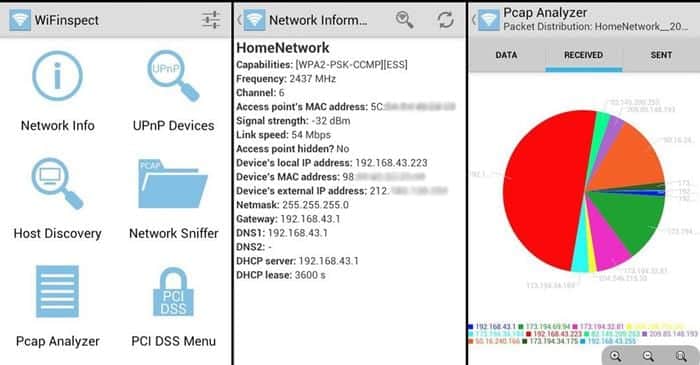 Wi-Fi You is a powerful app that collects millions of Wi-Fi passwords shared by end users worldwide and stores & distributes them from our cloud server for you to enjoy free network and traffic saving.
It will be your Wi-Fi key and will automatically find all available Wi-Fi networks nearby. With one single click, you can connect to the free Wi-Fi.