Here's everything you need to know about iPhone X, iPhone 8 and iPhone 8 Plus (Specs, features and release Date)
Finally, all the speculations, rumours, anticipation around the upcoming iPhone models were laid to rest on Tuesday when Apple Inc. celebrated the 10th anniversary of its first ever iPhone model that was launched in 2007.
The tech giant went on to launch three new iPhones, namely iPhone X, iPhone 8 and iPhone 8 Plus at the brand new Steve Jobs Theatre in its yet-to-be-opened Apple Park campus in Cupertino. Let's have a look at each of them and see what does it has to offer to its users.
iPhone X specs and features:
The much anticipated iPhone X called as "the biggest leap forward since the original iPhone" by Apple's CEO Tim Cook features a radical redesign and new technology. The iPhone X is an all-glass (front and back) and stainless steel device with a curved edge-to-edge screen display. The iPhone X is the first smartphone from Apple to feature a bezel-less design and comes with a 5.8-inch Super Retina HD Display (2436 X 1125 resolution, 458 ppi) in OLED. The screen has a million-to-one contrast ratio and wide colour support, and there's also HDR that supports Dolby Vision and HDR10. The iPhone X comes with 3GB Ram and is powered by the superfast A11 Bionic chip with six-cores and the 64-bit design.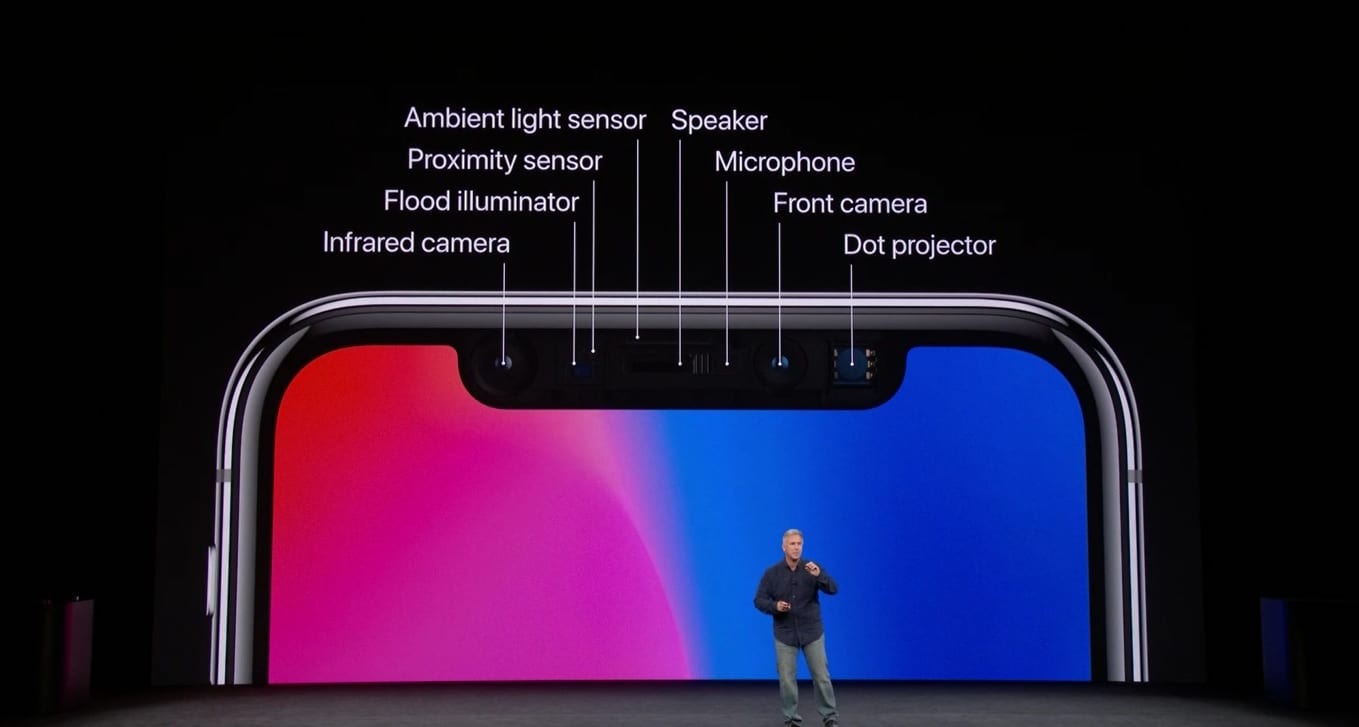 The iPhone X has wireless charging, an infrared camera and Face ID, which uses the TrueDepth camera system on the top of the display to unlock the device. FaceID can also be used for authentication, payments, accessing securing apps and be used with Apple Pay as well.
With no Home button, you need to tap the display to wake up the iPhone X. There is a simple 'slide to home' gesture that you can use in any app. To go to the Home screen, you need to slide up from the bottom of the screen and for multitasking viewing, you need to pause briefly while sliding up. Pressing and holding the side button will launch Siri. Apple has also added a fun feature to the iPhone X, where it uses your face to create animated emojis, called Animojis. For instance, if you make an angry face, your animated emoji will copy your facial expression. Similarly, you make a happy face, it will respond accordingly. You can also record a message with an emoji and send Animoji real-time.
Further, the iPhone X comes with a redesigned 12MP dual rear facing camera and dual optical image stabilization (OIS). The ƒ/1.8 aperture on the wide-angle camera comes along with an improved ƒ/2.4 aperture on the telephoto camera for better photos and videos. It also comes with the new 7MP TrueDepth front facing camera that enables Face ID features wide colour captures, auto image stabilization and precise exposure control, and brings Portrait mode to the front camera for stunning selfies with a depth-of-field effect. The new camera also delivers the highest quality video capture ever in a smartphone, with better video stabilization, 4K video up to 60fps and 1080p slo-mo up to 240fps.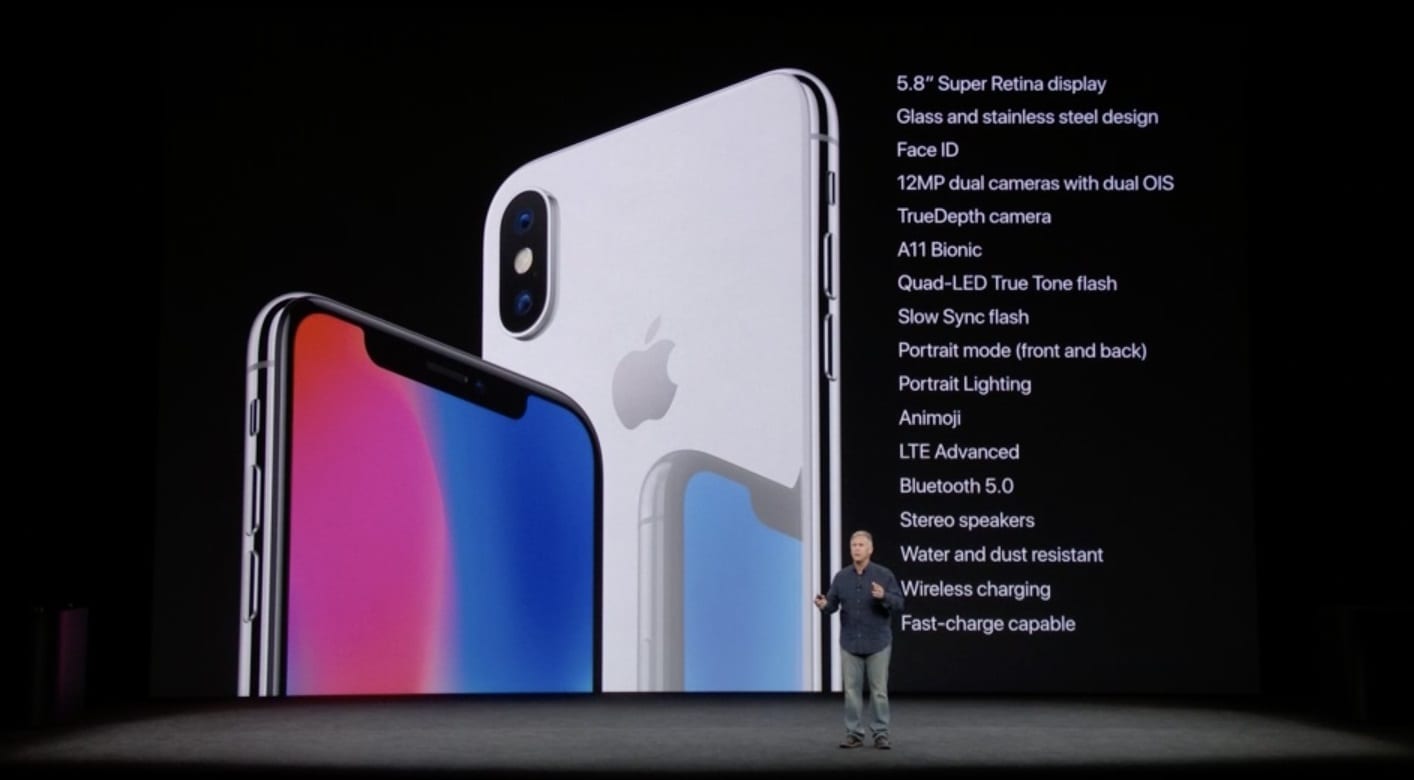 The iPhone X will run iOS 11 and is expected to have two extra hours of battery life than the iPhone 7. The phone is also water and dust resistant with additional waterproofing expected for the front and back of the device.
The iPhone X will be available in Silver or Space Gray colours. It starts at a price of $999 / £999 for the 64GB model and a whopping $1,149 / £1,499 for the 256GB model. These models will be available for pre-order from October 27 in more than 55 countries and territories, and will be available for sale from November 3.
iPhone 8 and iPhone 8 Plus specs and features:
Besides the iPhone X, Apple also launched the iPhone 8 and iPhone 8 Plus models, which resemble the iPhone 7 line and is an upgrade to its current offering. While the iPhone 8 features a 4.7 inch Super Retina HD Display (1334×750 p, 326 ppi), the iPhone 8 Plus comes with a 5.5 inch Super Retina HD Display (1920x1080p, 401 ppi). Both the models will be powered by the superfast A11 Bionic processor that are built using a 10nm process and will run on the iOS 11 software.
The iPhone 8 and iPhone 8 Plus have an all-glass design and can be charged wirelessly. These phones use the open Qi wireless charging standard, which means they will work with existing Qi accessories, furniture and cars.
Both the iPhone 8 models feature a more advanced 12MP rear facing camera with a larger, faster sensor, new color filter, deeper pixels and optical image stabilization for photos and videos. The camera on the iPhone 8 Plus gets a new Portrait Lighting feature which is enabled by the dual camera. You can change lighting on a subject while taking the photo or go to image gallery and change lighting after the fact. The wide angle and telephoto lenses on iPhone 8 Plus enable optical zoom, as well as digital zoom of up to 10x for photos and 6x for videos.
The iPhone 8 and iPhone 8 Plus models will be available in 64GB or 256GB versions. These models will be seen in new space gray, silver, and gold finishes. While the iPhone 8 will be available at a price of $699, the iPhone 8 Plus will cost $799. Both these can be pre-ordered from September 15, and will go on sale from September 22.
Other Releases:
In addition to the iPhones, Apple also unveiled a new version of its smartwatch, Apple Watch Series 3, with cellular connectivity. This feature will allow you to take calls without having to pair it with a phone and also access the internet. The Apple Watch Series 3 also comes with improved fitness monitoring and coaching tools, and streaming service Apple Music. The new Watch Series 3 will cost $399 with cellular connectivity and $329 with no cellular network. The watches will go on pre-order on September 15, and will be available in shops on September 22.
Apple also upgraded its TV streaming box, the Apple TV, by introducing 4K resolution and high dynamic range (HDR) support for the first time. The technology greatly increases picture quality and the appearance of colours on screen, and will also support 4K content from the likes of Netflix and Amazon Prime Video. With Apple TV 4K, viewers can enjoy a growing selection of 4K HDR movies on iTunes. The new Apple TV 4K will start at $179 for 32GB or $199 for 64GB, joining Apple TV (4th generation) 32GB at $149. Both Apple TV 4K models will be available for order starting September 15, and goes on sale on September 22.