You own an iPhone but doesn't own a mac?, No problem, in this article we provided you everything you need. Know about how to download and install iTunes for Windows 10, 8 ,7. iTunes is basically a media player or media library software which let the iOS user store and organize its music collections. It's a very popular software and used by billions of people across the globe. Good thing is that you can download iTunes for Windows and install it in minutes without any hiccup.
The best part about this software is that it is available for the popular Operating systems such as Windows and MacOS.
For Mac users, it comes pre-loaded. For Windows, a user needs to download it separately which is why we are here to guide you on how to download and install iTunes for Windows OS like 7, 8 and 10
Specification of iTunes for Windows 10, 8, 7
The specifications we mentioned here are provided by Apple itself. So before proceeding further make sure to read it carefully.
Hardware:
PC with a 1GHz Intel or AMD processor with support for SSE2 and 512MB of RAM.
To play Standard Definition video from the iTunes Store, an Intel Pentium D or faster processor, 512MB of RAM, and a DirectX 9.0-compatible video card is required.
To play 720p HD video, an iTunes LP, or iTunes Extras, a 2.0GHz Intel Core 2 Duo or faster processor, 1GB of RAM, and an Intel GMA X3000, ATI Radeon X1300, or NVIDIA GeForce 6150 or better is required.
To play 1080p HD video, a 2.4GHz Intel Core 2 Duo or faster processor, 2GB of RAM, and an Intel GMA X4500HD; ATI Radeon HD 2400; NVIDIA GeForce 8300 GS or better is required.
Screen resolution of 1024×768 or greater; 1280×800 or greater is required to play an iTunes LP or iTunes Extras.
16-bit sound card and speakers.
Internet connection to use Apple Music, the iTunes Store, and iTunes Extras.
iTunes-compatible CD or DVD recorder to create audio CDs, MP3 CDs, or back-up CDs or DVDs. Songs from the Apple Music catalog cannot be burned to a CD.
Software:
Windows 7 or later.
64-bit editions of Windows require the iTunes 64-bit installer.
400MB of available disk space.
Some third-party visualizers may no longer be compatible with this version of iTunes. Please contact the developer for an updated visualizer that is compatible with iTunes 12.1 or later.
Apple Music, iTunes Store, and iTunes Match availability may vary by country.
Apple Music trial requires sign-up and is available for new subscribers only. Plan automatically renews after trialor later.
If your device specifications match up with the above-mentioned specifications then you can proceed further.
Also Check Out – 14 of the Best Android Apps
---
Some useful Features of iTunes
Ping – Ping allows the user to follow his/her favorite artists. Not only that it also enables your friends to follow you and look upon what type of music you like or enjoy.
Home Sharing – If you own quite a few devices or computers in your home then this feature is really a gem for you. The Home Sharing feature lets you share music across multiple computers. For that, all you need is to check if all the computers are logged in into iTunes with the same account or not.
Videos – Yes you can download videos, movies and TV shows from iTunes Store and watch them later on iTunes or any other Apple device you want.
Smart Playlists – By name of it, this may sound fascinating to you but in reality, it is the opposite. It's just a smart feature to have that's it. In this, you can set parameters for iTunes to create a playlist for you using songs from your library. Those parameters can be the song's genre, date of release or rating. So whenever you will add a new song that matches that parameter list it will automatically be added to your smart playlist.
iTunes Store – As the name says it all. iTunes store acts as an integrated feature of the software. Just by clicking that store icon you will navigate towards the main iTunes interface to buy and browse content online.
---
How to download iTunes for Windows 7, 8 and 10
First of all, launch your favorite web browser and visit Apple's official site to download iTunes for Windows.
You will directly be navigated to the official download page of Apple.com.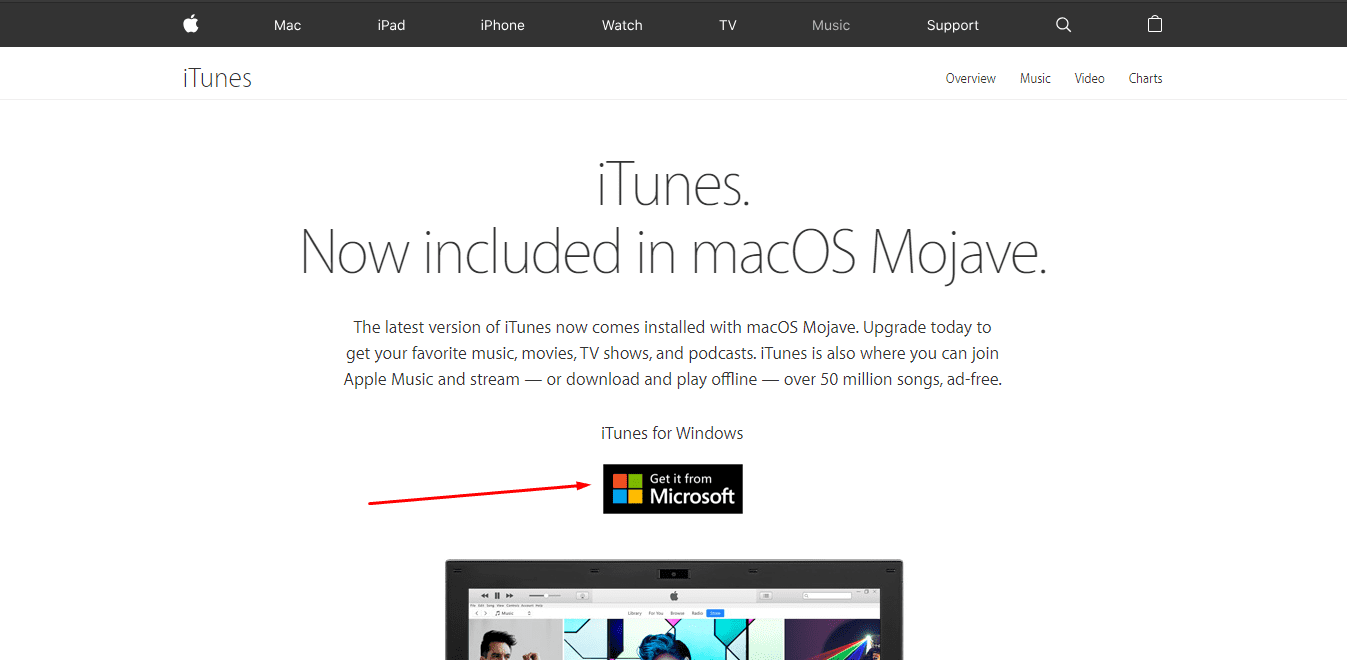 Here you will have to click on the black and bold "Get it from Microsoft" option.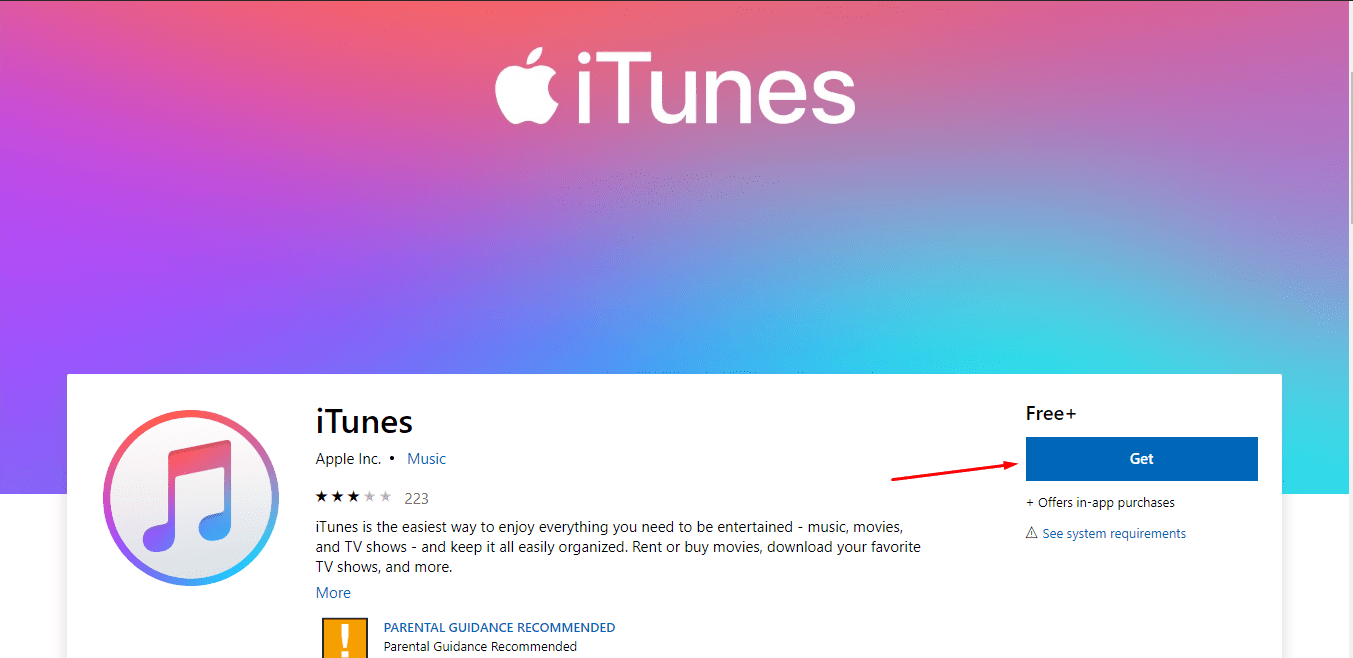 By doing this you will be navigated to Microsoft Store and there you need to click on the option "Get" to download it.
When the download is complete all you need is to install the iTunes.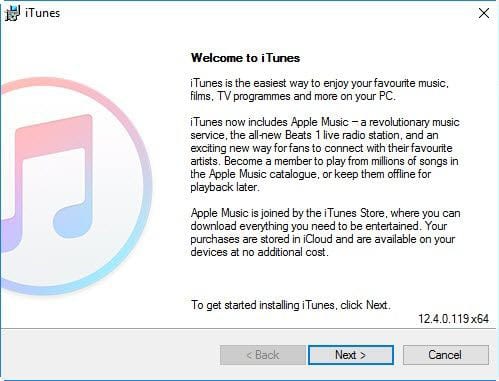 After doing this click on install.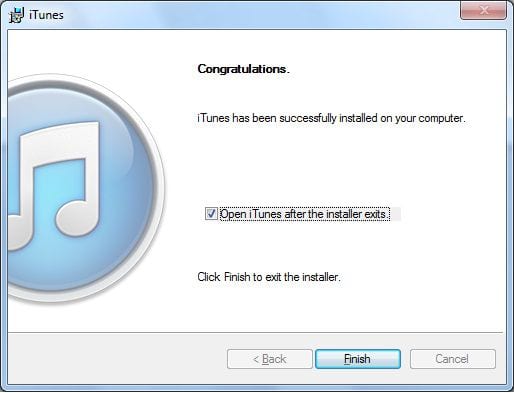 At last Click on finish and you are good to go.
Conclusion
So this was all about downloading and installing iTunes for Windows PC. If you find it helpful then do let us know in the comment section below, we would love to know your thoughts.
Stay tuned for more.