Cricket enthusiasts are all over the globe, and cricket streaming sites have made it easier to watch cricket anytime and anywhere.
While cricket is very famous in countries like England, Australia, India, Pakistan, New Zealand, Bangladesh, and South Africa, people from all over the world love to watch cricket matches online.
Well, if you have been looking for some of the best live cricket streaming sites or simply want to enjoy today's live one-day match, t20, or test match you can use the below-mentioned sites.
So these are some of the excellent and free sites to watch cricket online that are worth checking out.
You can easily watch test matches, one-day matches, or even t20 on these sites and some of them are even free.
Top 15 Best Free Cricket Streaming Sites
1. Disney Plus Hotstar
The first website for HD cricket live streaming on the list is Disney Plus Hotstar. This feature-rich website allows users to watch live cricket matches online and it is very popular in the Indian region.
You can even watch TATA IPL matches live on Disney Plus Hotstar.
Hotstar streams every major cricket event like T20, One Day, and Test matches.
Hotstar offers reliable streaming speeds and visually impressive HD cricket live streaming. In addition to that, there is no need to create an account on Hotstar for streaming cricket.
These features make it the best live cricket TV app for Android phones or iPhones.
As for downsides, the free account on Hotstar delays the live stream by a few minutes.
---
2. SonyLIV Sports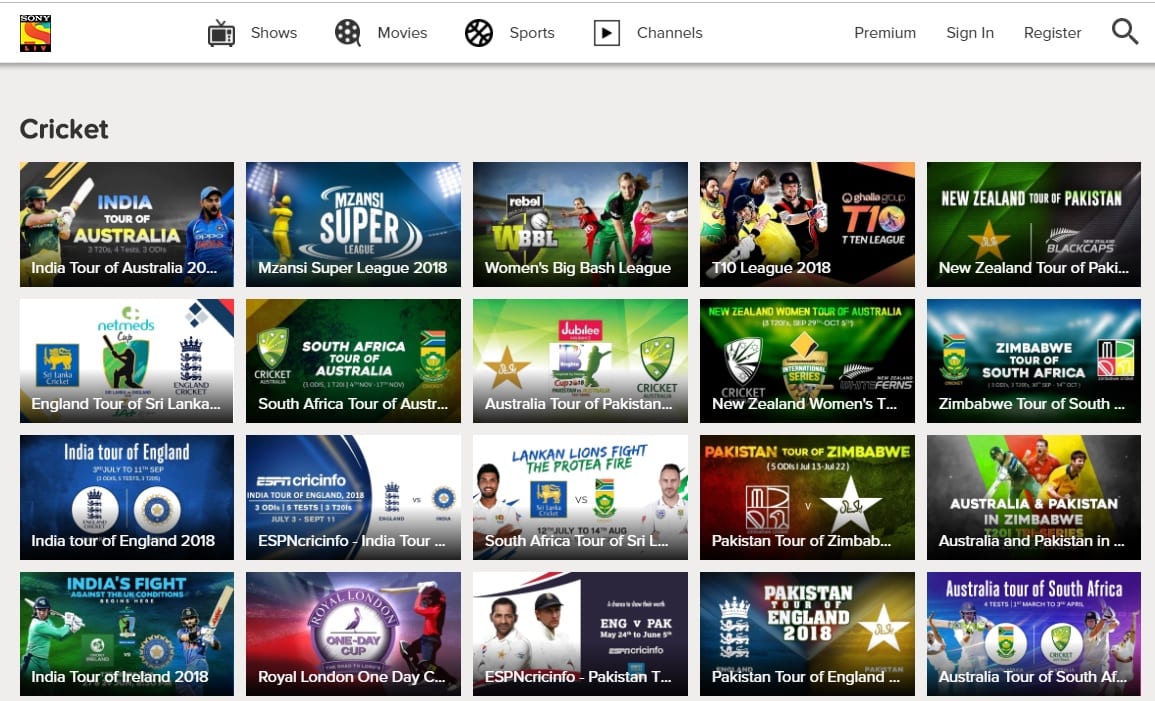 SonyLIV is another favorable online live cricket streaming website. You can watch every major cricket series on SonyLIV. Furthermore, the site also provides detailed schedules for upcoming events and score updates for ongoing cricket matches.
Apart from live cricket streaming, SonyLIV also displays the latest news and happenings in the world of cricket.
SonyLIV has a very well-developed video player that optimizes video quality based on internet speed. Lastly, you can also watch other favorite sports and games on SonyLIV.
---
3. JioCinema
Next on the list, we have a free cricket streaming site JioCinema.
Live Cricket matches on JioCinema are available in 1080p quality and there's negligible buffering if you have a stable internet connection.
To watch JioCinema on PC you can check out JioCinema For PC Download.
Lastly, it's worth noting that there's no need to have a Jio SimCard to watch cricket matches.
---
4. Cricbuzz
If you prefer live score updates or commentary over watching the entire cricket match, then Cricbuzz will impress you. This basic yet popular website provides real-time cricket score updates.
Cricbuzz also has its native Android and iOS applications which are ideal for checking live score updates and listening to the commentary.
In addition to score updates, Cricbuzz also offers cricket-based news and interesting videos like match-preview, funny moments, and post-match shows.
---
5. Willow TV

Willow TV is a free live cricket streaming site that is available for USA residents. This popular cricket streaming service is available as a channel on Satellite and Cable Networks. A majority of content on Willow TV is available in High Definition.
Unlike other online cricket streaming sites, Willow TV is not free. You have to get a monthly subscription for $14.99.
Willow TV is available for every streaming device like iOS, Android, Roku, Google TV, Amazon FireTV, and much more.
---
6. BCCI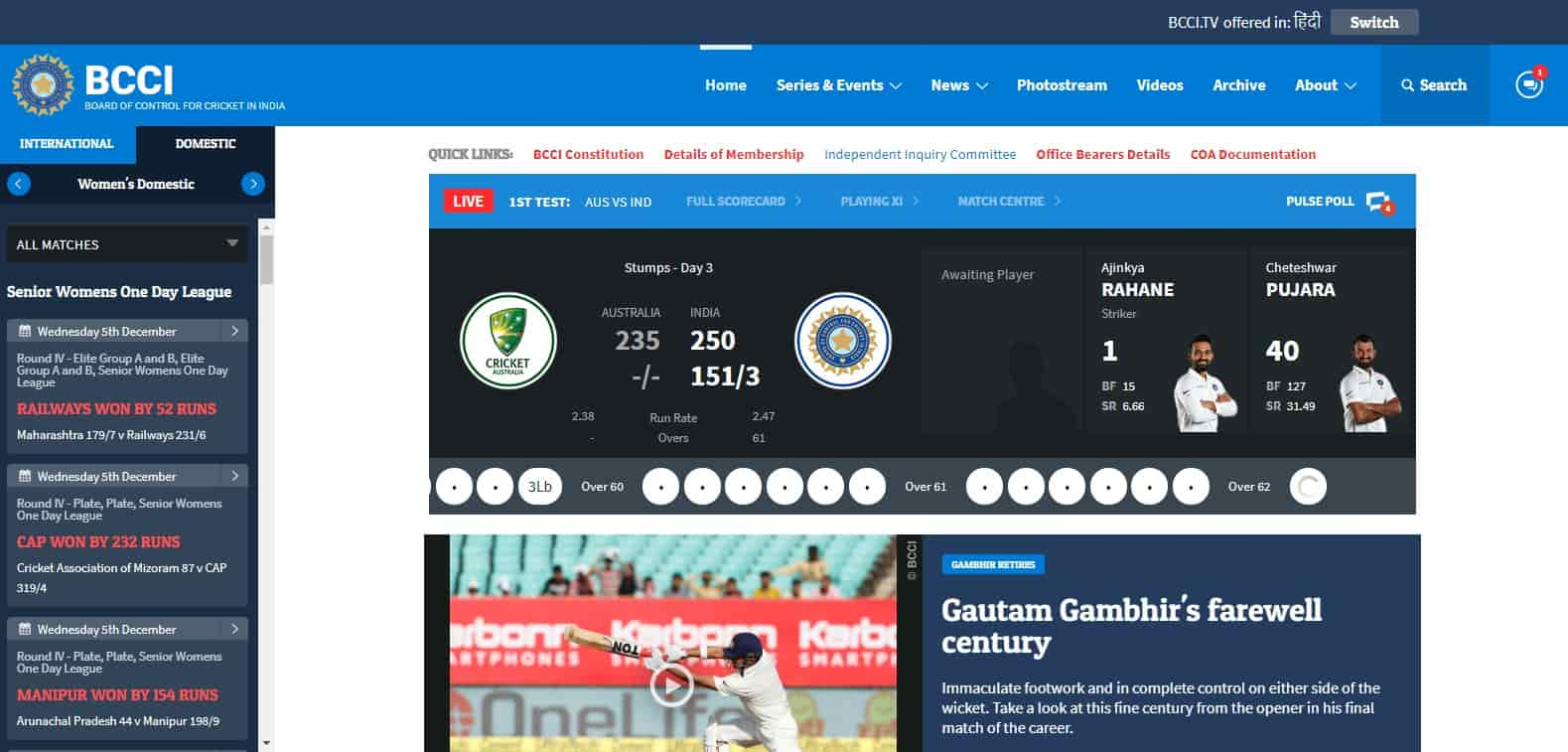 The next free live cricket streaming site on the list is BCCI. Using the official website of BCCI you can watch Domestic, T20s, ODIs, and Tests cricket matches.
Apart from live cricket streaming, BCCI can also be used to read the latest cricket news, check score updates, and view match schedules.
BCCI is the only website that is available in the Hindi language. Overall it's a perfect website to watch live cricket events.
---
7. ESPNcricinfo
The next feature-rich cricket live streaming site on the list is ESPNcricinfo. Y'all can watch live cricket streams, real-time score updates, and read detailed news and match analysis.
ESPNcricinfo covers almost every major cricket event including Test Series, IPL, World Cup, and much more. Using ESPNcricinfo you can follow your favorite cricket team and stay updated about upcoming matches and scores.
Overall ESPNcricinfo is a very developed website that will impress every cricket enthusiast.
---
8. Reddit
Yes, you read it right, Reddit can also be used as a live cricket streaming site. This popular social media service doesn't host live cricket stream, but you can definitely find unofficial links to stream cricket matches in different subreddits.
In addition to the cricket subreddit, you can also join subreddit for test series, T20s, IPL, and much more. Furthermore, Reddit makes it easier to interact with other cricket enthusiasts.
The only downside to use Reddit as a cricket streaming site is that you won't be able to find and stream every ongoing cricket event.
---
9. Google Assistant
If quick score updates are what you want simply use Google Assistant. Google provides the latest cricket score updates for every major national and international cricket match.
Furthermore, you can even personalize the Google discovery feed on your smartphone and get the latest updates on scores and schedules right on your home screen. Google even allows users to choose their favourite team.
Overall, Google Assistant is a perfect way to check score updates and the latest happenings in the world of cricket.
---
10. Skysports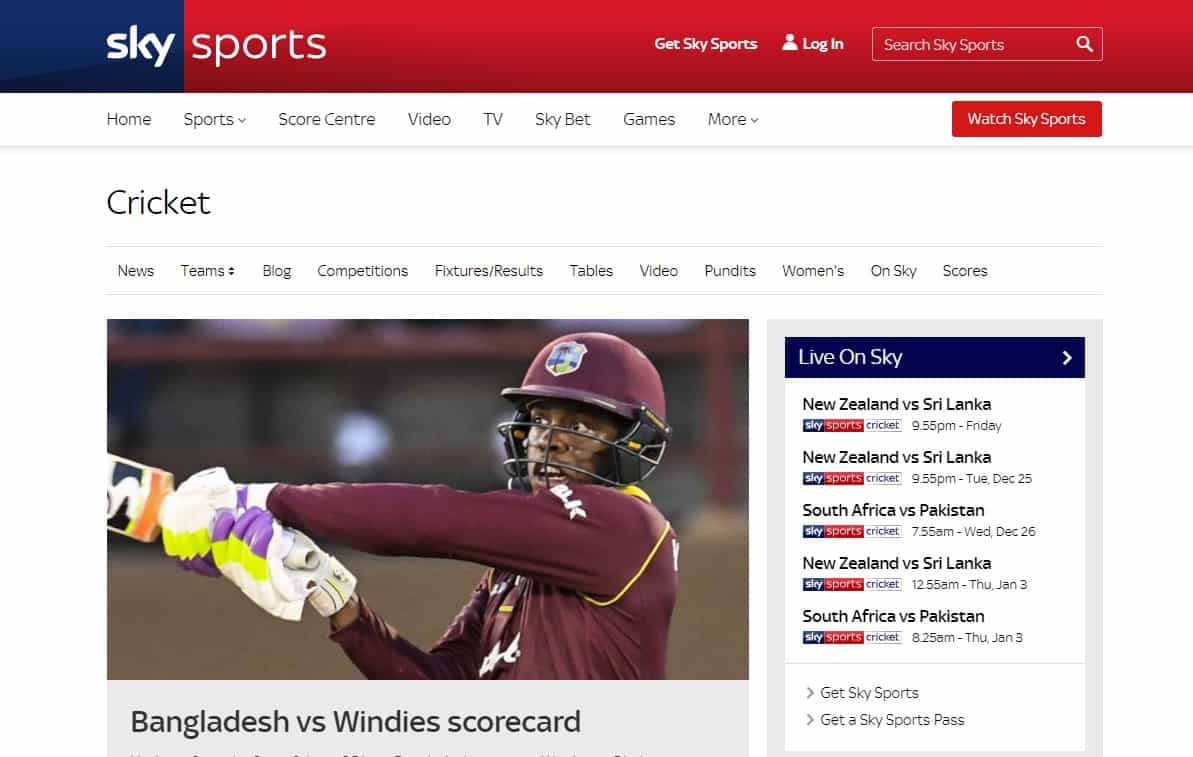 Skysports is another free live cricket streaming site that hosts live streams for every major cricket event. This feature-rich cricket live streaming site is very well-developed and it offers a clean and easy to navigate UI.
Apart from cricket, you can also stream other sports like Football, Golf, Boxing and much more on Skysports.
Skysports offers reliable streaming speeds and the quality of videos is impressive as well.
---
11. Facebook
The next free live cricket streaming site on the list is the popular social media site Facebook. That said, it's not possible to find all cricket matches and events on Facebook.
So as to watch a cricket match on Facebook simply search it like "Cricket". Now select the videos section. Lastly, to watch live cricket matches select Live in the source filter.
Facebook has a very well-developed video player that optimizes the quality of videos based on your internet speed.
---
12. Amazon Prime Video
Amazon Prime Video is another great website for streaming live cricket matches. The service was launched by Amazon last year in selected markets like NZ, AUS, and ENG.
Things like picture quality, scoreboard, and live updates are top-notch on Amazon Prime Video.
You can stream ODIs, T20s, and Tests on Prime Video and they have acquired exclusive rights to broadcast all international cricket matches to be played against New Zealand Cricket teams.
---
13. Fancode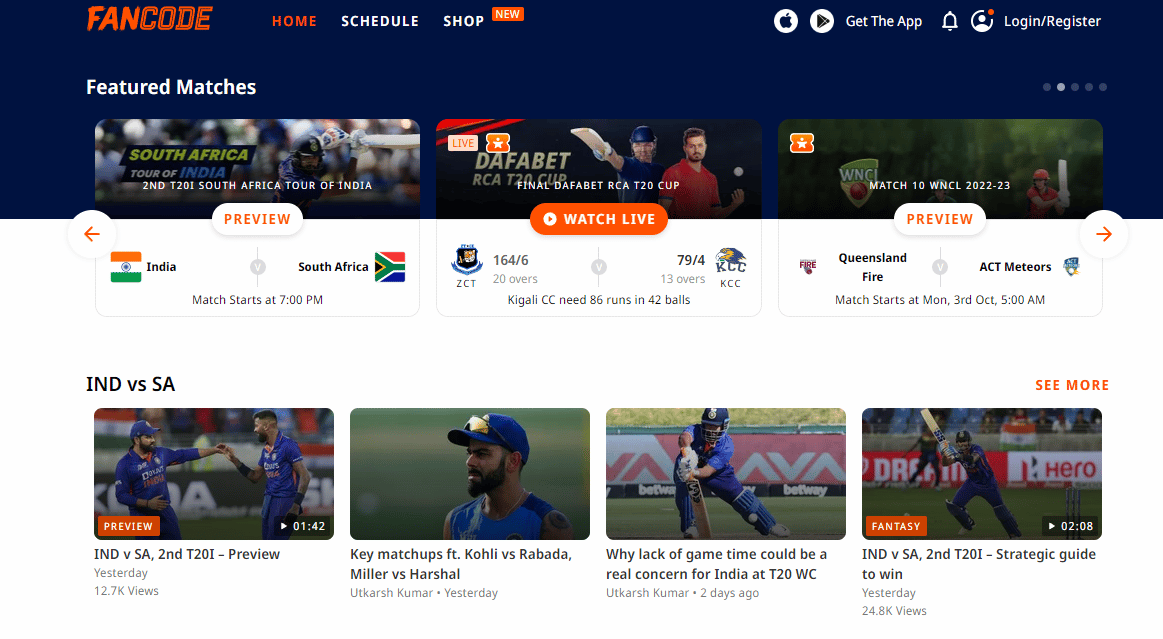 In comparison to other websites on the list, Fancode is a new cricket streaming site that's quite reasonably priced and can help you stream all international matches.
You can acquire the Fancode pass by paying either a monthly fee or a yearly fee. In addition to the website, Fancode also has dedicated Android and iOS apps that can help you stream cricket matches on your smartphone.
Fancode is owned and operated by Dream Sports which is India's leading sports technology company and it's completely legal.
---
14. YuppTV

Last on the list of best sites to stream cricket we have YuppTV. Well, YuppTV is an internet-based TV and On-demand service provider that can help you watch live cricket matches.
Before watching cricket matches you have to register on the website and upgrading to the premium version will remove ads on YuppTV.
Lastly, matches on YuppTV are available in 1080p HD quality and there are next to zero delays during live cricket matches.
---
Best Cricket News and Live Score Apps
As the heading suggests in this section we have shared the two best cricket news and live score apps for smartphones. These apps are ideal in conditions where you can't watch TV and just want to see the live cricket scores.
15. LIVE Cricket Scores app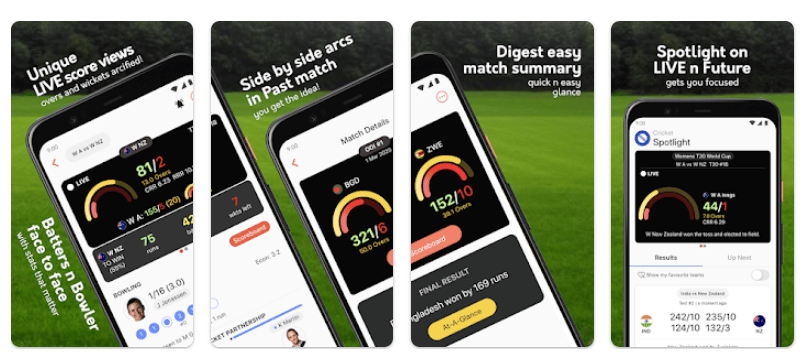 LIVE Cricket Scores app is one of the most well-developed and user-friendly live cricket score apps for smartphones. It has over 100K downloads on the google play store.
You can enjoy both ODI and T20 Live Cricket Scores on this app and it showcases scores for all international teams out there.
DOWNLOAD LIVE Cricket Scores App
---
16. Yahoo! Cricket App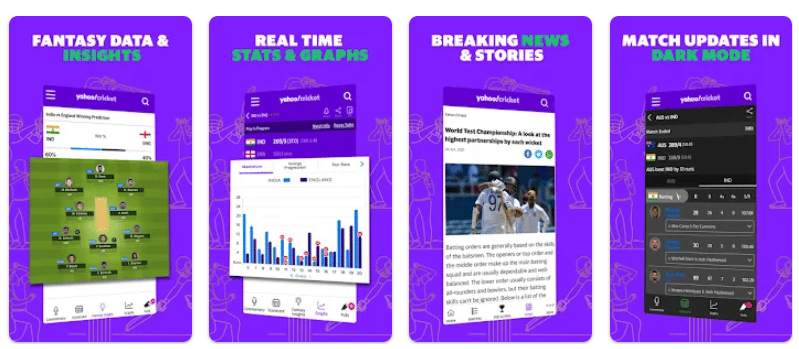 We can't end the list without mentioning one of the most reliable Cricket App i.e. the Yahoo! Cricket App. Yahoo has been in the sports industry for a very long time now and they offer quick updates with entertaining live commentary.
You can download the Yahoo! Cricket App from Google Play Store on Android smartphones.
---
CONCLUSION
So these were some of the best free live cricket streaming sites that are worth checking out.
Do share any other personal recommendations in the comments section below.