Origin PC, a custom personal computer manufacturing company, has brought an interesting project to real-life by announcing the availability of a high-end gaming PC inside a modified Tesla Model S for kids starting at $13,373.
Called as "Ludicrous PC", this custom gaming PC is inspired by popular YouTube personality, Marques Brownlee's (aka MKBHD) Tesla Model S. 
The main highlight of this special edition Ludicrous PC is that beside being a powerful liquid-cooled gaming desktop with top technical features, it is fully equipped to play the latest games and go out for a short drive. 
On the specifications front, the Ludicrous PC includes an ASRock X570 Phantom Gaming ITX / TB3 motherboard and is powered by CORSAIR's 750W SFX PSU.
It has a liquid-cooled AMD Ryzen 9 3900X with 12 cores, a liquid-cooled NVIDIA GeForce RTX 2080 Ti, 32GB of CORSAIR Dominator Platinum RGB RAM, a 2TB CORSAIR Force Series MP600 Gen4 PCIe M.2 SSD for the operating system, and a 4TB Samsung 860 PRO SSD storage drive.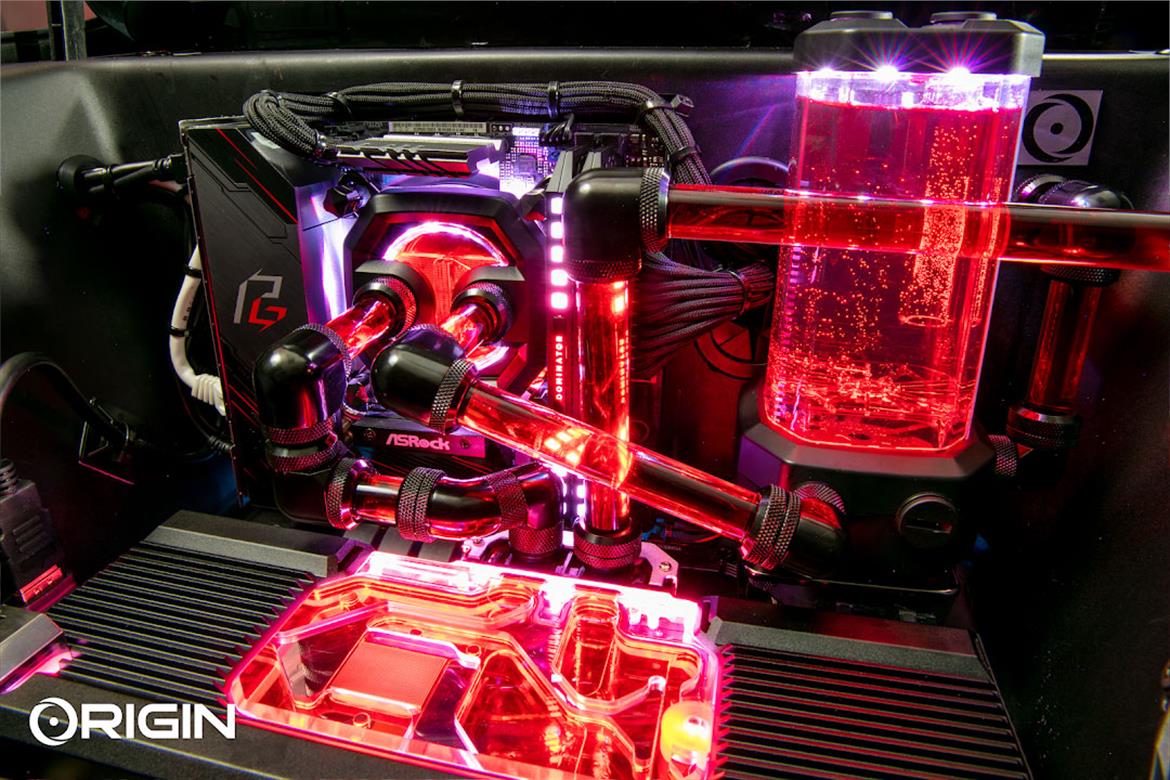 Further, the Ludicrous PC includes working headlights, a horn, the capability to drive forward or in reverse, and a Remote control that lets you turn off or reset the PC.
It features iCUE compatible RGB lighting strips for an underglow on the Tesla Model S for the kid.
It is available in four exterior colors, along with black or silver turbine-style rims. However, the core hardware configuration cannot be changed, which means you cannot downgrade the CPU or GPU.
YouTuber Marques Brownlee took a look at Origin PC's new Ludicrous PC in a recent video (see below). "It's definitely dope tech", Marques Brownlee, MKBHD said.
"True to its name, the LUDICROUS PC is a special edition PC that combines a Radio Flyer Tesla Model S with a liquid-cooled high-performance ORIGIN PC. The LUDICROUS PC is a true showcase build that the ORIGIN PC team created which was inspired by MKBHD's high-quality content and his high-performance Tesla. For a limited time, you can order your own on ORIGINPC.com for $13370," said Kevin Wasielewski, ORIGIN PC CEO and co-founder. 
Given below are the specifications of the fastest gaming Ludicrous PC at a glance: 
Case

: Customized Radio Flyer Tesla Model S for kids with iCUE RGB Lighting

Motherboard

: ASRock X570 Phantom Gaming ITX/TB3

CPU

: Liquid-cooled AMD Ryzen 9 3900X

GPU

: Liquid-cooled NVIDIA GeForce RTX 2080 Ti

RAM

: 32GB CORSAIR Dominator Platinum RGB (2×16)

OS Drive

: 2TB CORSAIR Force Series Gen.4 PCIe MP600 NVMe M.2 SSD

Storage Drive

: 4TB Samsung 860 PRO SSD

Cooling

: Custom CORSAIR Hydro X Hard Line Liquid Cooling

Fans

: CORSAIR RGB Fans

Power Supply

: CORSAIR SF Series™ SF750 80 PLUS® Platinum Certified

Operating System

: Windows 10

Free Lifetime 24/7 Phone Support

 Based in the U.S.
Origin PC has decided to open up orders of Ludicrous PC to the public, for a limited time. You can place your order here with options to select the color and rims for the vehicle.