Looking for the best duplicate photo finder tools for Windows PC and remove duplicate images?
Oftentimes, we find multiple copies of the same photo saved to our computer or smartphone, most likely as a result of photos we snap, downloaded from WhatsApp or similar apps, or from the internet.
As these duplicate photos increase, you may find yourself needing more storage on your PC.
Plus, duplicate photos typically cause your device's photo gallery to be clogged up, which could be unsettling and can slow down your pc to some extent.
So what do you do if you discover duplicate pictures on your smartphone or computer and need to clean them up?
Finding duplicate photos from the tens of thousands of photos on your device and manually deleting them is complicated.
Fortunately, there are software programs and tools designed to find and remove duplicate photos on computers and smartphones, so you don't have to go through the stress of doing that yourself.
However, given the abundance of duplicate photo finder/cleaner tools, selecting the best one for your device may be difficult.
As a result, this piece will review 15 of the best of them to help you decide which one to use.
Best Duplicate Photo Finder/Cleaner Tools
Looking for the best duplicate photo finder/cleaner tool for your Windows PC and smartphone?
Here are the best options you should choose from:
Topping our list of best duplicate photo finders is a free yet powerful tool that can easily help you get rid of duplicate image files and even similar images from your photo collections.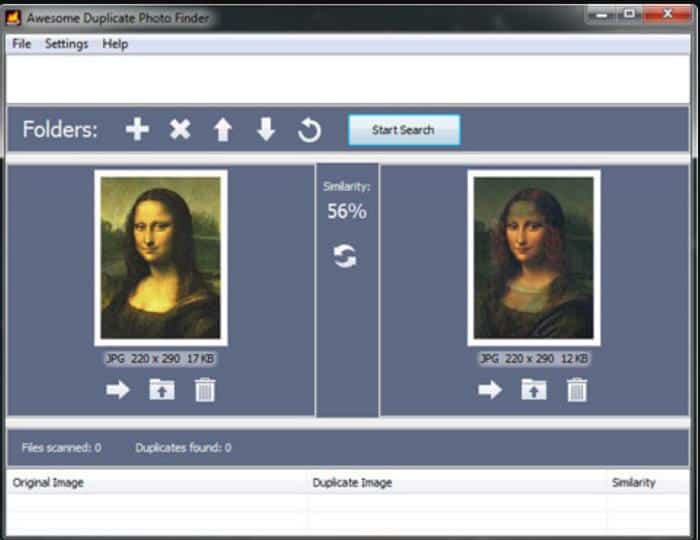 Thanks to its nice, straightforward user interface, anyone can use this tool easily. With Awesome Duplicate Finder, you only need a few mouse clicks to find and delete duplicate pictures from your computer.
Likewise, it detects duplicate images that have been altered in some way—like resized or recolored—and supports all of the main image types, including JPG, BMP, PNG, GIF, TIFF, and CR2.
For those who deal with multiple storage options, it can even be used to scan for duplicate photo files on network drives and some other types of storage. It cannot, however, be used with cloud storage like some of the options we will discuss in this piece.
Awesome Duplicate Photo Finder can be run as a portable app, meaning it doesn't necessarily require installation for it to work on your computer and can even be run via USB. It can currently only be used with Windows-based devices.
This duplicate phone cleaner is special because it is cost-free, without restrictions, and free of adware, spyware, or other unwanted software.
Noteworthy Features 
It is free
It is lightweight
It has a simple search process
It supports several images formats
It can be run as a portable app
Minor Drawbacks 
It is only available for Windows computers
It doesn't work with cloud storage
---
MacPaw is a well-known brand when it comes to utility software for Mac computers, and one of their products, the Gemini 2 app, allows users to remove duplicate files from their Mac computer effortlessly.
Gemini 2 tool differs from most common duplicate photo finders, as it runs a deep scan on your computer to find identical images on your Mac PC and assists you in deleting them to free up space on your computer.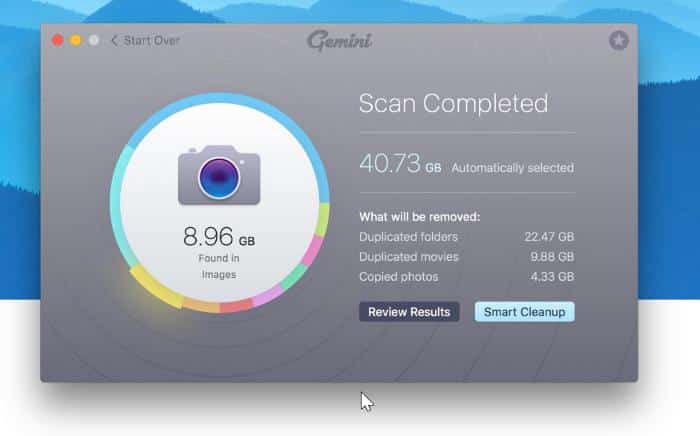 Regardless of how many files you have on your computer, this tool scans it quickly and gives you a laser-accurate list of duplicate photos. Plus, like most of the other tools in this piece, Gemini 2 can assist in identifying similar files on your computer.
You can manually review the results or use the smart cleanup feature, which automatically removes duplicate images discovered based on how you used to delete reviewed duplicate photos manually.
Besides, this tool also helps clean up duplicates on iTunes. Gemini 2 also works by keeping an eye on any newly added duplicate files on your computer and notifying you anytime it gets any.
Deleted duplicate files are not removed immediately on this tool, so if you mistakenly delete a file, you can access them through the trash.
This app gives you a limited free version but has its premium plan cost of $19.95 per month/Mac, which is pretty reasonable.
Noteworthy Features 
It has a neat interface
It has high accuracy
It has a trash option for recovering mistakenly deleted photos
Minor Drawbacks 
It is not available for Windows
---
Easy Duplicate Finder is one of the best out there for finding and deleting duplicate files on both Windows and Mac PCs. This program should be your go-to app if you've discovered that the photo gallery on your computer is cluttered with duplicate pictures.
Also, not only can you use Easy Duplicate Finder for your PCs, but it also supports being used to find duplicate files across your cloud storage accounts such as  Google Drive and Dropbox.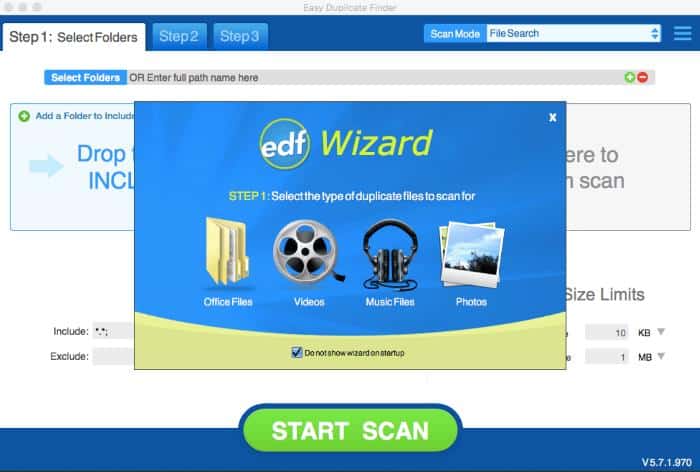 Using smart technology, this tool accurately and effectively detects all types of duplicate files regardless of their file formats. The three-step working method of Easy Duplicate Finder makes it easy to use, and it also has a straightforward user interface.
On the other hand, it has a feature called "CRC32 Checksum + File size" that enables you to identify identical-looking photos and duplicates. After effectively locating your duplicate photos, you can review them manually or automatically before having them removed.
Likewise, you can use Easy Duplicate Finder to search for duplicate contacts and emails on your device. Although it is a subscription-based software, you can scan up to 30 duplicate files during its premium free trial if you register with them using your email address.
Noteworthy Features
It uses  advanced algorithms
It is easy to use
It has Google Drive, Dropbox, and Email support
Minor Drawbacks 
---
This is another powerful and professional duplicate file cleaner for Mac that you can use to remove duplicate and similar files from your Mac.
Nectony Duplicate File Finder tool offers a very fast method of scanning your computer for and generating accurate results for you, which can either be removed or merged so that you will have more organized files.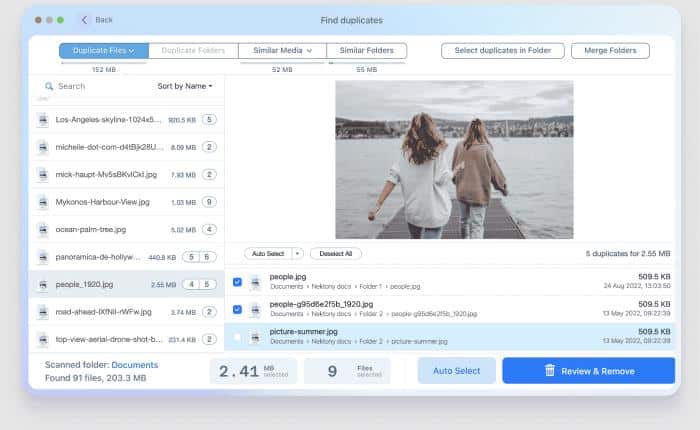 It supports other types of duplicate files besides duplicate and similar photos in your Photos library, such as duplicate music files, videos, documents, and many more.
Plus, it gives a detailed overview of the duplicate photos found on your computer, including their cumulative size, and allows you to know what files will be deleted from your computer.
In order to help you in case you have mistakenly deleted some files, it provides access to a Trash option through which you can recover removed duplicate files
This tool also allows you to find duplicate photos in iCloud, Dropbox, Google Drive, and external disks. It is also available for iOS devices, so you will find it useful to declutter the photos library on your iPhones and iPads
Noteworthy Features 
It is fast to use
It has a trash option for easy recovery of deleted files
It allows you to find duplicates on iCloud, Google Drive, and Dropbox
Minor Drawbacks 
It is not free
It is only available for Mac users
---
If you are looking for a duplicate photo finder for both Windows computers and Mac, Duplicate Photos Fixer Pro is a dedicated tool for that use, and you will definitely enjoy it.
Duplicate Photos Fixer Pro can help you recover space on your hard drive and also unclog your photos library by detecting and removing not only duplicate photos but similar ones taken seconds apart.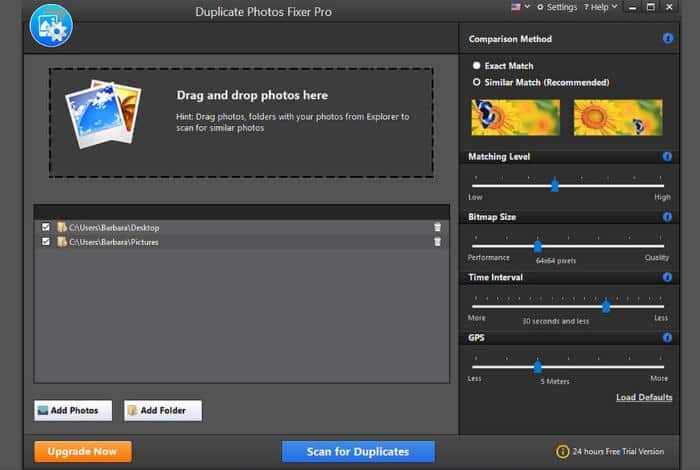 This tool is among the best available because it automatically removes duplicates and is accurate. Moreover, the tool has a customization menu that lets you define the search parameters for how duplicate photos should be discovered on your device.
It handles a variety of file types and has an intuitive interface, but it is not well organized. Likewise, this tool can find duplicate files on Google Drive and supports internal and external storage devices.
One of the best things about this duplicate photo finder is that it is cross-platform, meaning you can use it on your Windows PC, Mac, iOS, as well as Android. It is, however, also a paid app that gives you a free trial that allows you to remove up to 15 duplicate photos from your device.
Noteworthy Features 
It can find duplicate photos with GPS metadata
It is cross-platform
It can be used on Google Drive
It has auto-mark functionality
Minor Drawbacks 
It can't be used with Network drives
---
Duplicate File Fixer is another paid duplicate file cleaner tool that makes it to our list due to its accuracy as well as efficacy in performing a deep scan for duplicate files on your computer and allowing you to delete them.
It is a tool that can be used to remove duplicate photos from Mac and Windows computers by simply dragging and dropping files or folders onto the tool to search them for duplicates as opposed to browsing through your file manager to choose folders to scan.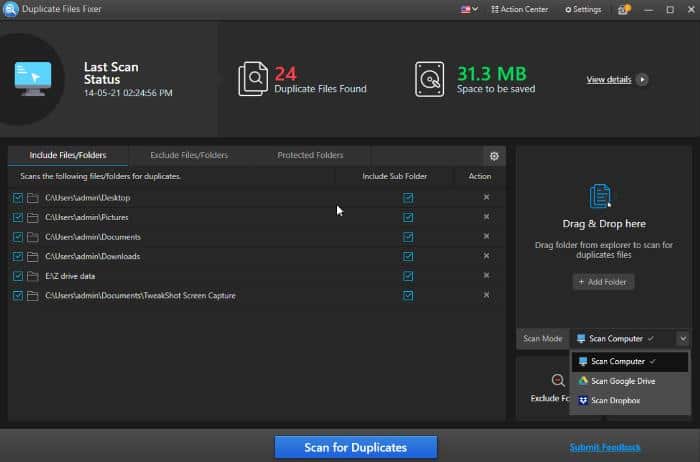 In addition to scanning for photos, Duplicate File Fixer can also be used to scan for audio, video, text, and document files. It also lets you select the scan parameters to get optimal results.
It is a safe app that thousands of users trust and offers a number of interesting features, including the ability to delete duplicate eml files from your device, scan and remove duplicate files directly from Google Drive and Dropbox, group results for simple review, and more.
Noteworthy Features
It performs a deep scan
It has a backup option
It has a preview and undo option
It can be used to clean duplicates on Google Drive and Dropbox
Minor Drawbacks
It has a free trial but can only be used with a limited number of files
---
PhotoSweeper is a dedicated Mac application that can be used to remove duplicate photos from internal and external storage by scanning the storage, comparing the images, and giving you a choice to delete duplicates found.
In comparison to some other duplicate picture finders, this app's beautiful user interface and simplicity of use are two things we like. Some of its features might be difficult to use at first, but you'll get used to it over time.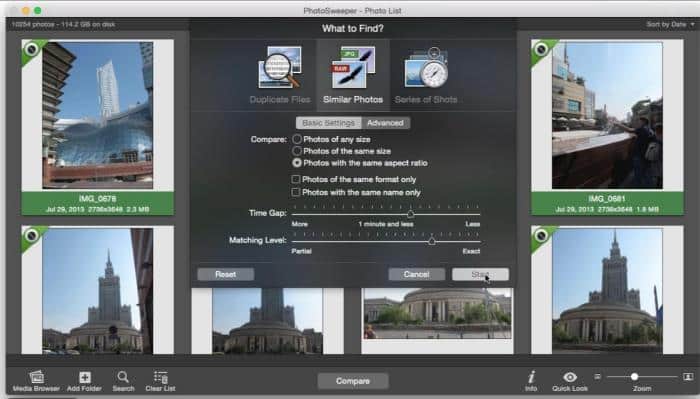 It offers three different interface modes that you can select from, which are: single list mode, side-to-side mode, and restore last session.
PhotoSweeper thoroughly searches your device for duplicate pictures, which you can then choose to delete. Meanwhile, the photos are sent to the system trash on removal, which means they are restored in case you have made any mistake.
Other features offered by PhotoSweeper include Auto Mark, which lets you establish flexible rules to help decide which photos should be added to the duplicate list and allows you to delete duplicate videos.
Noteworthy Features
It is affordable
It can be used with Lightroom
It has the auto-mark option
It has a nice UI
Minor Drawbacks
It can only be used on Mac
---
If you are a Windows computer user looking for a free duplicate photo finder, VisiPics is a tool we recommend you use.
While this tool has an old user interface, it is an efficient app that will effortlessly help you find duplicates as well as similar photos on your PC.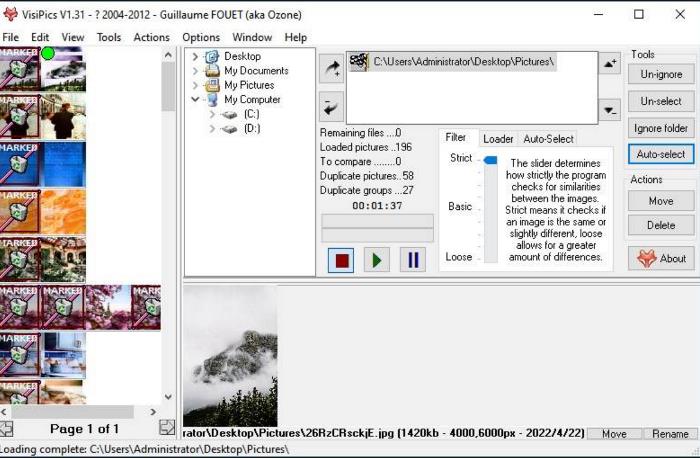 VisiPics is considerably faster than most other duplicate photo finders and was said to have been tested on a 100 000 pictures 15GB archive and gave results in just 3 hours.
Whether the duplicate photos on your computer have been resized, have different file types, different file sizes, or have been edited in any way, VisiPic will still detect them.
On getting your results, the duplicate photos are put side-by-side with information about them so you can easily review them.
It also offers a smart auto-select mode which automatically helps you choose the pictures to keep based on your typical preferences.
Noteworthy Features
It is free to use
It scans for duplicate photos rapidly
It provides three different scan modes
It starts displaying results while scanning
Minor Drawbacks 
It has outdated UI
It only supports Windows computer
---
According to its website, PictureEcho offers a human-like analysis of visually similar pictures. This is another tool that can help you eliminate image redundancy and free up space on your computer. It does this by making it simple to scan your computer for duplicate photos and then delete them.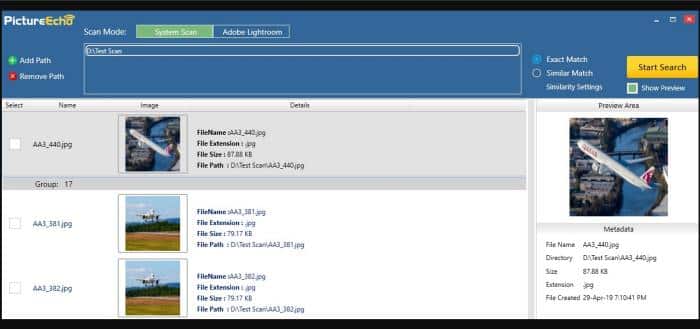 This program provides a comprehensive set of features that are majorly geared towards professional photographers, such as the ability to scan for duplicate photos in Adobe Lightroom. PictureEcho offers four different degrees of similarity when looking for images on your computer that are similar to one another.
Plus, it offers an image preview option and displays information about any duplicate images it discovers. The Windows-based application PictureEcho supports a number of file formats, including JPG, JPEG, PNG, GIF, BMP, TIF, and ICO.
Noteworthy Features
It supports several image formats
It allows you to remove duplicate photos from Lightroom
It allows image previewing
Minor Drawbacks
It is not frequently updated
---
With over 50 million downloads, Auslogics Duplicate File Finder is another software that makes it to this list of best duplicate photo finders.
Auslogics Duplicate File Finder is a free tool with loads of features for finding duplicate files, file recovery, and updating drivers on your computer. Yes, you will find all that on this free program.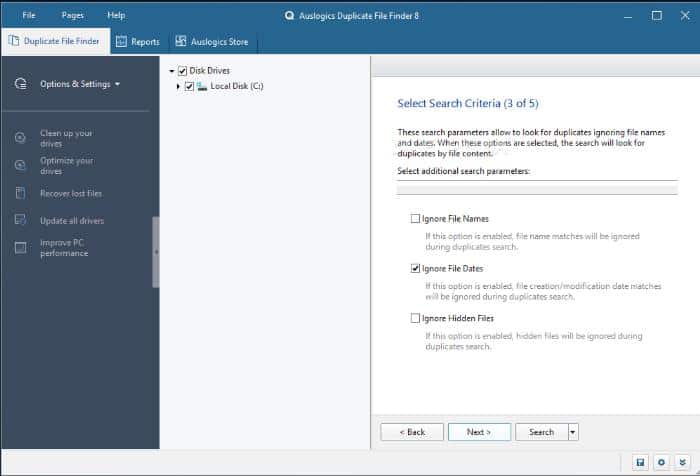 This tool uses sophisticated algorithms to compare file names and contents to discover duplicate files on your device. Furthermore, you can set parameters for how it will scan your computer and choose which duplicate versions to remove.
Even though it is free, it is regularly updated. However, Auslogics Duplicate Finder only supports Windows PCs
Noteworthy Features
It is free from personal use
It allows you to set parameters for scanning, deleting, and retaining duplicate photos
It supports several file types
Minor Drawbacks
It doesn't have a deep scan option
---
If you are looking for a cross-platform duplicate photo finder for your devices, Remo Duplicate Photos Remover will be the best app for you.
These tools cost $19.97 for Windows and Mac users but are available for free on Android and iOS.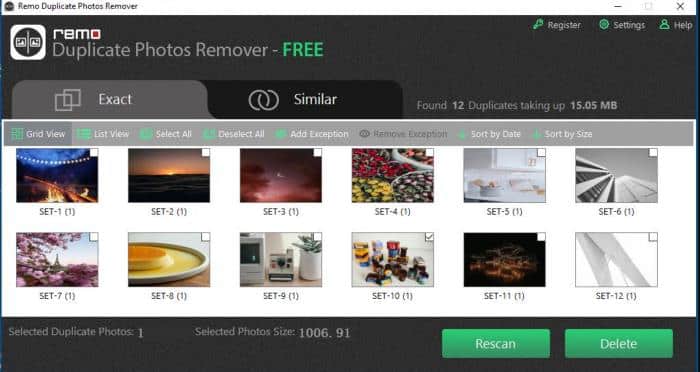 Remo Duplicate Photos Remover has a straightforward GUI, which makes it easy to scan, select and delete duplicate images on your computer.
After the scan, it gives you the result of the duplicate photo found on your device, allowing you to confirm the action before deleting those photos.
It doesn't use an automated deletion process but lets you customize it to the best of your preference
Remo Duplicate Photos Remover also makes it possible to delete similar photos and supports any image format.
Its cross-platform nature and well-designed interface are some of the things we like the most about this tool, but it is a great app for cleaning up duplicate photos across your devices.
Noteworthy Features
It cross-platform
It is free for Android and iOS
It has a simple UI
Minor Drawbacks
It is subscription-based for Windows and Mac
---
Quick Photo Finder is one of the best tools for removing duplicate photos from your Windows computer.
With the help of this tool, you can rapidly find and delete duplicate photos, creating an orderly gallery and preserving storage space.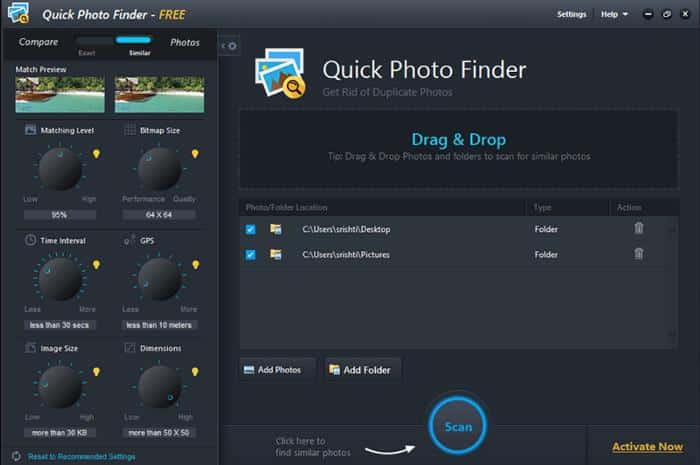 Quick Photo Finder uses advanced algorithms to find duplicate and similar-looking images on your computer. You don't have to be concerned about missing some identical images, as it even scans for duplicate files in hidden locations on your computer.
It has a well-designed and neat interface that allows for easy navigation on the tool. Like most other apps on this list, this one provides group-oriented results to confirm the photos to be removed as duplicates easily.
Noteworthy Features
It uses advanced algorithms for duplicate photo scan
It provides the group-oriented result
Fast scanning speed
Minor Drawbacks
It is not free to use
It supports limited image formats
---
Duplicate Photo Cleaner is a powerful tool designed to search for and get rid of identical photos on your Windows PC and Mac devices.
With Duplicate Photo Cleaner, you can rapidly find duplicate photos and similar images on your PC, have them presented in an easy-to-compare way, and then delete them with just a single click. This tool literally eliminates the need for you to spend hours searching through your PC for duplicate photos.
Even duplicate images that have undergone some editing can be found using this tool. It is also very user-friendly and supports most of the popular file formats.
There isn't a mobile app for it, but it does have a feature called Mobile SmartScan that lets you delete duplicate pictures from your smartphones.
Noteworthy Features 
It is fast and accurate
It provides a Mobile SmartScan option
It is easy to use
Minor Drawbacks
It is subscription-based
It has a little clumsy UI
---
Duplicate photos on your computer can be a headache because they take up space and clog your gallery. Another tool that efficiently detects and deletes duplicate photos from your computer is called AllDup.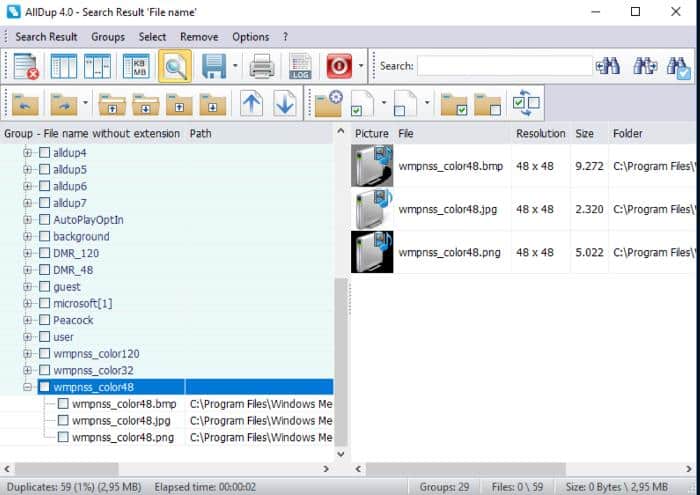 It functions quickly and precisely when performing scans to discover duplicate photos on your system. It organizes the duplicate photos it discovers into groups so you can handle them with convenience.
This tool lets you examine duplicate images before deciding about deleting them and supports all common image formats, including RAW and PSD.
AllDup is also easy to use and customizable. Fortunately, all these are offered for free, so if you are looking for a free duplicate photo finder, AllDup is a tool you should consider.
Noteworthy Features
It free to use
It has a user-friendly interface
It can be used as a portable app
Minor Drawbacks
It comes scan for duplicate photos slowly
---
CCleaner is a feature-rich program that lets you remove unnecessary files from your Windows Computer, Mac, and Android device. This program's duplicate file finder tool allows you to find and remove duplicate photos from your devices.
The duplicate file finder utility is available in a free standard version and a paid pro version, though the free version has fewer functionalities.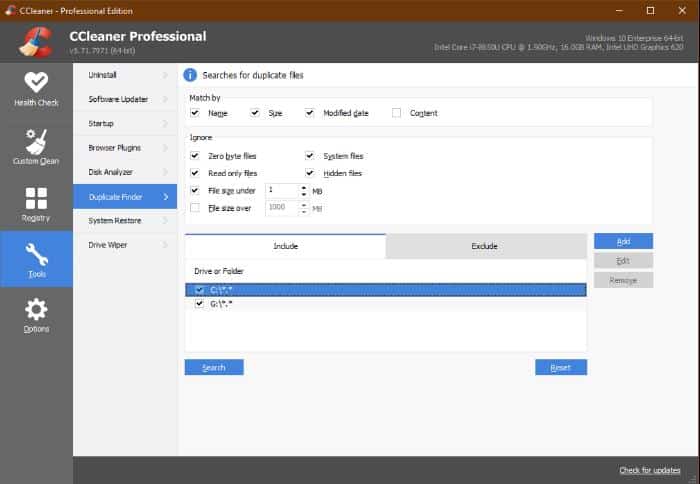 CCleaner is a very secure application that is simple to use and has no bloatware or malware. Also, you are allowed to set a number of parameters to improve the accuracy of the duplicate image scan results.
Likewise, it provides various options for selecting how to delete duplicate photos found on your computer. CCleaner can be used to scan for and delete duplicate photos not only on the drive in your computer but also on external drives, network drives, and cloud storage.
CCleaner also includes the preview option and support for several image formats. This is actually a great tool you can use to clean up duplicate photos on your computer.
Noteworthy Features
It offers PC optimization functions
It is safe to use
It has a preview option
Minor Drawbacks 
It is a subscription-based app, and it is a bit pricey
It doesn't have an iOS version
---
Another feature-packed Duplicate Photo Finder that's worth checking out is MindGems Duplicate Image Finder. In addition to your local storage, MindGems can also be used to find duplicate images in online drives as well.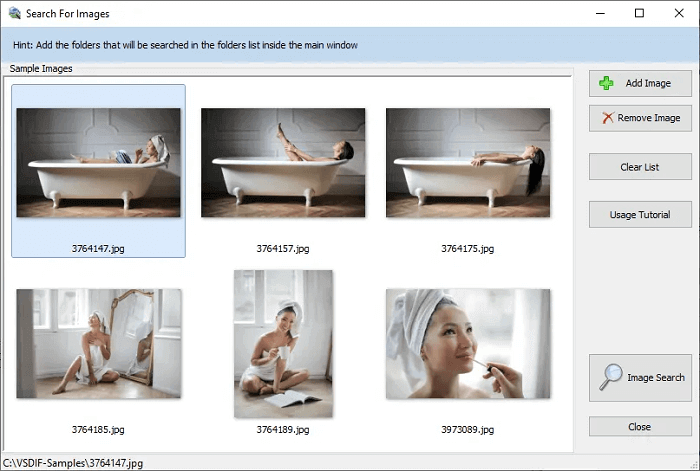 Using MindGems you can scan for duplicates in different folders and formats and the results can be saved in XML or CSV formats.
Thanks to optimized algorithms, MindGems is one of the fastest and the most precise duplicate photo finders out there.
MindGems supports every mainstream version of Windows released in the past two decades i.e. Windows 11, 10, 8.1, 8, 7, and Vista.
Noteworthy Features
Supports Reverse Image Search
Lightroom Duplicate Photo Finder
Consumes Fewer System Resouces
Minor Drawbacks 
Overwhelming And Outdated UI
Few Features Exclusively Available In The Paid Version
---
What Are Duplicate Photo Finders and How Do They Work?
Duplicate photo finders are software programs that scan your device for duplicate image files to help you get rid of needless images and organize your gallery while freeing up storage space.
These tools search through your computer for images that share the same content by comparing each one using photo recognition algorithms and models.
Some of these tools even compare the metadata, size, formats, and other information related to the photos on your devices in order to detect duplicate image files.
After compiling those duplicate photos, you are then given a choice to delete the unnecessary image files from your device.
Also, some of these duplicate photo finders detect both identical photos as well as related photos, such as photos taken by individuals who take a lot of photos quickly.
---
Wrap Up
Anyone who doesn't want to deal with the stress of manually deleting duplicate pictures from their devices may need duplicate photo finder/cleaner tools. This is why we've covered the top 15 tools in this article, making it simple to select one for your computer or smartphone and understand the features they provide. In the comments section below, please let us know which of these top duplicate picture finders you find most helpful.
---
Frequently Asked Questions: Duplicate Photo Finder
Is there a truly free duplicate photo finder?
Yes, there are free duplicate photo finders. While most online duplicate photo finders require a subscription and have a free version with few features, you can use some free tools to find duplicate photos on your computer, such as VisiPics, Awesome Duplicate Photo Finder, and others.
What is the best duplicate photo finder for Windows?
If you are looking for the best duplicate photo finder for your Windows computer, here are the options you should try out:
Duplicate Cleaner
VisiPics
Easy Duplicate Finder
Duplicate Photo Cleaner
Does Windows 10 have a built-in duplicate photo finder?
No, Windows 10 computer doesn't have any built-in duplicate photo finder. So if you want to remove identical copies of photos on your computer, you will have to use one of the duplicate photo cleaner tools discussed in this article.
Can I use a duplicate photo finder in cloud storage services like Google Photos or iCloud?
Yes, some duplicate photo finders can be used to scan cloud storage services like Dropbox, iCloud, and Google Photos and assist in deleting duplicate image files found on them.