After intensifying its reach into each and every facet of our daily lives, be it email, SMS, calls, bank account logins, or social media platforms, cybercrime has now found a new way to scam users through the most used instant messaging application, WhatsApp.
According to WABetaInfo, which tracks the development of features on the platform, Meta-owned WhatsApp is reportedly working on a new feature called "Silence Unknown Callers".
This feature is aimed at preventing spam and irritant callers from disturbing users, which has become an increasing problem in recent years.
As per the report, the new feature will enable users to silence (mute) calls from unknown numbers while still showing them in the calls list and notifications. This is especially beneficial, as it may help users reduce spam calls considerably, as well as decrease disturbances.
Users can access the toggle for the "silence unknown callers" feature in the app settings. Once the toggle is enabled, it grants permission to WhatsApp to automatically mute calls from phone numbers that are not saved in the address book of the user.
Further, the toggle setting could also protect the creator of WhatsApp Communities from receiving random calls and group chat invites, mostly from unknown users, as the creator's phone number is always visible.
However, the unknown numbers will still be displayed in the calls list and notification center so that the user or creator of WhatsApp Communities can know that they have received unsolicited calls from unknown numbers.
You can check out the screenshot of the feature below.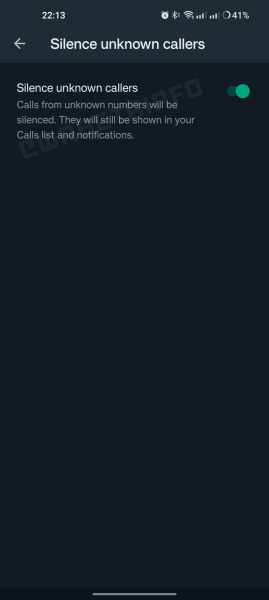 Although WhatsApp already provides the capability to report and block contacts that send spam or derogatory messages on the platform, the "silence unknown callers" feature will provide users with an extra layer of security.
Currently, the upcoming new ability to silence calls from an unknown number is being developed for WhatsApp's Android beta version. Hence, it is not yet available to WhatsApp beta users for testing. Also, there is no information on when the feature will be available on iOS.