Sony Pictures Corporate Network Hacked By #GOP, Every Computer in their Office showing weird image and a Warning to leak entire data if the requests are not met.
A Reddit user who claims to be a former employee at Sony Pictures said a friend of his who still works at Sony Pictures has informed him that every computer in the Sony Pictures offices across the country is showing up a weird image which reads 'Hacked by #GOP' and a message demanding their "requests be met" along with links to leaked data. The Redditor of the thread has been deleted.  The thread says that #GOP stands for Guardians for Peace. A screenshot from the deleted thread  is given below
Message on the Computers:
Hacked By #GOP

Warning:  We've already wasned you, and this is just a beggining.

We continue till our request be met.

We've obtained all your Internal data, Including your secrets and top secrets.

If you don't obey us, we'll release data shown below to the world.

Determine what will you do till November the 24th, 11:00 PM (GMT).
The message further contains links to zip files (given in the image of Reddit again) which apparently contains financial records, and other important data from sony pic.
A Source from sony pictures said that the image appeared on every computer in the office causing everything to go non-operational.
Further a twitter search shows a dozens of Twitter feeds connected to Sony Pictures movies showing a similar image with the same quote "Hacked by GOP"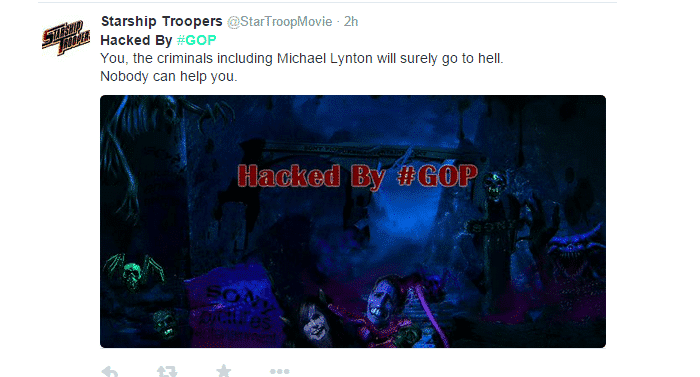 The tweets has been removed now and  everyone is waiting for a response from Sony. the source said. worst of all, no one knows what's coming up as the hacker has threatened to leak sensitive information pertaining to Sony Pictures by 11 PM this evening.