Samsung's 2.5 inch 16TB SSD is the world's largest hard drive
During the recently held Flash Memory Summit in Santa Clara, Samsung revealed its PM1633a SSD, which is world's largest hard drive with a capacity of 16TB and the PM1725 SSD, a NVMe drive that is able to reach up to 1M IOPS.
Targeted at the enterprise market, the PM1633a manages to pack almost 16 terabytes into a 2.5-inch SSD package. The largest conventional hard drives in comparison to Samsung are made by Seagate and Western Digital that currently have a capacity of 8TB or 10TB.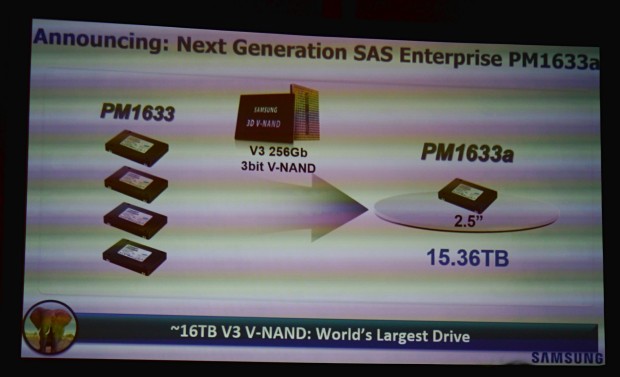 The world's first triple-level-cell (TLC) three-dimensional vertical NAND flash chips with 256Gb capacity, and the company believes that the new 3D V-NANDs will allow it to make more affordable flash-based devices.
Samsung explains that the new 256Gb TLC NAND flash memory will use the same 3D Charge Trap Flash technology where 48 cells are being stacked through some 1.8 billion channel holes that will punch through the arrays, all made possible by a new etching technology. Overall, each chip will contain over 85.3 billion cells and will be able to store around 32GB of data.
According to Samsung, the new 48-layer 256Gb TLC NAND flash chip will be 30 per cent more eco-friendly than its predecessor, which had 128Gb capacity, while also being 40% smaller, something that will significantly reduce costs.
Thanks to Samsung's latest 256 Gigabit (32GB) V-NAND chip, the PM1633a is a SSD that has a capacity of 15.36 TB.
The Korean electronics manufacturer has been able to put a large number of these chips in a 2.5? form-factor. There need to be 480 chips of 32GB in the PM1633a drive, in order to get to the 15,360 GB (15.36TB) capacity.
Samsung also exhibited a server with 48 of these SSDs with a combined storage capacity of 768TB that would be able to achieve up to 2,000,000 IOPS.
Samsung also displayed the PM1725 SSD, a SSD which it claims is the fastest SSD in the world. The drive has a capacity of 3.2TB in a 2.5? or 6.4TB in HHHL form-factor and is able to reach up to 1,000,000 IOPS. The drive connects to the system through the NVMe interface and Samsung claims it has half the latency of a drive connected through the SAS interface.