PSN down as gamers take to social media with complaints
PlayStation Network today suffered the first outage of 2016 even as angry fans took to Twitter and Facebook to express their frustration at not being able to either login or play games online. The PSN went down exactly at 11.15 am EST and for past half an hour the hashtag #PSNDown on Twitter is filled with angry tweets from the gamers.
https://twitter.com/PTChrisO/status/684049702053097473
@AskPlayStation #psn is down in the Netherlands. Cannot login on the web site either. Please solve this asap! #PS4 #psndown

— Dennis (@nachtheerser) January 4, 2016
Was gonna play @TESOnline and finish my lore books but #psnDown

— DemonwrathDeathreign (@VayneCeasar) January 4, 2016
#psndown can't play with my friend and we've been waiting for this day for a week ):

— nicolerenee (@NCouture19) January 4, 2016
The outage tracking website, Outage Report shows massive disruptions in the network in the United States and Europe.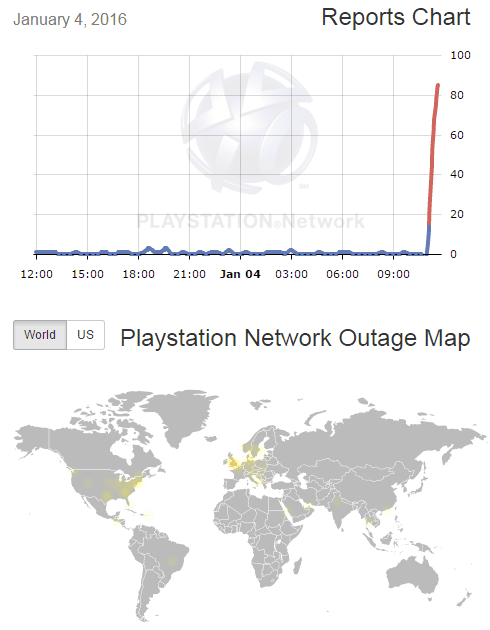 Surprisingly Playstation's own status tracking website, status.playstation.com/en-us/ shows that all services are up and running. This may one of the reasons the PlayStation users are pissed at Sony as seen from the tweets.
Another outage tracking website, Down Detector showed similar status about PSN being down.
The reason for this first major outage of 2016 is not known as of yet. We are reaching out to Sony and PSN to clarify the status of the network and will keep the post updated.
Update #1 : The PlayStation Network Status page now shows that it is experiencing some problems, however no comments have yet been issued by Sony.
#psndown pic.twitter.com/yQca9Ngk4N

— Itzz SupergirlGaming (@Madam__Mystery) January 4, 2016
Update #2 Even as many sites are reporting that PSN is down for maintenance, we strongly believe it to be subjected to a DDoS attack. As of yet we havent been able to confirm this, however, the Norse Map seems to suggest there is heavy attack on US West Coast from Karlskrona in Sweden.
Even the PSN status page seems to confirm our theory as it mentions that Sony engineers are busy resolving this issue.