Here is how to stop Windows 7/8.1 PC/laptops from automatically updating to Windows 10
As you all know, Microsoft has reached wretched heights in making the Windows 7/8.1 PC/laptops to upgrade to Windows 10. In an hunt to force you, Microsoft is making a last ditched effort to upgrade the Windows 7/8.1 PC/laptops upgrade to Windows 10 before 30th July, its deadline for free upgrades.
The Windows 10 updates are being pushed automatically on Windows 7/8.1 PC/laptops whether you want it or not. Thankfully, there are couple of tools which let you be on your favourites OS and say no to sly upgrades from Microsoft.
Never10
As the name suggests, Never1o allows you to thwart Microsoft's Windows 10 upgrade with an easy interface. Never10 will work only on Windows 7/8.1 PC/laptops and also inform you whether Windows 10 upgrade files are being downloaded on your system.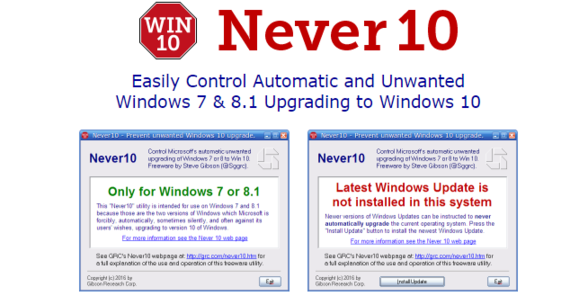 It's free, and doesn't require installation. You simply click a button and the necessary changes are made to your PC. There's also a button which can remove any downloaded Windows 10 installation files which could be hogging up to 6.5GB of your hard drive space.
"Get Windows 10" Removal Tool
This is another application that doesn't require setup, so you can double-click the downloaded .exe to launch. It shows just one large button and all you have to do is click it to Remove "Get Windows 10" Icon – and – Disable Windows 10 Auto-Install. It quickly eliminates the systray icon and pops up a message to let you know the task was successful. No system reboot is necessary, and the GWX icon immediately disappears from the system tray. You can download Get Windows 10 Removal Tool from here.
GWX Stopper
GWX Stopper is another software which will help you stay on Windows 7/8.1 The main window shows four buttons, and the one you're looking for is first. Click Stop GWX! to swiftly get rid of the "Get Windows 10" message. You don't have to restart the computer to finalize modifications. Changes can be immediately noticed in the systray.
Afterward, the utility tells you that "GWX has been successfully disabled!" and gives you the possibility to examine log details (click View execution log to open the file in your default text editor if you're interested in this information).
GWX Control Panel
GWX Control Panel is another software which helps your block Windows 10 but contains many more features. The very usp of this App is the easy to use interface with GWX Icon, such as Is 'Get Windows 10' icon app running? (Yes or App not found) or Is 'Get Windows 10' icon app allowed? (Yes or No). All buttons are self-explanatory. It also shows some details in the Status and settings summary area.
If the GWX icon is enabled, press the button labeled Click to Disable 'Get Windows 10' App (remove icon). Restarting the computer is not required to complete the job and you can tell that the GWX icon is no longer visible in the system tray.
This doesn't prevent GWX from getting shown on the desktop if it's installed again, though, but you can block this with Click to Prevent 'Get Windows 10' App. Once deactivated, you can change your mind and Click to Enable 'Get Windows 10' App. Just keep in mind that this option doesn't work if GWX was disabled with another program than GWX Control Panel
Remember, both Windows 7 and Windows 8.1 is still being supported by Microsoft so you will get all the security upgrades that can make your PC/laptops vulnerable. In fact, Microsoft has just released a "convenience rollup" (officially known as Windows Service Pack 1 or Windows SP1 convenience rollup) for PC/laptops that are still running the seven-year-old operating system Windows 7 as well as Windows Server 2008 R2 SP1