Know How To Hack By Reading These 5 best Hacking Books
With the increase in the use of internet, there is now a high demand for computer experts who can conduct ethical hacking operations. However, it is not an easy task to become an expert until you have basic knowledge about computers and network security. For beginners to start with, it is very important for them to know that there are two types of hacking: Ethical (White Hat) and Unethical (Black Hat).
Ethical hacking (legal) is defined as making use of programming skills, so as to penetrate a computer system, and identify weaknesses in data computer security for business and organizations across the globe, to protect them from hackers or criminals with less honest motives. This not only helps them earn a good and honest living but also keeps them away from facing prison time. On the other hand, in Unethical hacking (illegal) is used by hackers to penetrate into a computer system and exploit it for their own personal gains or mischief.
So, considering that you are looking to learn to hack and apply it in an ethical way, we have some tips for you as a beginner.
Learning hacking has always been tough for beginners not because it's very difficult, but because they do not have a proper source of learning. Since having an appropriate guide is very essential in this field, experts always recommend reading books initially.
In this article, we provide you with a list of books that offers you white hat content. However, it is important to note that as a beginner to not perform any hacking & cracking tactics that breach any cyber law.
According to us, given below are the 5 top books on ethical hacking for beginners that will provide the best knowledge about security:
The Basics of Hacking and Penetration Testing: Ethical Hacking and Penetration Testing Made Easy (Syngress Basics Series)
This is probably the best hacking book for beginners because it covers a range of chapters on penetration testing and hacking, which instructs without assuming that the reader has any prior hacking knowledge. It teaches you how to perform an ethical hack from very basic. It provides a step-by-step journey of penetration testing, moving from Information Gathering to Scanning, Exploitation and finally, Report Writing.
Tool coverage includes Backtrack Linux, Google reconnaissance, MetaGooFil, dig, Nmap, Nessus, Metasploit, Fast Track Autopwn, Netcat, Hacker Defender rootkit, and more. A simple and clean explanation of how to effectively utilize these tools as well as the introduction to a four-step methodology for conducting a penetration test or hack will provide you with know-how required to jump-start your career or gain a better understanding of offensive security, which easily makes it the book to buy.
Metasploit: The Penetration Tester's Guide
This book deals with Penetration Testing by making use of the open source Metasploit Framework. It is beneficial for the readers who do not have any prior knowledge about Metasploit. The Metasploit Framework makes discovering, exploiting, and sharing vulnerabilities quick and relatively painless.
At the end of the book, the reader will get sufficient knowledge of penetration test. It provides you with an actual penetration test's simulated version so as to provide you with a realistic experience.
Hacking: The Art of Exploitation, 2nd Edition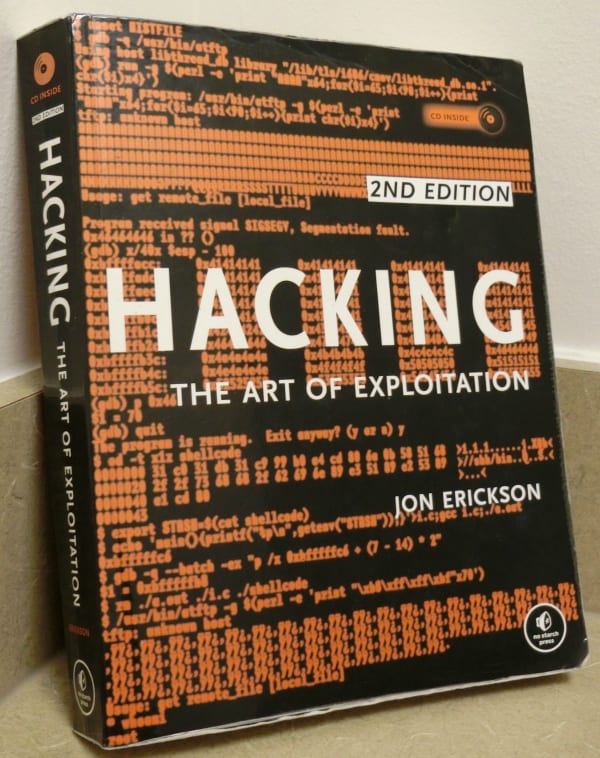 This hacking book is a must read for beginners. It is best among many Ethical Hacking Books. This book provides you with knowledge about the obstacles beginners facing during the beginning of their ethical hacking profession. This book can help beginners do their job more professionally.
Unlike others, this book spends more time explaining the technical foundation of areas like programming, shellcode and exploitation and how things work from inside. Instead of directly taking you through tutorials, this book will first make you understand underlying mechanism and architectures and then it teaches you how to outsmart security measures, corrupt system, wireless encryption cracking and network attacks etc. Programming languages that are covered include C, Assembly Language, and Shell Scripting.
CEH Certified Ethical Hacker All-in-One Exam Guide
It is a well-written book in all Ethical Hacking Books. This comprehensive guide offers complete coverage of the EC-Council's Certified Ethical Hacker exam. In order to take full advantage of the crisp and clear writing in this book, the reader must have some little knowledge of basic networking. The book includes relevant examples with a humorous touch to brighten the dry and mundane subject.
BackTrack 5 Wireless Penetration Testing Beginner's Guide
Without wasting time in unnecessary justifications, this book right from the start gives you what you need. Along with the theoretical concepts, the book also consists of precise and transparent tutorials. You can easily grasp the concepts and understand the techniques to perform wireless attacks in your lab. Every new attack is described in the form of a lab exercise with rich illustrations of all the steps associated. You will be able to practically implement various attacks as you go along. It also provides a good mix of basics and high-level knowledge and works cohesively with the reader.
Besides the above, if there are any other hacking books that are useful to a beginner, do let us know in the comments below: