Facebook copies another Snapchat feature, allows people to make their own camera 'frames'
Facebook has introduced a new Camera Effects Platform that allows users to create custom profile frames for their photos. This new feature allows the user to use the frames while uploading profile photos and videos on Facebook via the mobile apps. The Camera Effects Platform is also compatible with Facebook Pages, which means that their owners can also create custom profile frames for users. Apparently, Facebook's "location frames" is its answer to Snapchat's geofilters.
Facebook is looking to make it easy for anyone to create profile frames that can be used by support teams, political causes, businesses and special events. However, Facebook says that all custom frames must stick to its policies in order to go live. According to a company spokesperson, Facebook employees will review each submitted frame to make sure it's not offensive or illegal.
If you are interested in creating a Facebook frame for anyone to use, just head here and download Facebook's templates to get started. You can use your favourite design tool to create your frame, just be sure to create a PNG with a transparent background for each element, Facebook advises. All art should be "100 percent original."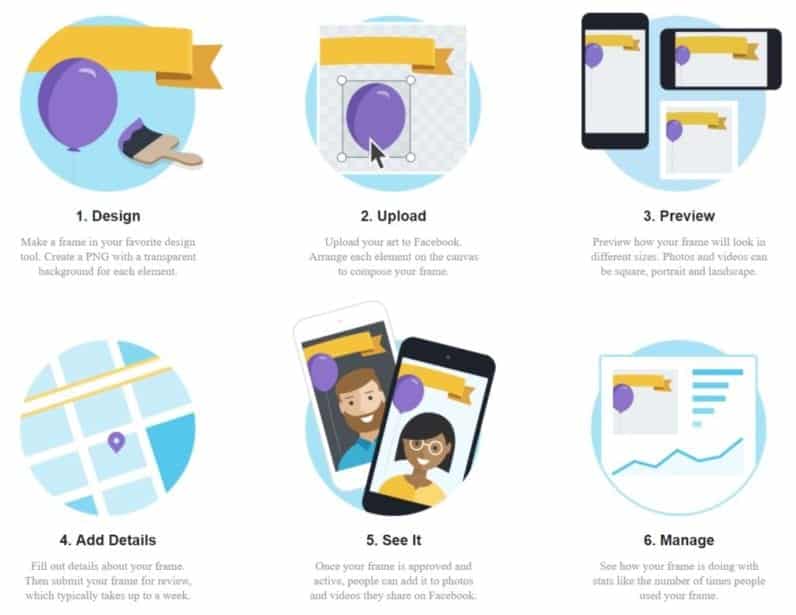 Once your frame is perfect, upload the frame to Facebook, where you can preview in different sizes and add other details, like a location, and then submit the frame for approval. Once your frame is approved, people can add it to the photos and videos they post on Facebook. You will also be able to see stats like the number of times people used your frame.
Unfortunately, Facebook isn't making this Camera Effects Platform available in the U.S. at launch. Instead, Facebook fans in Ireland, Columbia, Mexico, Taiwan and the UK will be able to create profile frames using the Camera Effects Platform.
If you live in Ireland, you will also have access to additional features, including the ability to track frame usage. Users can also create frames that can appear in the in-camera, in addition to seeing them appear in News Feed. Users in Ireland will be able to create location frames, which can represent neighbourhoods, city or landmark. These can be used on photos and videos, and shared directly within the in-app camera.
Facebook says it will make other improvements to this in-app camera, beyond this latest functionality, before it rolls out the feature worldwide.
The company says that the U.S. and other countries will be able to use the Camera Effects Platform in the near future, but hasn't said when the global launch will be.
This is not the first time that Facebook has copied Snapchat. In the past too, Facebook-owned Instagram has borrowed Snapchat's popular disappearing messages features, and it even launched Instagram Stories recently.
Source: TNW