Best Gaming Keyboards to Buy in 2017
Looking at the most popular machines available today will make you feel that slim island-style keyboards are the most preferred ones. While that might be true, what with companies even going to the extent to launching touch keyboards ( looking at you Microsoft ) there is no denying that for some people, a big mechanical keyboard is the best fit. This is a big reason why we still have companies that keep releasing newer models of physical keyboards.
While the benefit of using a separate keyboard are many, it becomes essential for a particular category of PC users – the gamer. No matter your game of choice, having a good keyboard has never brought down anyone's kill streak. For that reason, we've used our skills to gather for you some of the best gaming keyboards that 2017 has to offer.
Razer BlackWidow Chroma V2
A gamer would be obviously aware of the Razer brand and true to their style they have released one of the best gaming keyboards available today. This keyboard comes with detachable wrist rest and also has 5 mechanical keys that can be customized for any action based on your choice. For those of you who love a backlit keyboard, this one comes with 16.8 million colours to choose from to satisfy those needs. To take it up a notch, the keys can be colored per-key or in an animated pattern of your choosing.
Corsair K95 RGB Platinum
Just like its predecessor, this is a mechanical keyboard designed specifically, to meet every single one of your gaming requirements. The accompanying software with the keyboard might not be the best, but if all you need to do is basic configurations – such as configuring the well placed macro keys – then this should not be a problem for you.
Logitech G413 Carbon
After some time of a single minded dedication to making the best keyboards available irrespective of the price tag, Logitech has finally released a keyboard that will not suck your bank account dry. This keyboard sacrifices back light and custom macro keys for the affordable price tag, which might make it look a bit dull when compared to its peers but that is compensated by its magnesium-alloy skeleton. For a gamer who doesn't care about bells and whistles, this should be in your short list.
SteelSeries Apex M500
Like its predecessor in this list the SteelSeries Apex M500 also forgoes fancy bells and whistles for specialization. The keyboard lacks media keys and macros to come in a compact design. This keyboard is tailor made for fans of e-sports and a refreshing feel for the minimalist user.
Cougar Attack X3 RGB
Cougar Attack X3 RGB comes in as one of the more affordable mechanical keyboards that is backed up in toughness owing to its aluminium build. It carries on its predecessor's legacy of robustness and variety with it being available in Cherry MX Black, Brown, Red or Blue key switches to cater your needs. Features include N-Key rollover, a 1,000Hz polling rate and rubber feet on the bottom that prevents slipping.
Topre Realforce RGB
Let's add a little variety to this list with the Japanese company Topre. This keyboard is well known for its long list of talents not least of which is the ability to be able to type on it endlessly with minimal finger fatigue. Its capacitive key switches offer a superior level of feedback although if you intend to type a lot, you will be best served with a wrist rest.
Razer Ornata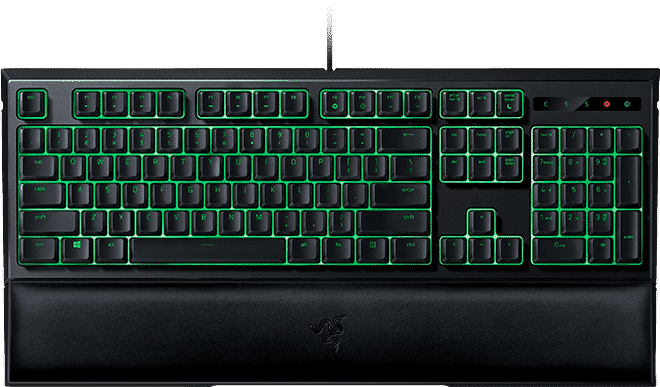 We round off this list with another beauty from the gaming community favourtie. There's long been a debate between mechanical and membrane keys which Razer has decided to nudge towards its end with this Mecha-Membrane' keyboard. The resultant device is a best of both worlds scenarios with shorter keys, the tactile feel of the green switches from the Blackwidow X Chroma and a loud audible click.