When you have time to kill on the internet, chatting with random strangers online could be the way to go. Having conversations online with strangers can result in finding friendships, hobby groups, or perhaps even companionship in some scenarios.
These Omegle alternatives are free and accessible from any device with a camera and a web browser. Most sites do not need registration to converse with strangers online, and you can maintain the cloak of anonymity.
Many sites like Omegle offer the basic video chat service for free. They charge for extra features such as ad-free experience, gender filter, intro, and virtual gifts.
Best Omegle Alternatives

The first Omegle alternative has a starting balance of 15 quid credits. You must have a webcam on your computer or device to access the video chatting feature. One quid is deducted for every search in chat. You get three quids for every conversation that lasts more than 5 seconds.
There is a country filter for choosing the users to appear from a specific place – India, Spain, Peru, Philippines, United States, Chile, United Kingdom, France, Brazil, Italy, Mexico, Canada, and Germany. Save your credit balance by signing up using a Google or Facebook account.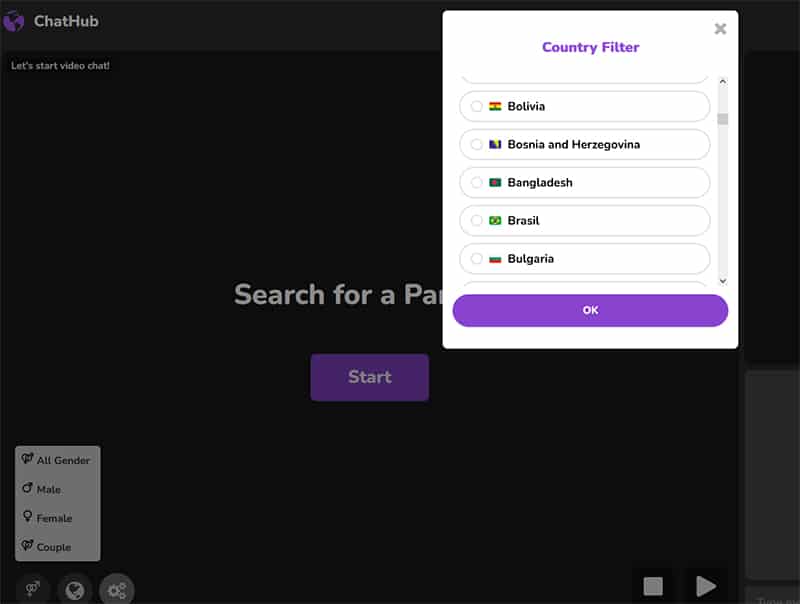 Chathub is an anonymous chatting site like Omegle offering similar features. Select your gender or relationship status on the welcome screen – male, female, or couple. You must be 13+ with guardian supervision or 18+ to use ChatHub.
There are two modes – talk and flirt. Once is a room for casual talks and discussions, while flirt is an adult room for flirting and other activities. Remember that the second room is not moderated, and you may find inappropriate content.
We get advanced filters where the user will only match with partners whose face is visible on the camera or has the mic turned on in the chat. You can filter searches by languages spoken or the partner's country on the other end.
TinyChat is different from other video chatting websites here. There are no one-on-one chats here. Instead, you get different rooms created by users that the public can join. Sign in using a Facebook account to get access to most rooms.
Soon after logging in, your username and default room will be created, with details sent to the connected email ID. Chat with others using audio, video, or a combination of both. Follow certain rooms that you visit frequently.
Create your room by clicking on the Instant Room button at the top of the screen. The Omegle alternative offers three-tier membership, starting at $4.14/month, offering distinct perks ranging from full-screen video to joining multiple rooms at once. A 3-day free trial is available for the TinyChat Pro plan, which requires payment information.
Shagle is an adult Omegle alternative requiring the age to be 18 or above. It asks for the same before connecting. Select your gender and start talking on video with strangers.
Apart from letting talk on video with strangers, users can send and receive audio and video files. Login through an email or a Google account lets you keep track of the files. Staying logged also allows you to reconnect with older video chat partners.
There are mainly two filters – gender and country, which are relatively accurate. Users can purchase and send virtual gifts to the person on the other side of the screen.
Bazoocam is a better video chat website with the option to create an account and even chat without a webcam, similar to Omegle. As stated on the start button, you need to be an adult to use the website.
You can see the approximate distance and country of the person on the other end. Having a webcam is not mandatory for video chatting with strangers. However, it does increase the odds of not getting ignored by strangers.
There is an option to create an account using email, and nickname, which will appear when talking with strangers. You can play simple games like Tetris, Tic Tac Toe, etc, to break the ice with others.
Video chatting with strangers cannot get easier than Chatrandom. Select your gender, add interests and start chatting with users worldwide.
Set filters for gender, including everyone, male, female, couples, and LGBTQ+ only. Only 28 countries from the world are included in the filter. Apply different Snapchat likes filters on your face and other parts of the screen.
Chatrandom offers a premium plan which provides a couple of exciting features. You can hide your location from strangers and add an intro message which appears when a new person connects for a chat. The Instagram handle can also be added for exposure and gaining followers.
CamSurf is an excellent Omegle alternative, also available on mobile platforms. Talking with strangers on video does not require membership here. Only the gender filter requires logging into an account and can be made through an email. Facebook and Google accounts can be used as well to log in.
The video chat site has over 4 million users and is amongst the fastest growing communities in the segment. CamSurf offers a premium membership, which lets you verify your profile to appear as a genuine online persona.
A working webcam is required for the service, so rest assured that other users will also have their video on.
One perfect alternative to Omegle is Emeraldchat, offering a karma level score for each individual to filter out creeps and underwhelming users. There are three modes of conversation – 1 on 1 through text, video chat, and group text chat, where you can meet a random group of people on the platform.
Start the video chat session by mentioning your gender and then add interests, an optional filter. We can also add delay for connecting with users who have a common interest as filled in.
To unlock the gender filter for the other end, users need to subscribe to Emeraland gold. The premium plan consists of the standard features available across all sites like Omegle.
You are ten seconds away from an online conversation with a stranger who could turn into a friend. Enter a nickname(make sure it is available) and start chatting without requiring registration.
There are three kinds of rooms here – group chats and one-on-one individual rooms. You can create one of your rooms and let others join it. Create an account, and you can add friends and send direct messages.
Draw and scribble on a whiteboard with friends and even play Pictionary. Y99 also lets users watch YouTube videos with added friends. There is an option to hold group video calls for online friends.
At the last leg, we have one of the best Omegle alternative where you need to press the start button to get started for a text chat. Meetzur was founded in 2011 as a social media site, but only the chatting aspect was kept late on.
Get connected to a random user from around the world and start chatting through text. Both parties' nicknames are set to "stranger," which can be changed from the preferences button below the chat box.
We get ten different basic but animated emojis for use in the chat. Users can add images from their devices for use in the conversation.
Over to You
Create new connections with Omegle alternatives and see new friendships blossom. Avoid sharing personal information with strangers online, and turn off your webcam if you feel something is wrong.
Make sure to the site's privacy settings and content moderation rules before sharing your webcam.