Are you looking for the best weather apps for Android? This article will discuss the ones that are definitely worth checking out.
When it comes to the weather, it's better to be safe than sorry, and this is where weather apps and widgets come in handy.
Weather apps are very important tools for planning our day-to-day activities and staying informed about the probable weather conditions in various locations.
These tools are designed to keep users informed about forecast information for a specific place or a number of locations, as well as weather information like humidity, current temperature, wind speed, and barometric pressure.
In this article, we've gathered the top options for Android users who need to use third-party weather apps and will discuss what to expect from each of them.
Best Weather Apps for Android
Here are the 15 best weather apps for Android we have found really helpful, and we think you will too: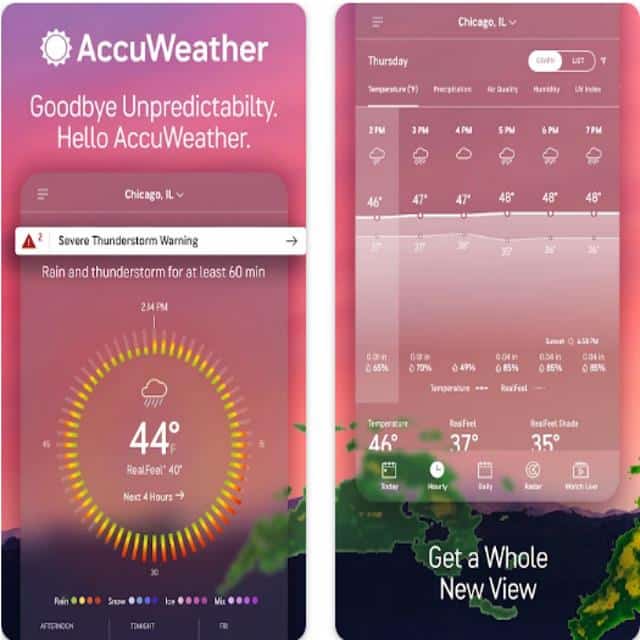 AccuWeather is one of the best weather apps for Android, offering users accurate and detailed weather information and access to weather data for other places as needed.
It is a free weather app that provides hourly, daily, and 15-day forecasts of the temperature, humidity, precipitation, and other weather information for a specific location.
Additionally, Accuweather provides MinuteCast, which offers minute-by-minute forecast breakdowns so users can better track the weather at any given time.
However, this app includes a subscription alternative that grants users access to additional features, including an AccuWeather alert, a widget, and an ad-free experience.
AccuWeather offers a clean and well-designed interface, which is a further important component to note. Additionally, it adds a weather update bar to your phone for quick access to basic weather data.
Overall, the app is fantastic for monitoring the weather on your Android phone and has enough functionality for it to be used for free.
Noteworthy Features
Accurate, detailed, and up-to-date weather forecasts
MinuteCast for providing minute-by-minute precipitation forecast
Radar map
RealFeel temperature
Weather widget
---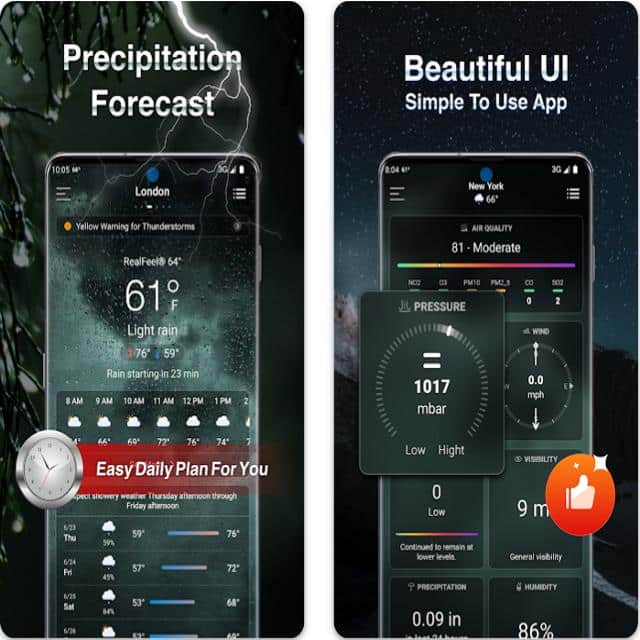 Weather is another Android app that provides accurate weather information for your current location or any other location you choose to set manually.
The software allows you to choose your preferred unit for each of the meteorological parameters it provides, including temperature, precipitation, wind, and pressure in the place you set up.
The app forecasts when precipitation will most likely start in a particular area. There are also radar maps, hourly and daily forecasts, and severe weather alert options.
Additionally, you may adjust the layout, icon descriptions, and other features of this weather app for Android to suit your preferences.
It also has an option that displays weather information directly on your phone's notification center with this weather app's extension to the notification bar.
Like Accuweather, it is a free app with a subscription version offering additional features.
Noteworthy Features
Beautifully designed weather widget
Provides weather alerts
Easy to use
---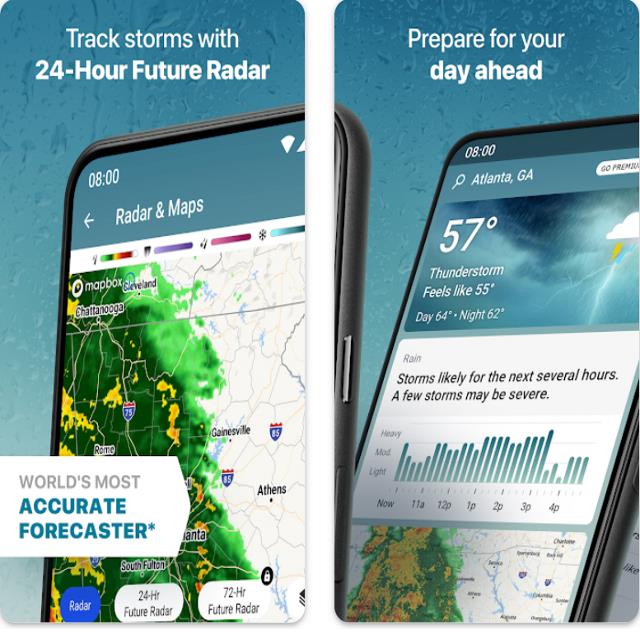 This is a weather app from The Weather Channel, a cable TV network in the United States that focuses on providing weather forecasts and news.
As a result, you can count on this app to only give the most up-to-date and accurate weather information available.
The app offers hourly and daily forecasts, weather alerts, and the ability to view real-time radar photos of weather precipitation in the location of your choice.
The Weather Channel app is also very customizable in terms of UI and also in terms of weather notifications you want to receive.
As a source of weather news, the app also provides access to weather news videos, a wonderful way to stay updated on potential extreme weather conditions.
This app's disadvantage is that it contains advertising, which can only be removed by upgrading to the paid version, which costs about $2 per month. But unless you are a heavy user, that won't be essential.
Noteworthy Features
Signup for saving your locations
Weather and storm radar
Weather widget
Access to the latest weather news
---
Yahoo Weather, which is powered by Accuweather and provides daily weather forecasts for your area and other locations worldwide, is another well-known weather app for Android.
The moment you launch the app, it immediately asks to access your location so that it can provide you with precise weather data.
The application provides a clean, straightforward user interface and an excellent Flickr weather display.
More meteorological data, including temperature, pressure, wind, precipitation, and weekly forecasts, may be accessed by sliding upward on display.
Additionally, there is a map option called live radar that provides precise weather information for locations near you and a wind map.
The only drawback with the Yahoo Weather app is that, unlike the majority of Android weather apps, you have to scroll between pages to receive weather information.
Noteworthy Features
Detailed weather information
Weather news
Interactive weather maps
Track weather in favorite places
---
According to our testing, 1Weather is the most well-designed weather app in terms of UI—apart from the invasive ads that frequently appear on the screen.
This is one of the best Android weather apps since it provides access to precise data on several weather metrics, including temperature, precipitation likelihood, humidity, wind, pressure, and many more.
Weather forecasts are available daily and hourly on 1Weather. It also features a background showing the climate at your chosen location.
The app website features a section called 1Weather TV that can be found by scrolling down, and it offers video feeds of severe weather events from all over the world.
Except for the fact that you have to pay to eliminate the advertising, which can be managed, nevertheless, this app is really good for keeping track of the weather right on your Android phone.
Noteworthy Features
Radar map to track severe weather conditions
Weather news
Customizable alerts
---
One of the best weather apps for Android is Windy.com, which you should use whether you're a pilot, paraglider, fisherman, surfer, boater, or someone who needs to monitor the weather for work purposes.
It mainly shows your weather information via animated weather maps, on which you can then click on any particular location to get a detailed daily forecast of the weather metrics such as wind patterns, humidity, and temperature of that location.
However, it has hourly weather forecasts hidden behind a paywall. Hence, you need to opt for its premium version to access this feature, along with other features such as a satellite archive, a more detailed weather map, and many more.
Some of the best things about Windy are it provides detailed weather information, the best weather forecast visualization, and is customizable. So, you will definitely find it worth using if you try it out.
Noteworthy Features 
Uses several weather models
Well-designed weather visualization
Supports more than 50 languages
Prompt weather notification
---
Weather monitoring is crucial for our everyday activities, and the Weather Forecast & Widget app for Android is one of the best for doing this.
Like the other apps we've described in this article, this one is free but has a paid version with more features.
It gives you organized daily weather forecasts as well as hourly forecasts for the weather variables like temperature, wind, rain, snow, and others.
The daily forecast can be shown as a polyline, histogram, or list, depending on your preference. For quick access to weather updates, you can also add a weather widget to your phone's home screen.
In general, this software is quite customizable, and its premium version includes a weather forecast for the next 120 hours and 45 days.
Noteworthy Features
Provides daily sunrise and sunset information
Weather widget and notification bar
Multiple unit setting
Customizable configurations
Weather radar
---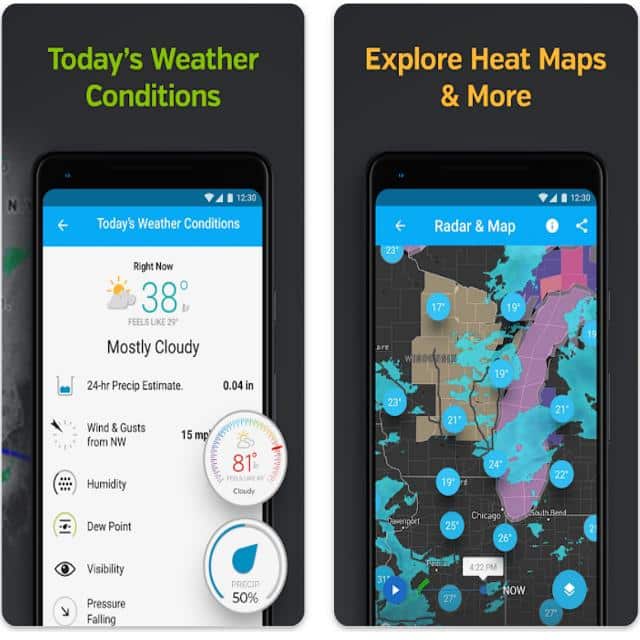 Weather Underground is an Android app that provides hyperlocal weather forecasts and updates based on data from over 250,000 personal weather stations and a proprietary forecast algorithm.
This weather app is surprisingly well-organized despite having a dated appearance. The first page of the app shows the current temperature, wind speed, and the possibility of precipitation in the location you've selected.
Then, a map with a weather map and a radar depicting your surroundings is displayed. In addition to other meteorological data, Weather Underground also provides free hourly and daily forecasts.
It has a feature called Smart Forecast, where you can set multiple weather conditions for a purpose, and the app will highlight when the conditions are met so that you may carry out whatever it is you need to do during the condition.
This is great for those that work with some set of weather conditions and need a forecast to keep up with it. However, this feature can only be accessed if you opt for the Wunderground premium subscription.
Noteworthy Features
Generates weather information from 250,000 weather stations
Provides severe weather alerts
Smart forecast for setting multiple weather conditions for a purpose
---
With more than 10 million downloads on Google Play Store, MyRadar is one of the go-to apps for Android users to access weather information right on their phones.
This app has established itself as a top-notch and simple-to-use weather application for Android, iOS, and Windows users.
With the aid of thorough predictions and high-definition weather radar, it gives accurate and comprehensive at-a-glance prospective weather conditions heading your way.
MyRadar TV, another feature of this app, enables users to monitor real-time weather reports and updates from all over the world directly on their phones.
Additionally, it integrates with the well-known voice assistant, Alexa, making it simple to use a voice command to obtain information about the current weather, forecasts for the next several days, and severe weather alerts.
Although the app is free, a Pro edition is available for users wishing to access more weather features like lightning alerts and hurricane tracking.
Noteworthy Features
Incredibly easy to use and fast
Advanced rain alerts
Animated live radar
---
Weather & Widget by Weawow provides you with reliable weather updates, and not only is it free, but it is also ad-free.
When we tested out this weather app for Android, we noticed a few things, including how user-friendly the UI is and how well-organized the weather metrics are.
You won't get tired of merely reading text weather data because the app background has been enhanced with lovely images that depict your current weather conditions.
The application is quite customizable as well, so if its default configurations are not suitable for you, you may make changes to make it meet your preferences.
Additionally, it offers a variety of weather information sources, such as NSW(NOAO), Dark Sky, Meteo France, Weatherbit, and AccuWeather.
With Weawow Weather & Widget, you can get detailed weather information on your Android without paying anything or being disturbed by ads. However, if you find the app useful, you can make a donation to support the project.
Noteworthy Features
User-friendly interface
Bookmark favorite places
Uses several weather providers
Supports several languages
Rainfall radar
---
The apps we are talking about in this article let you keep tabs on the local weather, and WeatherBug offers the same service and offers a lot of cool features.
However, it goes a step further by enabling you to access weather-related incidents via news and videos of local conditions and international events.
WeatherBug provides free access to hourly and 10-day forecasts and allows the weather widget to access weather information right on your phone home screen.
It also allows you to explore up to 20 weather maps, including future radar, Doppler radar, air quality, lightning, local temperature, precipitation, and many more.
This weather app has been around for a while and is trusted by many users, so you should try it out.
Noteworthy Features
Severe weather alerts
Animated weather maps
Allows for customization
Weather news
---
Today Weather is another well-designed and user-friendly weather app that provides you with the most precise local weather forecast right on your phone.
The weather data in this app is sourced from international weather services like Accuweather, Weatherbit, OpenWeatherMap, and others..
Just like other weather apps for Android on this list, this one also allows you to personalize your phone's home screen with customizable widgets.
Today Weather uses separate data sources for each country so that you can get accurate weather information and forecasts for your location.
It is one of the best apps to keep yourself prepared in terms of weather and protect your health in terms of air quality.
Today Weather is free but also has a premium version in order for you to enjoy more features.
Noteworthy Features
User-friendly interface
Access to a customizable weather widget
---
Overdrop is powered by leading weather forecast providers, including Dark Sky Weather, AccuWeather, and WeatherBit, so you can stay informed of possible weather occurrences.
The app provides information on weather metrics such as temperature, wind speed, rain, visibility, humidity, and others.
Overdrop presents its users with 24-hour and 7-day weather forecasts, allowing you to plan your day and week ahead, respectively.
Also, it has a 96-hour radar map to help pinpoint precipitation in your location and locations around you.
It allows you to pick from over 50 beautiful widgets and allows you to stay ahead of weather conditions with the help of alerts
Noteworthy Features
It is powered by several trusted weather forecast provider
Access to customizable weather widgets
---
It is important that you are aware of the likely weather conditions in the area you are traveling to before you go hiking, biking, or planning an event, and one of the best apps to do this is OpenSummit.
OpenSummit is a trusted source to provide weather forecasts and high-resolution map overlays so you can know detailed information about the weather conditions in a particular location.
The app uses color code to detail hourly weather data, making it easier for you to decode the weather information it provides.
Apart from the hourly weather data, OpenSummit provides 5-day hourly forecasts of precipitation, temperature, wind speed, cloud cover, and more.
Though it has a dated UI, it is a great app you can bank on to give you accurate weather information.
Noteworthy Features
High-resolution weather map overlays
Color code to detail hourly weather information
Offline map
---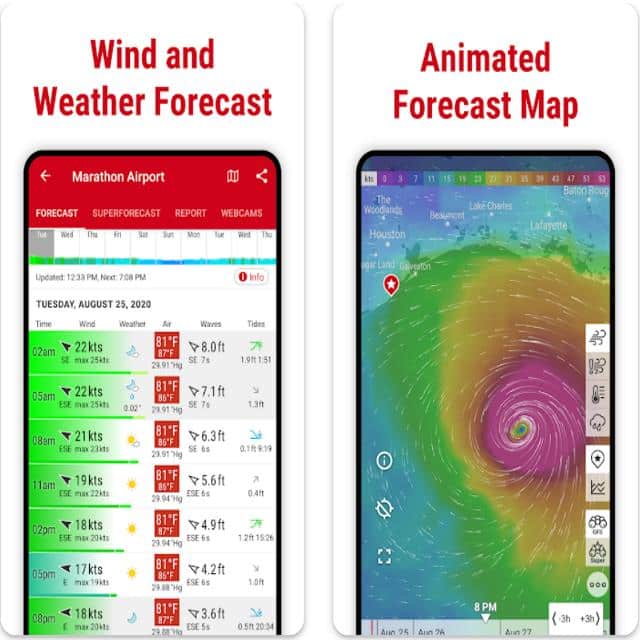 Another app you may use to monitor local wind and weather conditions and receive accurate weather forecasts is Windfinder.
Windfinder provides precise weather and wind forecasts for over 160,000 locations across the world and gives you access to animated wind radar to see regional and global wind conditions.
This app offers detailed information on wind speed, direction, gust, wave height, and direction.
This app is perfect for windsurfers, kitesurfers, sailors, and generally for those that need to keep track of the weather in a location to do things.
Noteworthy Features
User-friendly interface
Tidal information for coastal areas
Access to radar map for tracking storm and weather pattern
Customizable alerts for severe weather
---
Wrap Up
A weather app is one of the apps that can be helpful and necessary for any Android user to keep track of the weather conditions of their current location or other locations using metrics such as temperature, wind, pressure, humidity, the likelihood of precipitation, and others. Since there are various Android weather apps available, we've covered the top 15 choices in this post to help you decide.
Frequently Asked Questions
What is the most highly rated weather app for Android?
The Weather Channel and AccuWeather are the most highly-rated weather apps for Android. They provide accurate weather information and have the best set of features for giving detailed weather information, such as real-time weather radar, weather news, and many more.
What app will replace Dark Sky?
Due to the fact that Apple has acquired Dark Sky, it has been shut down for Android users as Apple is integrating it into its Weather app for iPhone. However, there are several alternatives you can use instead of Dark Sky, and they include AccuWeather, The Weather Channel, and Weather Underground,
What is the best weather site?
Just the same way we have weather apps, there are also several weather sites for monitoring the weather in your location or elsewhere, and they include:
AccuWeather
The Weather Channel
Weather.com
Skymetweather2