The internet hosts a vast array of engaging video content, including movies, YouTube videos, online courses, TikTok clips, and much more, which we often want to save to keep a copy for offline use.
However, most online streaming platforms opt not to provide a download option, as they prefer users to revisit their platform for video rewatching, thereby benefiting from continued engagement.
Fortunately, video downloaders offer a solution, enabling users to effortlessly download online videos in their preferred formats using nothing more than the video's URL.
These applications are accessible on both smartphones and PCs, facilitating video downloads from platforms such as YouTube, TikTok, Vimeo, Instagram, and numerous others.
While there are quite a number of video downloaders for Windows 10, not all of them are as functional as they appear to be, so it is crucial to be conscious while selecting a video downloader for your Windows 10.
This article will discuss the 11 best video downloaders for your Windows 10 PC and laptops that we handpicked based on several metrics, such as the features they provide, performance, ease of use, compatibility with multiple sites, and many more. So keep reading as we dive into these tools.
Best Video Downloaders For Windows 10
Looking for the best video downloader you can use to download videos from different platforms online?
Here is our roundup of the top 11 options you can choose from:
1. JDownloader
A list of the best video downloaders for Windows 10 would be incomplete without the inclusion of JDownloader, as it stands out as one of the most useful software tools for downloading various types of files on a Windows PC.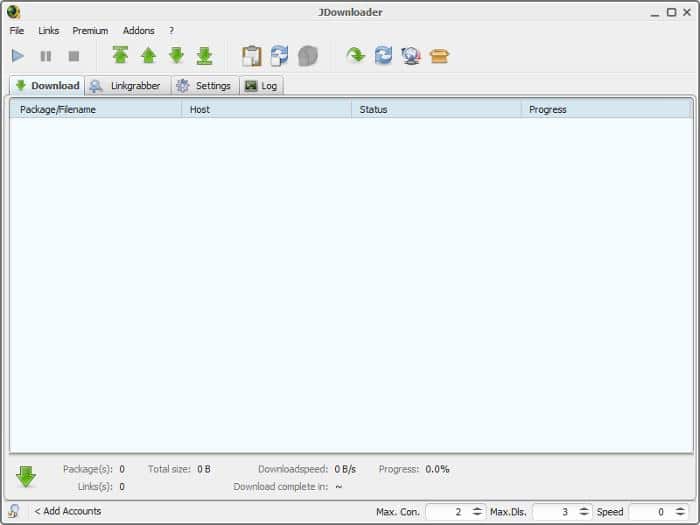 JDownloader is a free, open-source download management application designed for Windows computers. Its primary purpose is to help users efficiently handle downloads of diverse content, such as application files, audio, games, and videos.
In the context of this article, which focuses on video downloading, let's delve into this software's specific video downloading feature.
The JDownloader app allows you to effortlessly download videos from a wide range of online platforms, including but not limited to YouTube, Facebook, and TikTok, provided that the video you wish to retrieve possesses its own distinct URL.
In addition to video downloads, this application provides the capability to extract audio from videos and save it separately. Furthermore, it can download subtitle files when videos come with embedded subtitles.
Being a dedicated download manager, it provides you with control over your video downloads and offers a wide range of features. These features include enhancing download speed and allowing you to set priorities for video downloads.
One minor drawback we observed with the application is that it attempts to include third-party apps during the installation process.
However, it does offer you the choice to either proceed with or decline the installation of these additional apps, so this should not pose a significant issue for users. Apart from that, it stands as an excellent tool for online video downloading.
---
2. Allavsoft
Allavsoft is an all-encompassing tool for downloading video and audio content, with support for various streaming platforms such as YouTube, Facebook, Vimeo, Crunchyroll, Spotify, and numerous others.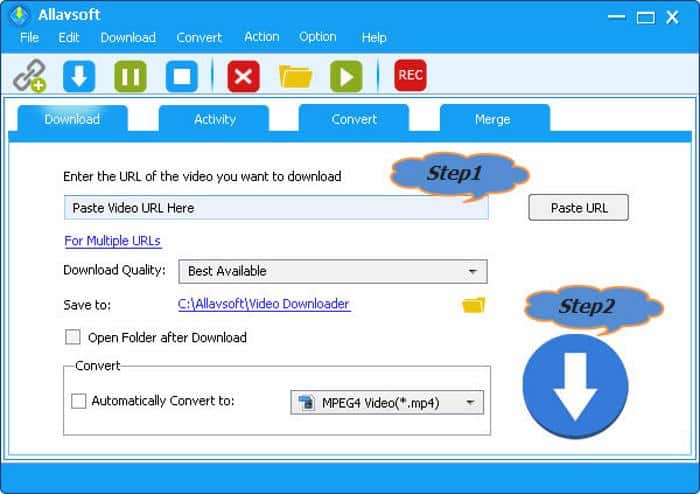 This powerful media downloader grants you the flexibility to download videos in your preferred quality and even provides the capability to convert video files into a multitude of video formats.
Featuring an intuitive and uncluttered user interface, Allavsoft simplifies the downloading process. Among other things it offers, you can find features like download scheduling and batch downloading.
While this application is available for a one-time payment, it also offers a free version with limited functionalities. The choice between the paid option and the free version ultimately hinges on your requirement for the app's extensive feature set.
---
3. SnapDownloader
SnapDownloader is a versatile video downloader for Windows 10 equipped with a wide range of features to simplify the downloading process. It claims compatibility with over 900 video platforms, including popular ones like YouTube, Instagram, Twitter, TikTok, and Vimeo.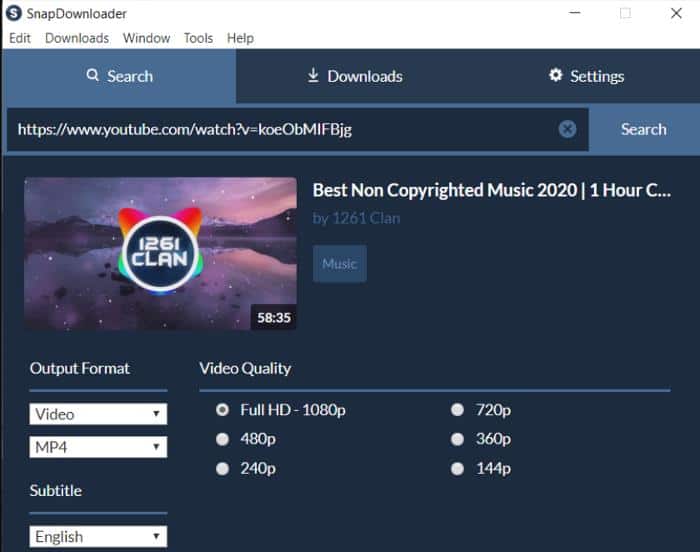 One standout feature is its ability to handle video resolutions up to 8K. It includes a built-in web browser, enabling the download of private videos or those requiring login credentials.
SnapDownloader supports various video and audio formats, such as MP4, MP3, MOV, AVI, and FLAC. Furthermore, it provides a built-in video trimming feature for selecting specific portions of online videos and even allows for video-to-GIF conversions.
Notably, it offers both a free and a paid version, giving users the flexibility to choose according to their needs.
---
4. Streamfab
StreamFab stands out as a highly regarded solution for fetching streaming video content. Not only does it support video downloads from popular platforms such as YouTube, Instagram, and Facebook, but it also provides compatibility with DRM MPD-protected websites, including Netflix, Amazon, and Hulu.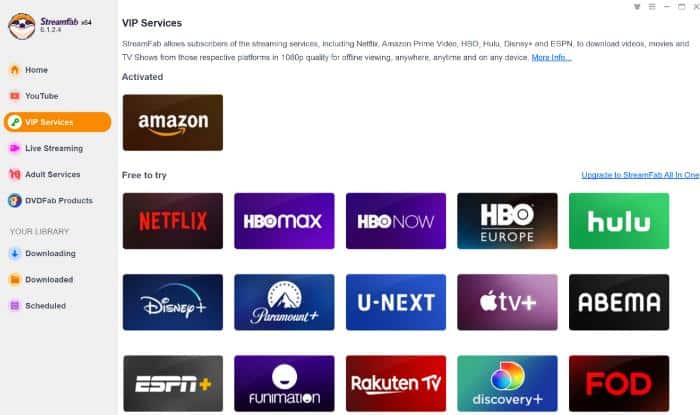 StreamFab serves as a game-changer tool for stream video downloads, boasting a user-friendly built-in browser for seamless access to your streaming service accounts and effortless video extraction.
Furthermore, it offers the flexibility to download streaming videos in resolutions ranging from 480p to 8k, along with the option to acquire EAC3 5.1 audio tracks.
Additionally, it provides the convenience of ad removal from videos during the download process, ensuring a smooth experience for content that includes intrusive ads.
Like many other Windows 10 video downloaders discussed in this article, this tool also includes support for schedule mode, auto-download, batch downloading, and high-speed downloads.
StreamFab's capabilities extend beyond what we've highlighted here, making it versatile for various video-downloading tasks. However, it's important to note that this application operates on a subscription-based model, and its pricing falls on the higher end of the spectrum.
---
5. ClipGrab
If you're in search of a video downloader that works seamlessly on Windows 10, ClipGrab stands out as one of the top choices.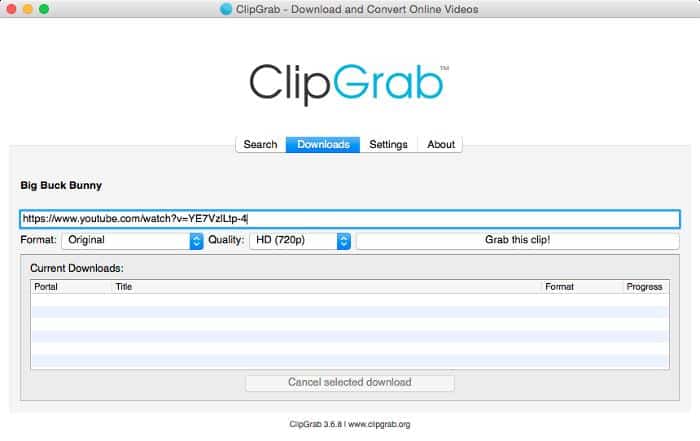 ClipGrab excels at downloading videos from YouTube, and it doesn't stop there—it extends its capabilities to include videos from other popular online platforms like Facebook and Vimeo.
This program empowers you to download videos in a variety of formats and qualities, including both standard and high-definition, depending on your preferences.
ClipGrab boasts high-speed downloads and a user-friendly interface that makes it exceptionally straightforward to use. Additionally, it offers an integrated search feature for YouTube videos, eliminating the hassle of manually copying and pasting URLs for downloads.
Before initiating each download, you have the flexibility to rename your downloads and set your preferred download locations directly within the application.
In summary, ClipGrab is a superb piece of software for effortlessly acquiring videos from various online video sources.
---
6. CocoCut
CocoCut is a Chrome extension, and it earns a place on this list due to its capability to capture videos from virtually any source playable within your Chrome browser.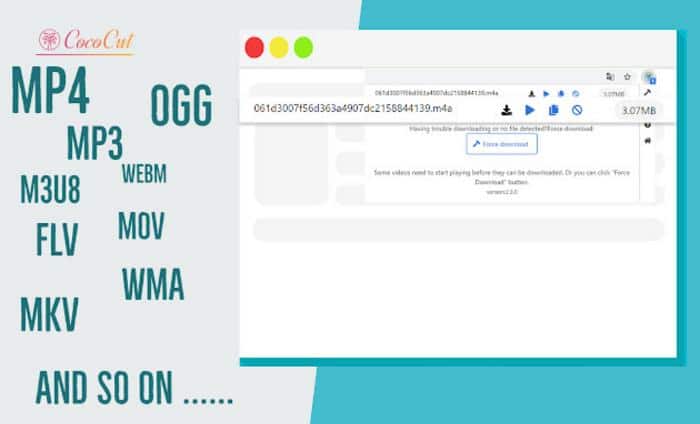 This browser extension, CocoCut, allows users to effortlessly download videos from a wide array of video-sharing platforms like YouTube, Instagram, and TikTok and even supports HLS and Live Video downloads.
To use it, simply navigate to the video playback page, and the extension will automatically identify the video for download. Then, you can proceed to select the download option to initiate the file download to your computer.
CocoCut boasts compatibility with various formats while ensuring no compromise in video quality. Also, it offers a recording mode, particularly useful for downloading challenging videos, setting it apart as a distinctive choice among similar options.
In summary, this Chrome extension stands out as one of the top-notch video downloaders available for Windows PC users.
---
7. ByClick Downloader
When it comes to downloading videos from popular video platforms such as YouTube and Instagram on Windows 10 computers, ByClick Downloader software stands out as an exceptional choice.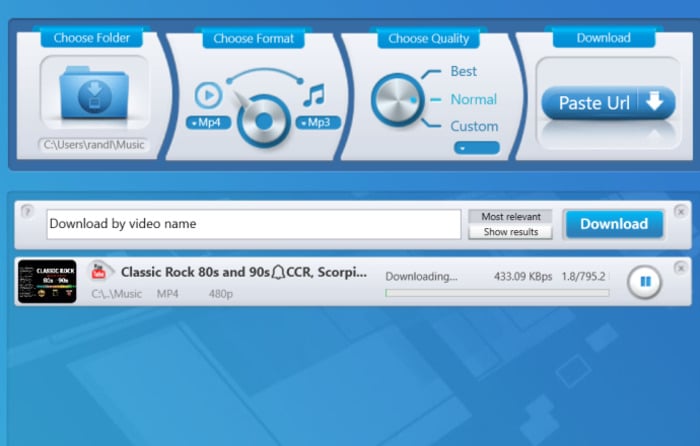 This comprehensive program offers extensive support for video downloads in various qualities and formats, empowering you to convert videos to your preferred format effortlessly.
ByClick Downloader distinguishes itself with its user-friendly interface, streamlining the process of saving online videos and ensuring swift downloads.
Notably, the application enables you to download entire playlists of videos in one go, eliminating the need for tedious, one-by-one downloads.
Furthermore, it possesses the capability to download private videos discreetly, safeguarding your privacy.
It's important to note that while ByClick Downloader offers both free and paid versions, many of the advanced features mentioned earlier are exclusive to the paid version, making a subscription worthwhile for an enhanced tool experience.
---
8. aTube Catcher
aTube Catcher is a free and powerful tool designed to cater to your video-download needs on your PC. This versatile software goes beyond video downloading, doubling as a powerful screen recording tool to save videos online.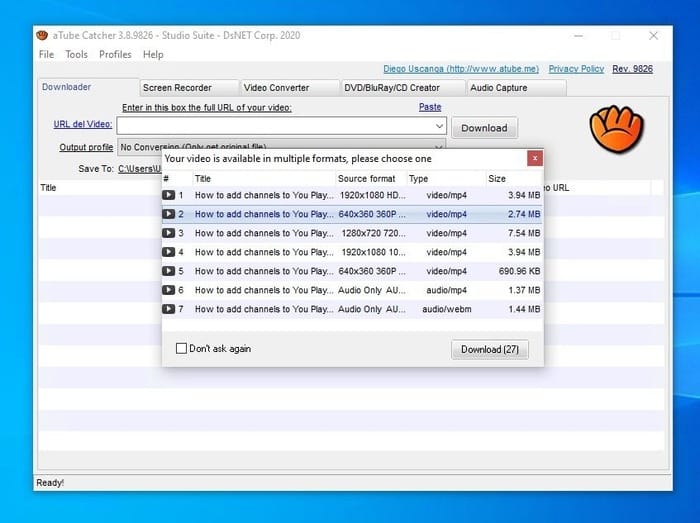 aTube Catcher allows you to fetch videos, even up to the impressive 4K resolution, from popular platforms such as YouTube, Vimeo, and Dailymotion. Its integrated converter extends the utility by enabling you to transform videos into your preferred formats seamlessly.
But that's not all; aTube Catcher doesn't stop at downloading and converting. It goes the extra mile by offering video editing and burning capabilities, making it a comprehensive and all-encompassing tool for video enthusiasts.
Remarkably, all these features come to you at no cost. In summary, aTube Catcher emerges as a highly recommended program worth using.
---
9. 4K Video Downloader+
The inclusion of 4K Video Downloader+ is integral in any compilation of top video downloaders for Windows 10. This powerful software lets users download videos from various popular online platforms by inputting the URL.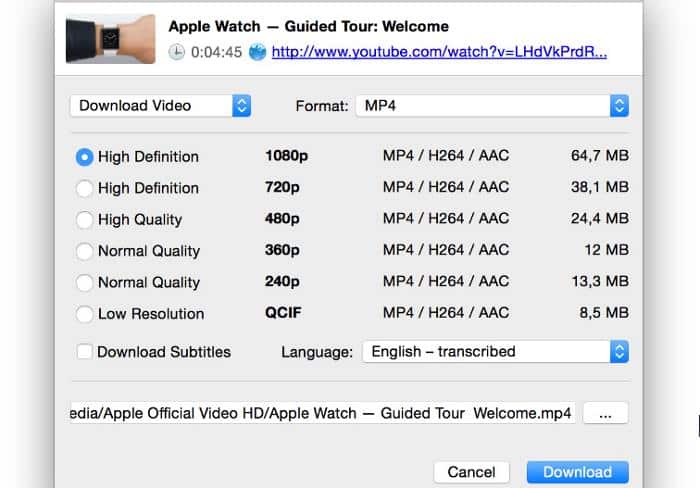 Supported websites span Vimeo, YouTube, TikTok, Facebook, Twitch, and more. The application boasts a well-constructed interface and incorporates an in-app browser for streamlined video access and downloading.
4K Video Downloader+ allows downloading videos in their best quality or any preferred resolution. It further facilitates the extraction of subtitles in SRT format from YouTube videos and enables the saving of entire playlists and YouTube channels.
In summary, this application serves as a comprehensive video downloading tool enriched with a multitude of features to deliver an optimal video downloading experience online.
---
10. TunePat
TunePat is a comprehensive video downloading solution that not only allows download from free streaming platforms like YouTube, TikTok, Twitter, and Dailymotion but also enables you to download high-definition videos from subscription-based services such as Netflix, Prime Video, Disney +, and similar platforms.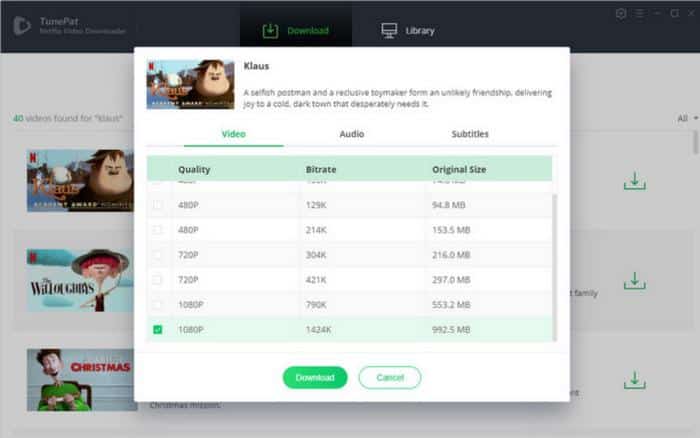 Additionally, this application offers standard features commonly found in video downloaders, including the ability to choose from various video qualities and formats.
Moreover, TunePat provides the convenience of retaining multilingual subtitles and audio tracks during video downloads, and it supports batch video downloading, making it a versatile and user-friendly tool.
However, it's worth noting that TunePat operates on a subscription-based model, so to enjoy its capabilities fully, you'll need to commit to a subscription fee.
---
11. iTubeGo
With the iTubeGo client on your Windows 10 computer, you can effortlessly download videos from over 1000 media websites, including popular platforms like YouTube, TikTok, Vimeo, Instagram, and many others.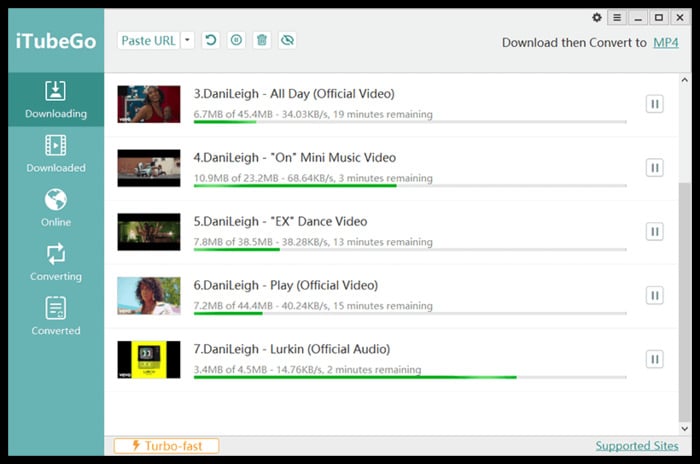 It ranks among the most favored software options for downloading and converting video files on Windows 10 PCs. iTubeGo boasts a user-friendly interface and allows you to download your videos in high resolutions.
Notably, the program includes a password-protection feature, ensuring the safety of your downloaded files by storing them securely.
Also,  iTubeGo enables all-in-one video download and allows you to download videos in bulk efficiently and at a favorable download speed.
While iTubeGo is a paid application, its feature set justifies the cost, eliminating concerns about downloading videos from video-sharing platforms.
---
Why do I need a video downloader for Windows 10 computers?
A lot of people want to download videos from websites like YouTube and Instagram, but most of these platforms don't provide the function to do so. With the help of a video downloader, you may, however, extract video files from their respective links.
If you want to download a video that's available online, the most effective approach is to utilize a video downloader like Streamfab, JDownloader, and various other Windows 10 video downloaders that we've covered in this article.
How do I download a video to my computer?
To download a video to your computer with one of the video downloaders we have discussed in this article, follow the steps below:
Go to YouTube or any other site from which you wish to download a video, and copy the video's URL.
Open Allavsoft or another video downloader mentioned in this article. Paste the video link into the designated input field within the tool.
Next, select your desired video quality and configure any other preferences for the download.
Finally, click the download button to initiate the process of saving the video to your computer.
Wrap Up
Video downloaders play a crucial role for many of us when it comes to downloading online videos.
Given the abundance of those tools available, this article has been compiled to present a selection of the best options. We've assessed these options based on various criteria such as features, user-friendliness, pricing, and more.
Consequently, you'll have the opportunity to pick one that aligns with your specific preferences from the provided list.