Chances are, at more than one instance, you've wanted to download a specific YouTube video, whether for its insightful content, to share a funny video with friends for a good laugh, or to have a local copy for convenience.
Regrettably, YouTube doesn't give the option for users to save videos locally unless they intend to watch them offline, in which case they'll remain exclusively accessible through the YouTube app rather than being accessible locally on your device.
This is where the YouTube Video Downloader—available as a mobile app and a web-based app—lets you download any YouTube video.
Therefore, this post will provide the best free YouTube Video Downloader apps that enable quick and high-quality downloads of any YouTube video you desire. Let's dive right in!
Why Use A YouTube Video Downloader App?
Simply put, you can't download videos from YouTube directly to your device because the site doesn't support it; however, you can download any YouTube video to any of your devices with the aid of a YouTube video downloader app and access the video locally on your device for later viewing or sharing.
What Are The Best Free YouTube Video Downloader Apps?
Several free YouTube video downloader apps are available, but not all live up to their effectiveness claims. After thorough testing, we've curated a list of the top 10 options renowned for their features and unwavering reliability, which we will delve into below.
1. Snaptube
Snaptube is an Android-only app tailored for downloading YouTube videos at no cost; it also features a plethora of extra features centered on downloading videos from YouTube and other platforms.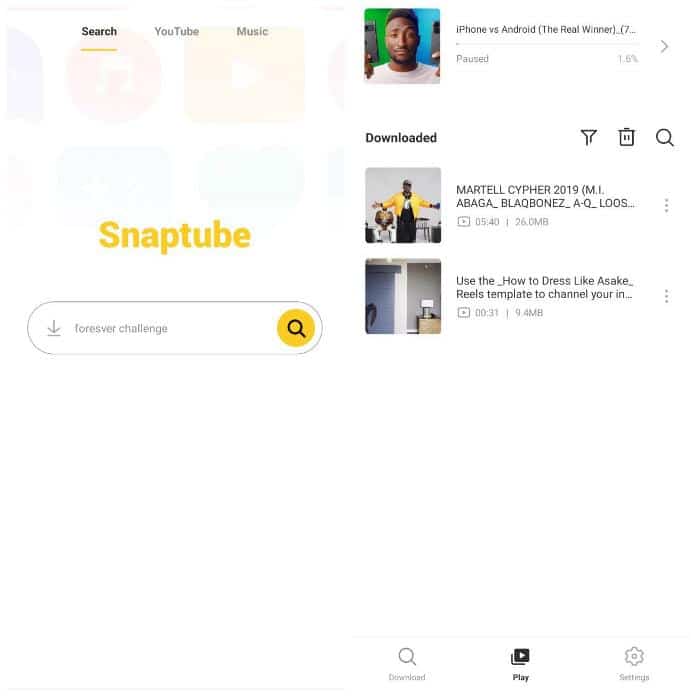 This application can exclusively be obtained through the APK file on the official Snaptube website.
Its simplicity is evident as it puts a link bar right on the homepage, allowing you to paste the URL of the YouTube video you want to download, and it generates both the video and a download option within moments.
Snaptube goes beyond mere video downloads; it enables you to download videos from YouTube in up to 4K quality, depending on the video's resolution. It also allows you to download YouTube videos as MP3 audio files, which is great for stuff that you only want to listen to.
Another appealing feature Snaptube comes with is the ability to explore and watch YouTube videos straight within the app, similar to the regular YouTube app.
You can search for any video you choose, and download links are provided below each video, removing the need to copy links from the YouTube app for downloading.
The application allows you to customize your download preferences, such as the download location, speed limits, and maximum download tasks. It also saves records of deleted YouTube video downloads, allowing you to retrieve them by re-downloading.
It's worth noting that the program attempts to download third-party apps and displays the phone cleaner banner (one of its extra features).
These actions, however, can be avoided. Despite these minor flaws, it is a useful application for saving YouTube videos on your Android device, providing a great experience.
Other Noteworthy Features
When you open it, it automatically detects copied YouTube video links if it's running in the background when the link was copied.
It can be used to download videos from Facebook and Instagram
It comes with a WhatsApp story-saver
It allows you to explore YouTube without ads
It comes with a vault for hiding files
Minor Drawbacks
It is only available for Android
It tries to download third-party apps on the phone
---
2. ClipGrab
If you're looking for a free YouTube video downloader app for Windows, Mac, or Linux, ClipGrab is one of the best options.
ClipGrab supports downloading videos from YouTube and extends its support to videos from other online platforms like Facebook and Vimeo.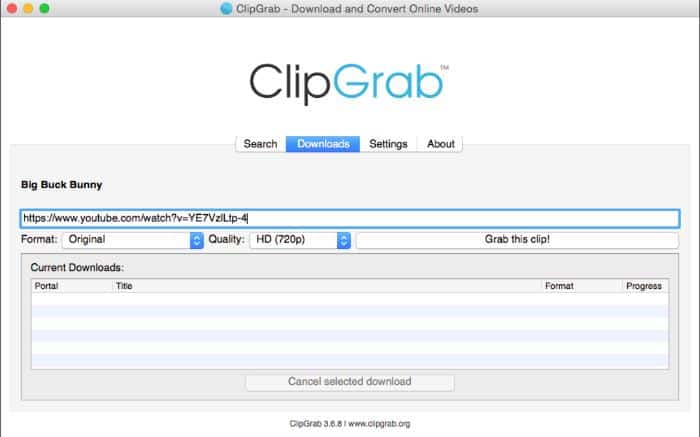 Using this versatile tool, you can confidently expand your collection of downloader apps for the supported platforms.
This program allows you to download videos in various formats and quality—both standard and HD—based on your download choices.
ClipGrab offers high-speed downloads and is incredibly simple to use. It also includes an integrated search feature for YouTube videos, eliminating the need to copy and paste URLs to download manually.
Before initiating each download, you can rename your downloads and set your desired download locations within the application.
Overall, it's a great software for effortlessly acquiring videos from YouTube and various online video sources.
Noteworthy Features
The presence of an integrated search bar for searching YT videos
Fast download support
Free and ad-free
Support for high-quality download
Minor Drawbacks
Not available for smartphone
Not feature-rich
---
NewPipe is another must-have app for those looking for the best free YouTube video downloader app.
Thanks to its exceptional performance in downloading YouTube videos, it has garnered numerous positive reviews from online users, including myself.
This feature-rich app allows you to discover and watch YouTube videos while giving an ad-free experience, background playback support, and many other exclusive features.
One of the exclusive features NewPipe offers is the ability to download any YouTube video of the quality of your choice by simply clicking the Download button on the video page on NewPipe.
Aside from that, NewPipe lets you save YouTube videos as audio and download captions for any supported YouTube video with a single click.
Generally, it does not work like a standard YouTube video downloader; you do not need to copy URLs to download videos. Launch the app, navigate to the video you wish to download, and then select the Download option on the video page.
While video downloaders such as Snaptube allow for video downloads in resolutions as high as 4K, NewPipe only allows for video downloads in the highest quality of 1080p.
NewPipe is a seamless tool to watch and download YouTube videos. It does not offer all YouTube capabilities, but it provides the best experience you will only get with YouTube Premium and more.
Take note of this: It wasn't working on my smartphone at first, most likely because I hadn't granted the appropriate permissions when I originally downloaded it to watch YouTube ad-free, but I reinstalled it, and everything started working fine
Noteworthy Features
Enjoy YouTube Premium features for free
Download YouTube videos as audio
Subscribe to channels without using a YouTube account
It doesn't need you to sign up or anything—great for privacy
Minor Drawbacks
It is limited to Android users
It doesn't support above 1080p resolution
Limited update
---
4. 4K Video Downloader
If you want a YouTube video downloader program that is simple and cross-platform (available as a mobile app and a desktop client), 4K Video Downloader is another alternative to consider.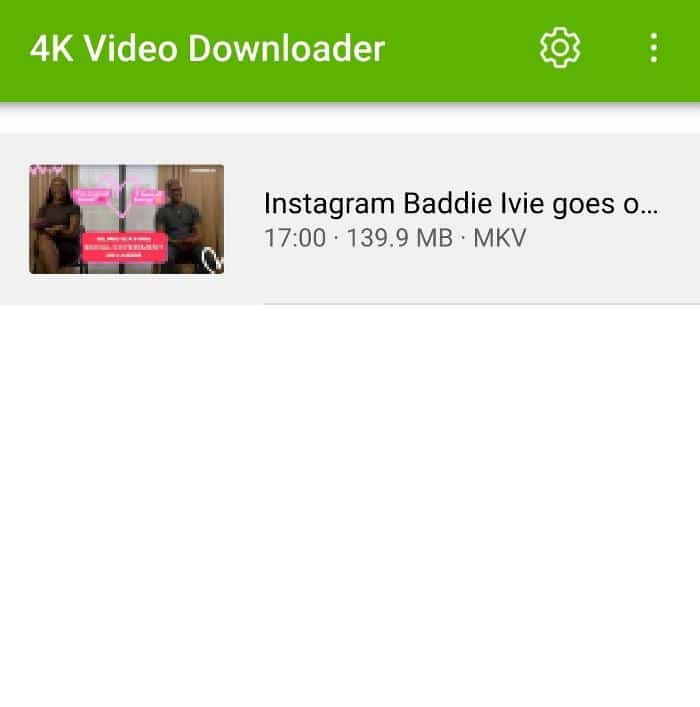 4K Video Downloader is the mobile app for YouTube and TikTok video downloads, while 4K Video Downloader+ is its desktop version primarily for YouTube but also supports TikTok.
It offers standalone clients for Instagram and TikTok downloads on desktop.
The forte of the 4K Video Downloader lies in its wide range of supported formats (MP4, MKV, MP3, M4A) and resolutions (up to 8K, 4K at 60fps, and lower).
However, it lacks a preview feature and the ability to customize your preferred quality and format before initiating the download, which may be inconvenient for some users.
4K Video Downloader+, the desktop version of the app we are discussing, comes with an in-app browser for easily finding and downloading YouTube videos within the application. However, it's a paid app that offers only a 30-day free trial period.
Noteworthy Features
 High-quality video downloads supported
Conversion of YouTube videos to audio available
Ability to download complete playlists
Minor Drawbacks
Limited options for customizing downloads
Desktop client comes with a cost
---
5. FreeTube
FreeTube app is similar to NewPipe; however, it's exclusively a desktop client, whereas NewPipe is solely a mobile app.
This lightweight software provides ad-free video viewing, channel subscriptions, and playlist creation within the app, all without requiring sign-up.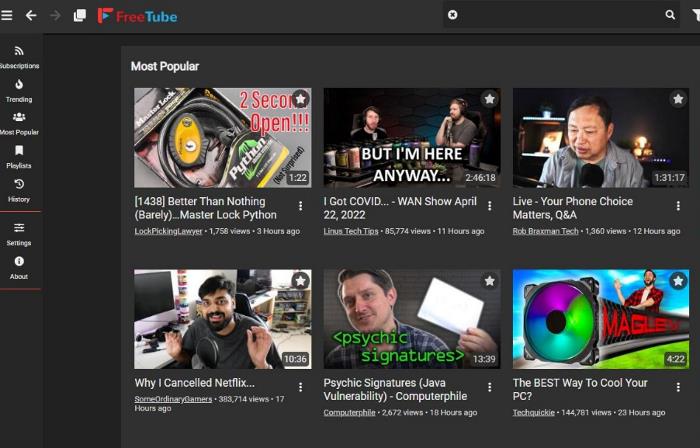 Aside from the features listed above, FreeTube lets you download any YouTube video with a single click, which is why we're here.
It enables higher-quality downloads—up to 2160p resolution—than NewPipe. So, in essence, FreeTube is a useful program that not only allows you to download YouTube videos but also allows you to experience premium YouTube features.
Noteworthy Features
It is cross-platform, available for Windows, Linux, and Mac
It supports downloading in high-quality
It allows you to create watch profiles
It is privacy-focused
Minor Drawbacks
It doesn't have a mobile app
Its interface is not well-polished
---
6. Free YouTube Download App
The Free YouTube Download app is another program to save YouTube videos to your computer for free by pasting the video URL into it or using its integrated search to select the video you want to download within the app, then downloading it with a single click.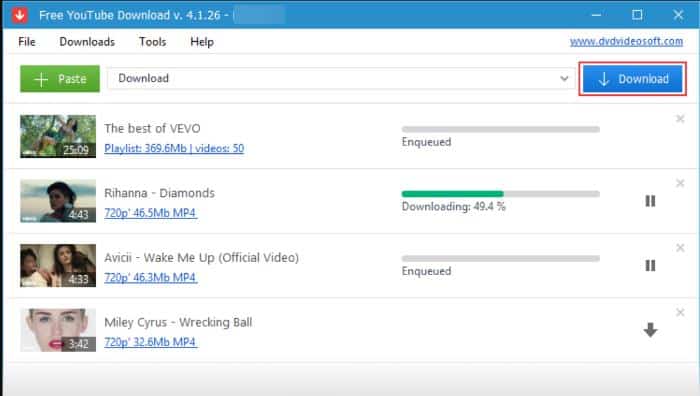 It allows you to select from several video quality and file format presets. However, the software restricts some of its presets and features to premium users alone.
The free version's download speed is limited, but the premium version's download speed is substantially quicker, which is one of the app's downsides.
It also has a batch download capability that lets you download several files simultaneously. In addition to downloading individual videos, this software allows users to download an entire playlist as well as a channel, making it an excellent software for downloading YouTube videos.
Noteworthy Features
It comes with an integrated search option
It supports a large number of file formats
Minor Drawbacks
Most of its features are hidden behind a paywall
Download Free YouTube Download
---
7. Seal
Seal is a minimalist tool that ranks among the best free YouTube video downloader apps. This software is based on yt-dlp, a fork of the previously known YouTube-dl project.
It supports YouTube video URLs and lets you download content from platforms such as Instagram, TikTok, and Facebook. It should be noted that the app is only available for Android users.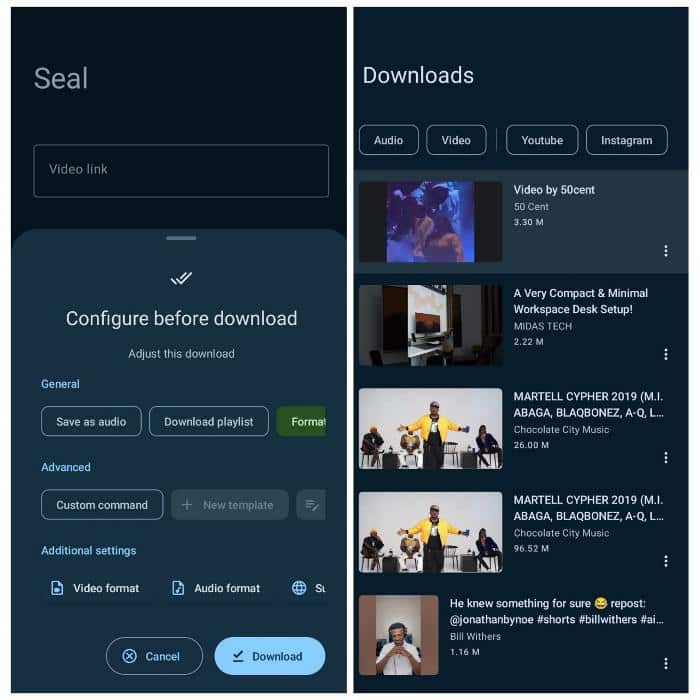 Despite its simplicity, Seal has several features that make it stand out among other programs on this list. It supports a wide range of video and audio formats and allows users to include metadata and video thumbnails from audio files extracted from YouTube videos.
Seal lets you use it in Incognito mode to keep your history away if you're downloading videos you don't want others to see. Seal is just a fantastic tool for downloading YouTube videos or extracting audio from YouTube videos in any quality you desire.
The software, like the others on this list, is not accessible on the PlayStore, but you may get it via GitHub or F-Droid.
Noteworthy Features
It allows video download on YouTube, Instagram, TikTok and Facebook.
It can embed metadata and video thumbnails into extracted audio files
It has a minimalist and user-friendly interface
It allows you to download entire playlists with a single click
It is very customizable
Minor Drawbacks
It is only available for Android uses
You can't pause active downloads
---
8. Stacher.io
Stacher.io, like Seal, is a graphical user interface for the popular yt-dlp that allows you to download YouTube videos; however, it is currently available only for Mac OS and Windows; a Linux version is on the way, as mentioned on its website.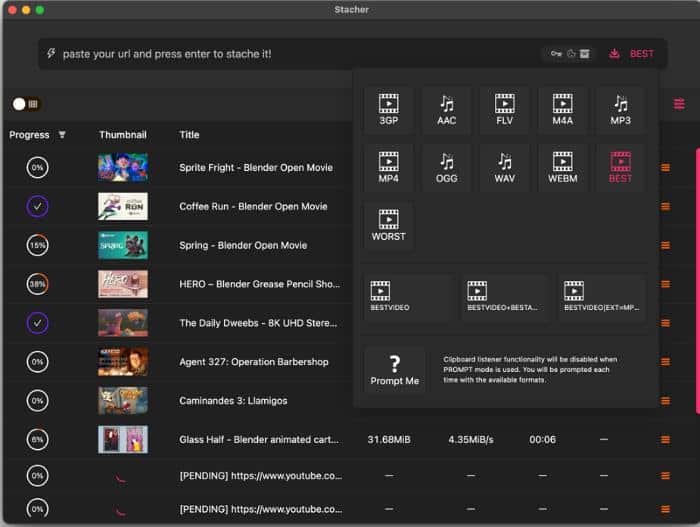 Though it is not widely known, it is one of the tools that may enable you to download not only from YouTube but also from apps such as Facebook and Instagram.
It supports various video formats and allows you to extract audio from video in the quality you desire. Stacher also allows users to do some basic video editing, such as cropping videos and producing GIFs.
Noteworthy Features
It allows you to download videos in a variety of formats, including MP4, MKV, WebM
It allows you to download audio
It allows you to customize the download settings
Minor Drawbacks
It may be difficult for some users
You may experience errors on it sometimes
It is not currently available for mobile devices
---
9. Airy
Airy is a reliable and user-friendly video downloader that allows you to save YouTube videos by simply copying and pasting their URLs.
The application has a simple interface for organizing your YouTube downloads. However, it should be noted that the free edition offers fewer features.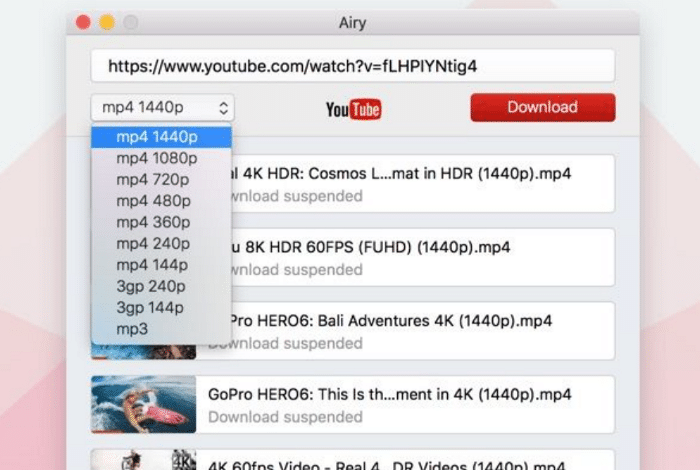 It's compatible with both Mac and Windows, offering a lightweight design. Airy YouTube downloader is versatile, handling various video and audio formats while ensuring high-quality downloads.
Moreover, you can seamlessly integrate it into your browser using a bookmarklet, simplifying YouTube video downloads. Therefore, the Airy YouTube downloader is best for effortless video downloading on your PC.
Noteworthy Features
The app is very reliable and easy to use
It offers the option to batch-download videos and audio
It allows you to pause and resume active downloads
Minor Drawbacks
The free version offers limited functions
---
10. aTube Catcher
aTube Catcher is a free application that can handle your video downloading needs on a PC. This app also functions as a screen recording tool on PCs, making it a versatile piece of software.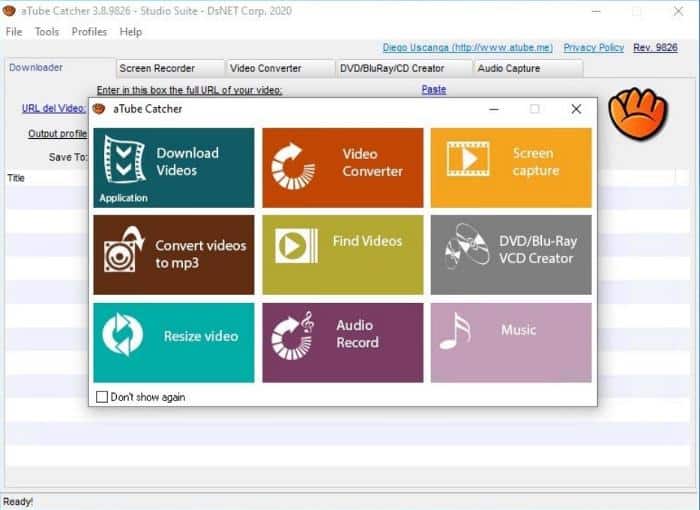 In general, the software allows you to download videos in up to 4K resolution from YouTube, Vimeo, and Dailymotion. It features a converter that allows you to convert videos to any format you want.
In addition, it includes video editing and burning, making it a full-fledged app, and all of these features are free. Overall, aTube Catcher is a worthwhile program to try.
Noteworthy Features
aTube Catcher is free
It comes with a screen recording tool, DVD burning tool, and file converter.
It allows you to download multiple videos at once
It allows high-quality downloads
Minor Drawbacks
---
How can I download videos from YouTube to my phone?
If you want to save a YouTube video to your phone, you should use one of the free YouTube video downloader apps we discussed in this piece of content. The steps for downloading a YouTube video are provided below:
Open YouTube through your web browser and copy the video's URL from the address bar. If you're using the YouTube app, locate the video you wish to download, tap the Share button beneath it, and then choose the "Copy link" option.
After copying the video link, launch one of the YouTube video downloaders we mentioned earlier, such as Snaptube.
Next, paste the copied link into the app's provided space. You might be asked to specify the desired format and quality for your download; make your selections and click the "Download" button to initiate downloading the video to your device.
RELATED: How to Disable YouTube Shorts Permanently
---
Is It legal to download videos on YouTube?
YouTube itself opposes video downloads from the app since it prefers that all operations, including offline streaming, take place within the app—this is why Google does not support any YouTube video downloader or have it on the Play Store. That action can be due to copyright, as many people use content downloaded from YouTube in ways that violate it.
Is there a free YouTube downloader like Y2mate?
Yes, there are free YouTube downloaders available, like Y2mate. This has SaveFrom.net, Seal, 4K Video Downloader, and Qdownloader.
Wrap Up
Finding a safe and dedicated program for downloading YouTube videos can be difficult due to the number of options accessible. As a result, we've talked about the best free YouTube video downloader apps in this article, providing insights into their features to help you make an informed decision.
Seal, NewPipe, FreeTube, and Snaptube stand out as the most feature-rich solutions among these apps. So you can choose from these and the other options on the list above.