Shorts is a feature that Google put into YouTube in response to and as an alternative to TikTok's immersive short videos. It allows YouTube viewers to watch short-form videos (60 seconds or less), and it is just as immersive as TikTok.
Just like TikTok, one might become trapped in an unending loop of viewing YouTube Shorts, which wastes time and ultimately reduces productivity.
This makes many dislike Youtube shorts and looks for options to disable Youtube shorts permanently.
We know that TikTok can be uninstalled if it becomes a distraction or affects user productivity, but YouTube Shorts cannot be uninstalled because it is an integrated part of YouTube—so technically, you must uninstall YouTube to get rid of YouTube Shorts completely.
However, that may not be desirable to some, most likely because people still need YouTube for certain productive purposes, which is why users hunt for ways to permanently disable YouTube Shorts.
So, if you're here looking for ways to disable YouTube Shorts, you've come to the perfect spot, as we'll go over them in detail in this article.
---
How To Disable Off Shorts on YouTube?
Here are the various ways to disable YouTube Shorts on any of your devices:
1. Remove Shorts from YouTube Feeds
Most of the time, we switch to Shorts on YouTube since the content appears as feeds on the YouTube Homepage; hence, removing the Shorts feed can help to reduce your exposure to Shorts videos.
This approach may be used on both the YouTube mobile and web apps to temporarily remove the Shorts feed from your YouTube Home page and save you hours of watching Shorts videos. Here's how to remove Shorts from the homepage's YouTube feed:
Launch the YouTube app on your smartphone.
Scroll down on your feed on the YouTube Home tab until you reach the Shorts feed section.
Tap the three-dot menu in the top-right corner of the first Shorts video and select Not interested.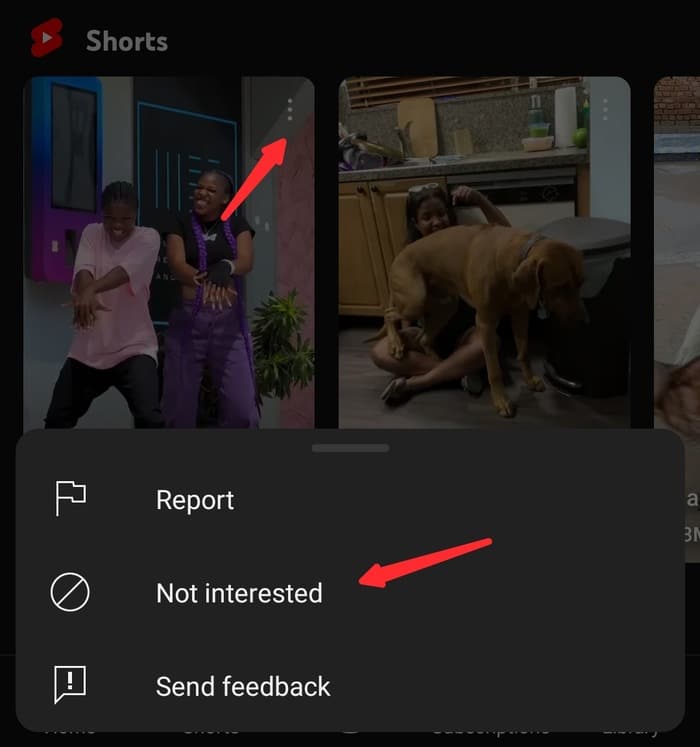 Do the same thing for other Short videos on the Shorts feed, then close and relaunch the YouTube app.
The Shorts feed on your homepage should be gone after reopening the YouTube app. Even though this approach just minimizes the temptation to watch YouTube shorts, it is still useful. If you want a more effective method, consider the alternatives presented below.
---
When using a mobile browser, some YouTube users see an X option on top of the Shorts feed on the YouTube homepage. Clicking the X option will remove the Shorts feed for 30 days across all your YouTube accounts, including the mobile app.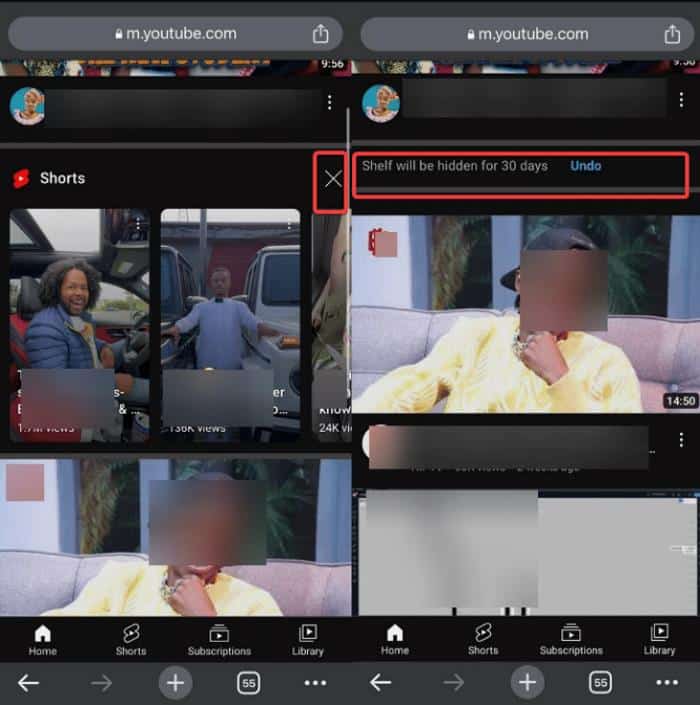 So you can make use of that approach if you want to have YouTube Shorts feed removed from YouTube Home.
---
3. Access YouTube Via Mobile Site and Block Short With BlockSite App
As previously stated, ditching the YouTube mobile app is required to disable Shorts on YouTube effectively. This approach demands visiting YouTube through a browser, and I have found it useful.
What you need to do is access YouTube in any browser of your choosing and use a site blocker to block the Shorts video URL. The following is a step-by-step guide for using this method to disable YouTube Shorts permanently:
After the installation, launch the app and add www.youtube.com/shorts/ to the block list by following the necessary prompts.
Now, in your browser, go to m.youtube.com and try to open any Shorts video. The site blocker will prevent the video from playing and prompt you to remember why you added YouTube Shorts to your block list in the first place.
This method is very effective as long as you can stick to accessing YouTube via browsers on your phone.
---
4. Permanently Disable YouTube Shorts on Desktop Browser
For those that use YouTube on their desktop browser, you can permanently disable YouTube Shorts with the help of an extension.
This extension allows you to hide Shorts practically anywhere on your YouTube web app, including the navigation panel, the Recommended list, search results, channel pages, the YouTube homepage, and the subscriptions page.
Here are the steps to use this approach:
Add Hide YouTube Shorts extension to your Chromium-based browser like Chrome. For those using Firefox or any other non-Chromium-based browser, add the extension from here.
Open the extension and toggle on all the options to hide Shorts from every possible part of your YouTube. You will have to switch to other tabs on the extension to make sure you toggle on all the possible options to get rid of Shorts on your YouTube.
As long as the extension is active on your browser and the options above are checked, Shorts will be disabled on YouTube accessed through the browser.
---
5. Redirect YouTube Shorts
On desktop browsers, you can redirect YouTube Shorts to display as a regular YouTube video rather than the seductive vertical scrolling style. This can be done by installing a redirection extension in your browser—we used Redirector in this example, and the steps below will show you how to do it yourself:
Add the Redirector extension to your browser: For Chrome or other Chromium-based, use this link, while for Firefox and browsers like it, use this link.
After the link is added to your browser, open it by clicking on the Redirector extension from your extension list.
Now click Create new redirect and enter the following:
Description: Hide YouTube Shorts 
Example of URL: https://www.youtube.com/shorts/wci_Yscw0B4
Include pattern: https://www.youtube.com/shorts/*
Redirect to: https://www.youtube.com/watch?v=$1
Pattern type: Wildcard
Afterward, click Show advanced options… and select HistoryState under the Apply to options.
Now click Save to apply the settings and start redirecting all YouTube Shorts links to regular videos.
---
6. Disable YouTube Shorts Permanently By Using the Older YouTube Version
YouTube Shorts is a new feature that can be removed from your YouTube app if you roll back YouTube to a previous version or download an older version of YouTube. This method is very effective, but it will be at the expense of some YouTube updates.
Here is how to perform this workaround:
Download and install this old version of YouTube on APKMirror.
Now open the Play Store app and click on your profile icon at the top-right corner of the screen.
Select Manage apps and devices, then switch to the Manage tab.
Scroll down to YouTube on the app list and click on it.
On the resulting page, tap the three-dot icon at the top-right corner and uncheck Enable auto update.
---
7. Use Third Party Clients like NewPipe
There are some third-party apps that allow you to watch YouTube without ads, and one of the perks of using these clients is that they don't also include YouTube Shorts. NewPipe is a recommended example of an app like this. Hence, you can disable or remove YouTube on your smartphone and switch to the app to enjoy YouTube without Shorts.
---
Wrap Up
That was a lengthy explanation of the different methods for disabling YouTube Shorts on smartphones and PCs. A preferable approach should be chosen based on what you want, although the BlockSafe method for mobile and using Hide YouTube Shorte for PCs are highly effective.
---
Frequently Asked Questions:
Does YouTube allow users to disable Shorts?
No, YouTube does not allow users to disable Shorts natively. However, using the workarounds described in this article, you can easily turn off the feature whenever you wish.
---
Why is YouTube Shorts so addictive?
The instant satisfaction that comes with Shorts videos, as well as the ease of navigating between these Shorts videos vertically, are most likely the reasons YouTube Shorts is addicting. However, you can avoid unintentional obsession by disabling the Shorts option and keeping track of how much time you spend on YouTube.
---
Can using a previous version of YouTube remove Shorts?
Yes, installing an older version of YouTube on your smartphone that does not contain the Shorts function can help you get rid of YouTube Shorts.