The Cyber crime department arrested a 23 year old Computer science expert on the charge of hacking and defacing Official website of 'AIADMK' (www.aiadmkallindia.org). which is the website of leading poltical party In India.
The site was hacked and defaced by Pakistan Haxors Crew (PHC) on November 2nd. The hacked website was showing a deface page as shown in the screenshot below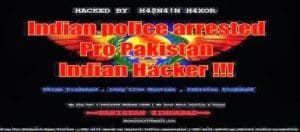 Representative from AIADMK logged a complaint, with the office of commissioner, and a case was registered by Cyber crime department on the incident. After series of investigation and logs obtained from website, Cyber crime department found Eswaran to be guilty of logging into administration page at various occasions.
Police officials said the suspect, P.Eswaran a resident of vyasarpadi, is a Computer science graduate and working at a it firm in Bangalore. The seized computer from the suspect contained many hacking tools and logs, which showed that he was actively engaged in hacking.

Eswaran Has been charged under section 66 of IT act, The section stipulates, 'Whoever commits hacking shall be punished with imprisonment up to three years, or with fine which may extend up to two lakh rupees, or with both'.

PHC did take the responsibility of hacking, and said that the arrested one might have been trying to restore the website.

Indian and Pakistani hackers have been hacking websites of each others from long back, Most of them do try to restore the websites belonging to their country, and some times they keep their logg file behind, which can be used to trace them.  

After the incident Indian hackers are very angry, and are urging for further inquiry of the incident.
Most of the time hackers mail or by any other source of contact try to inform the website admin to fix the vulnerability in their website, some times they do not get any reply and move forward without any permission to fix it. to secure the cyber space of their Country.