A total of four official Twitter accounts of Wall Street Journal was hijacked yesterday by Syrian Electronic Army. The hack was in response to Security Researcher Ira Winkler's presentation in RSA conference over "the methods used by Syrian Electronic Army and the prevention from them" Winkles negative description of SEA and uploading the recording of the presentation by RSA on their website had annoyed the Syrian Electronic Army. In the presentation, Ira Winkler talked about the old leaks which claimed to expose two of the Syrian Electronic members. Winkler had also commented that "these people are like the cockroaches of the internet" made over the people who are claimed to be helping Syrian Electronic Army. To add insult to the injury, Winkler also said that SEA employed attack tactics which constituted primarily low tech.
In response the the Syrian Electronic Army also hacked RSA Conference website earlier this week sending a direct message to Ira Winkler. Syrian Electronic Army had stated in a tweet on its Twitter account that RSA should brace for "3 Reports, So it will be 3 attacks.. brace yourself. #SEA"
The Wall street Journal hack was the second attack in response to Ira Winkler's RSA presentation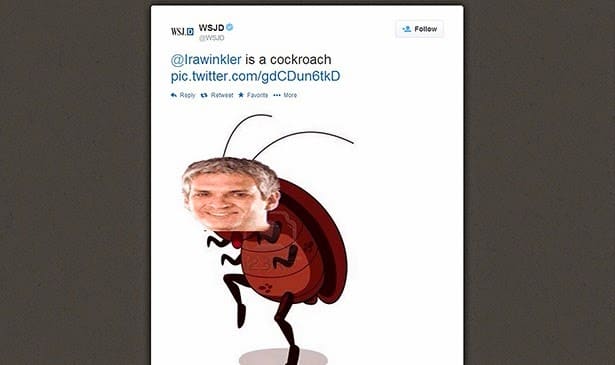 (Screenshot taken from Wall Street Journal twitter feed)
On Tuesday, the hacked @WSJD account tweeted the photo of Ira Winkler's head placed on the body of a cockroach. with a short statement saying "@Irawinkler is a cockroach.

In an email to Poynter, Wall Street Journal spokesperson Colleen Schwartz says "We believe the @WSJD, @WSJEurope, @WSJAfrica, @WSJVintage Twitter accounts have been compromised," and that the Journal is "still investigating."

The journal said on Twitter that few of its Twitter Accounts was hijacked yesterday, and they have secured the hijacked accounts and now are purportedly working normal.


We are aware some of our Twitter accounts may have been compromised. We are looking into it.
— Wall Street Journal (@WSJ) May 6, 2014
We have secured our compromised Twitter accounts and they are now functioning normally.
— Wall Street Journal (@WSJ) May 6, 2014
Winkler in an interview to CNNMoney had stated that "this latest attack is another sign the SEA isn't very talented and aims for low-hanging fruit. They usually worm their way into corporate networks using simple spear phishing attacks". "These guys are imbeciles," "They're a bunch of 20-something, minimally technical people with too much time on their hands and money from the Syrian intelligence services. They're more ants than cockroaches." he said.

A statement from Syrian Electronic Army is still awaited. techworm has contacted Syrian Electronic Army for its official response to this "Twitter Hijack".

This is the second attack since Winklers statement about SEA. In view of the SEA's threats that RSA and other security firms should expect 3 attacks we can expect the Syrian Electronic Army working behind the scenes to attack/hack or compromise some high profile entity, to fulfill its threats