The wanted man posting taunting Facebook selfies at Lincoln police finally arrested
A man on run taunts police by posting provoking selfies to his Facebook account which are taken outside the police station is finally arrested by the Lincoln police and jailed.
Last October, Aaron Bee, aged 22, from Lincolnshire, UK was found guilty of two charges: breaking a non-molestation order and a charge of assault by beating. Lincoln police started the man hunt by putting an appeal to know about his whereabouts.
Since the appeal, Bee started his "Facebook selfie campaign" wherein he started posting and sharing multiple images of himself gesturing at the police, their vans, police station and their headquarters. Bee even posted an image of a police officer with a taunting caption that reads: "Hello is it me your looking for?"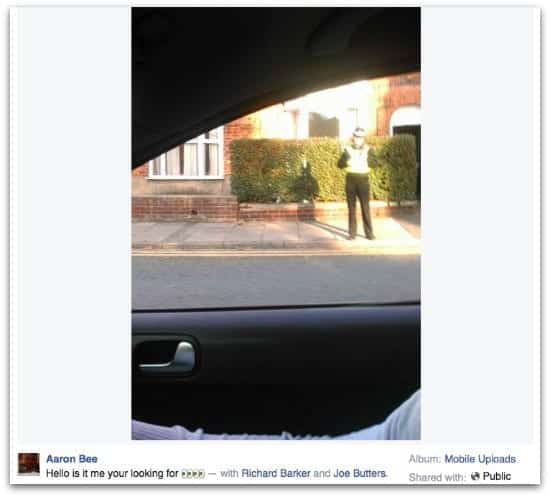 Further, a quick selfie that he took outside the Lincoln police station and posted to his Facebook account with a misspelled caption "#theystillcarntcatchme" drew about some thousand likes and five shares as well.
He posted selfies that included a picture where he leans against a police van. Some of the selfies shows he is posing outside the police station at night and there were few other selfies which shows that he is hanging around the police head quarters at night again.
In another taunting post he says :"Anybody have an idea on a new hiding place?" and "Anybody would think i am wanted or something lmao."
Bee further also told his friends: "he would play hide and seek till it gets boring".
After all the selfies, Bee was arrested by the police in November wherein he pleaded guilty to the two charges for which the police was hunting him.
As per the BBC reports, last week Judge Michael Heath handed Bee an eight month sentence. However, since November 2014 when he was arrested Bee was on remand and hence he had already spent that much time in police custody due to which he was released instantly.
So last week Thursday, 23rd April 2015, Bee was set free and was again busy posting comments like: "Guess who's back freedommmmm" to his huge fan followers which is about 1700 friends on the Facebook!!
Surprisingly, it does not seem that Aaron Bee has learnt his lesson and simply loves to irritate the police by flaunting his release on Facebook with such comments!!