Samsung disables Microsoft's built-in Windows Update feature that provides significant patches for security bugs and holes for Windows
According to Microsoft support engineer Patrick Barker, Samsung is going to make Windows Update inoperative on some of its computers that would leave the users susceptible to security bugs and holes. He made the startling discovery after trying to help a user troubleshoot issues with his Samsung machine.
Windows Update seemed like getting disabled "randomly" until Microsoft's Auditpol utility directed it to Samsung's SW Update software. More precisely, Samsung's update tool had managed to download and run a file named "Disable_Windowsupdate.exe."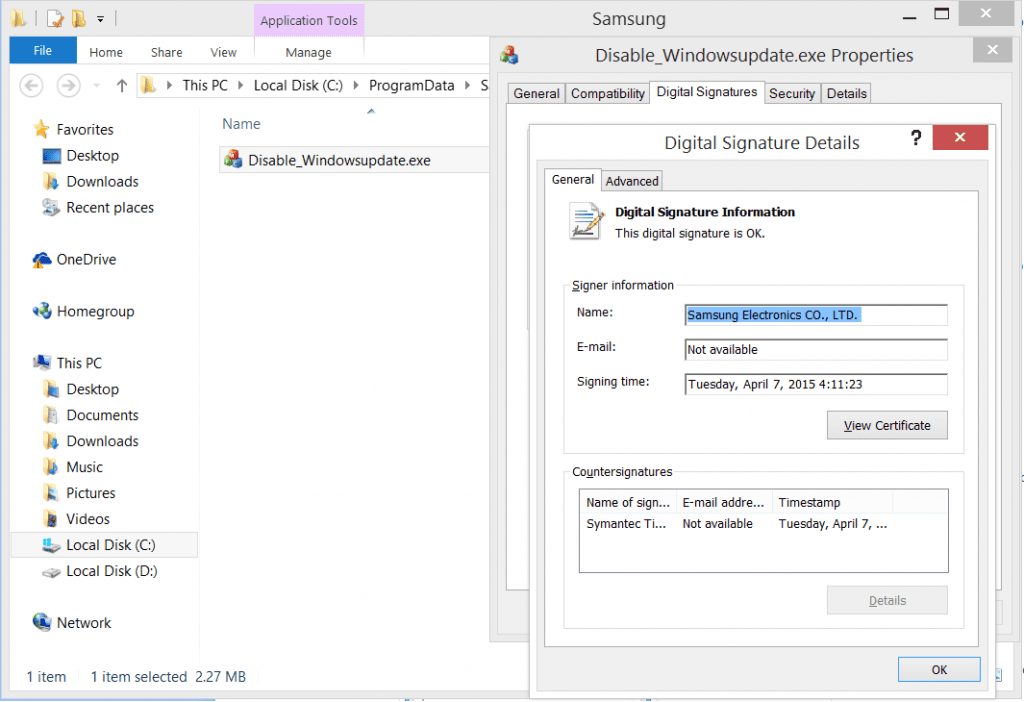 Samsung describes its update tool as follows: "You can install relevant software for your computer easier and faster using SW Update. The SW Update program helps you install and update your software and driver easily."
The Windows Update App is in charge for bug fixes, program updates, driver updates, and critical security patches for Microsoft's operating system. Without the Windows Update, the loopholes that were found in Windows will not be resolved, leaving users susceptible to attack by hacking, viruses and cyber criminals.
Barker was told by a Samsung support representative that "when you enable Windows updates, it will install the Default Drivers for all the hardware on the laptop which may or may not work… so to prevent this, SW Update tool will prevent Windows updates."
During the process of applying Windows updates, Samsung's software apparently disables Windows Update, as it could change drivers required to run hardware features such as USB 3.0 ports on Samsung computers.
The Windows Update will be disabled by Samsung's software when the computer, particularly a laptop, is rebooted, even if users manually turn on Windows Update within settings.
"As there are many instances of malware trying to deliberately disable Windows Updates in order to get on with their dirty work, I personally wouldn't feel entirely comfortable if Samsung was going around doing the job for them," said independent security researcher Graham Cluley. "Turning off Windows Update in its entirety, the Microsoft software with the responsibility for keeping your Microsoft operating system and apps like Internet Explorer updated with the latest security patches, seems like a risky move to me."
Last year, Samsung exited the PC laptop market in Europe, after strained sales pushed it to the "bottom four" of the PC market along with Toshiba, Sony and Fujitsu. According to data from Gartner, these four held together only 12% of the market. However, Samsung still continues to sell laptops and Chromebooks outside Europe.
"It is not true that we are blocking a Windows 8.1 operating system update on our computers. As part of our commitment to consumer satisfaction, we are providing our users with the option to choose if and when they want to update the Windows software on their products. We take product security very seriously and we encourage any Samsung customer with product questions or concerns to contact us directly", as told by a Samsung spokeswoman to the Guardian on Thursday.
To ensure that your Windows machines function as intended, preventing Windows Update from doing its job is definitely not the right way to go about. In fact, Microsoft and Samsung have issued statements to Venturebeat saying that they were working together to address any possible security risks that may arise due to this situation.