Microsoft Will Be Providing Its Own SIM Card to Provide Contract-less Cellular Data
If you are a Windows 10 living in United States, you will soon be getting a contract-less SIM from Microsoft for surfing on the Internet. The Redmond based software giant is currently testing a cellular data app that lets Windows 10 devices connect to various mobile network operators without a contract.
Though the service is still under wraps, the listing for the cellular data app has been published to the company's Windows Store.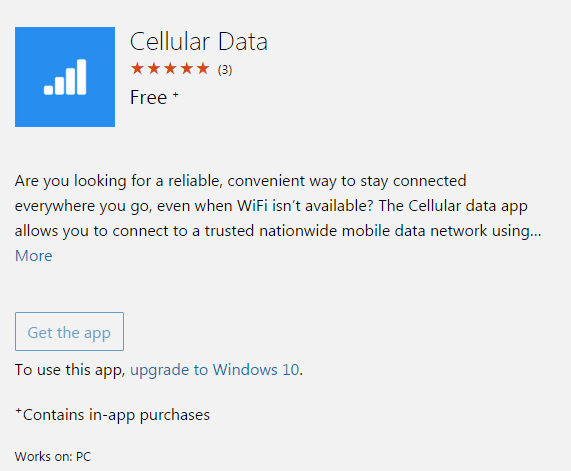 From the listing it can been seen that the App will work only with Windows 10 and "requires a Microsoft SIM card." Other features of the App are as follows :
Service is available in some markets and offers are for domestic plans only – international roaming offers will be available soon. To purchase a data plan, you can follow these simple steps:
1. Click the WiFi icon at the far right of the taskbar
2. In the list of networks, look for one called Cellular data, then select it
3. In Mobile settings, select 'View plans', then follow the steps to buy mobile data and get online
As said above it is not immediately clear which markets Microsoft plans to launch its SIM card in, and the pricing of the cellular data however a US launch looks feasible. Microsoft is planning to sell plans through the Windows Store, so the data will be tied to a Microsoft Account.
Depending on availability, Microsoft could be planning to create its own mobile virtual networks to allow Windows 10 users to connect to partner carriers. As the App says the SIM will be contract-less, it means that Microsoft may need to create its own network with partners.